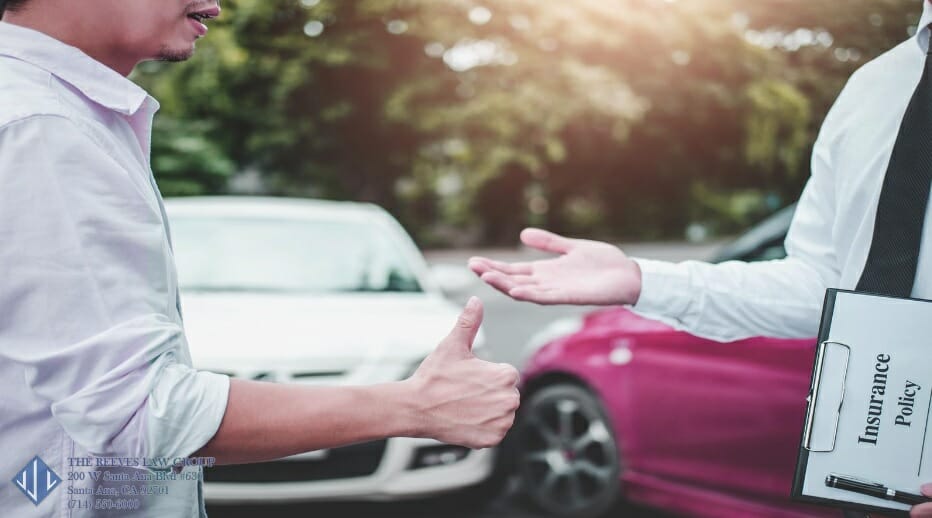 On an average day, you do not think about your car insurance policy. 
You definitely aren't thinking about it when a loud crash interrupts your favorite radio station or when your seatbelt keeps your head from hitting the steering wheel throughout your trip home.
Now your thoughts are filled with the fear and stress that a car accident causes: medical bills, vehicle repairs, lost wages, and a multitude of additional expenses. What do you do now?
At best, being involved in car accidents somewhere is unpleasant.
However, being involved in a car accident in California requires engagement with state laws and regulations. Your top priority following an accident is to receive the necessary medical care for yourself and your passengers. It is also helpful and fair to contact emergency personnel and file an accident report for any other crash victims.
There are other considerations to make to ensure that your legal rights are protected and that you can recoup financially.
Car Insurance Types
If you're purchasing a new vehicle or shopping for an auto insurance policy, you'll need to be familiar with the various types of car insurance coverage offered by auto insurance policies.
A variety of auto insurance policies are available to protect you, your passengers, and your vehicle in the event of an accident.
1. Liability Coverage
Auto liability insurance coverage is available in the majority of states. Drivers must buy at least the minimum amount of liability insurance allowed by state law. Two components make up liability coverage:
Bodily Injury Liability – If you cause an auto accident, liability insurance pays for the costs associated with the injuries you cause to others.
Property Damage Liability

– This may assist in compensating for property damage you cause to others while driving.
2. Uninsured And Underinsured Motorist Coverage
Uninsured motorist coverage may help pay for your medical expenses or, in some states, vehicle repairs if you are hit by an uninsured driver.
If you are hit by an underinsured driver, it indicates their liability limits are insufficient to cover the resulting medical expenses — underinsured motorist coverage may be helpful in such situations.
In certain states, uninsured and underinsured motorist coverage is mandatory, while in others it is optional.
3. Comprehensive Coverage
Theft, hail, fire, and vandalism are some of the threats covered. Comprehensive coverage may help pay to repair or replace your vehicle if it is damaged by a covered risk (depends on the vehicle's actual cash value).
This policy has a deductible, which is the amount you will pay out of cash for covered claims before your own insurance company reimburses you.
Comprehensive insurance is normally voluntary, but your lender may mandate it if you are leasing or purchasing a car.
4. Collision Coverage
Collision coverage may help pay to repair or replace your vehicle if it is damaged in a collision with another vehicle or an object (depending on its actual cash value and minus your collision deductible).
Typically, collision insurance is optional. However, it may be required by your vehicle's lessor or lender.
5. Medical Payments Coverage
If you, your passengers, or a family member who is driving the covered car are injured in an accident, medical payments coverage may assist in covering the associated costs. Hospitalizations, operations, X-rays, and other charges may be covered.
In some states, this coverage is mandatory for medical injuries, while in others, it is optional.
6. Personal Injury Protection
PIP, or personal injury protection, is only available in certain states. Similar to medical payments coverage, PIP may help pay for your accident-related medical bills.
In addition, PIP may cover additional expenses acquired as a result of your injury, such as child care costs or lost wages.
In states where it is offered, personal injury protection is mandatory in some areas and voluntary in others.
What Is Required For A Car Insurance Claim
Let's start by discussing car insurance and the insurance code. On California roads, car insurance is mandatory for all vehicles parked or driven.
You must have evidence of insurance in your vehicle at all times, along with your contact information, should law enforcement demand it or if you are involved in an accident. Some individuals keep it with their driver's license, while others store it in their vehicles.
California has minimal standards for liability insurance. Liability insurance is financial compensation to a third party for personal injury or property damage caused by the insured. You must acquire the following coverage from your car insurance company:
$5,000 – for property damage

$15,000 – for bodily injury or death to one person

$30,000 – for bodily injury or death to more than one person
You are not required to carry uninsured or underinsured motorist coverage in the state of California. This policy is provided to protect you in the event that another driver causes an accident.
You can make arrangements with the California Department of Motor Vehicles as an alternative to insurance. The insurance requirement can be met by depositing $35,000 with the DMV.
When To File A Car Insurance Claim Against Another Driver
In the simplest case, you would file a claim against the other driver's insurance company as soon as possible if you were involved in a collision.
This is referred to as a "third-party claim." You are the third party in relation to the other driver and their own insurance company.
The other party's insurer will process the claim, but a prompt payout should not be expected. The insurance company may need to investigate the accident to determine whether or not their client was in fact the at-fault driver.
When To Use Your Auto Insurance
If insurance claims were straightforward, we could all feel like experts. And when another person has caused an accident, it is natural to believe that they should pay for their actions.
In some instances, though, you may be required to contact your own insurance provider even if someone else caused the collision. Here's how that might occur:
States with no-fault laws

The other party does not have sufficient insurance to pay the injuries they cause in an accident

You can't deal with the other driver's insurance company

If your vehicle was destroyed in the collision, your car insurance company will compensate you for the car's market value at the time
Is California An At-Fault Or No-Fault Insurance State?
California is an at-fault state, which means that whoever causes a vehicle accident is accountable for the resulting injuries and losses. This means that their insurance company is expected to compensate the affected party financially.
For instance, if you are involved in an accident that was caused by a distracted driver, their insurance company covers you financially.
Why You Need A Lawyer To Take A Car Insurance Injury Case To Court
What happens if you are suspected of causing an accident and must defend yourself in court? When being sued for a car accident resulting in personal injury, it is crucial to investigate all available options moving forward.
If you or someone you know is being sued for a personal injury auto accident, you will want to hire an experienced and qualified attorney as soon as possible.
A lawyer can have a significant impact on the result of your case and, more significantly, can explain what to expect in the early phases of your case.
With so many factors to consider, you require competent legal advice to guide you through this process and prepare you for what to expect.
A lawyer can play a significant role in responding to continuous communications and ensuring that you do not miss important deadlines, such as those for filing court documents and other materials. When being sued for a personal injury auto accident, it is crucial to take the following actions to defend your interests.
Without legal representation, many individuals find themselves in over their heads with the whole auto insurance claims process.
Common Reasons Why Car Insurance Claims Are Denied
For the most part, your insurance company wants you to be satisfied with the resolution of your car insurance claim. You are, after all, the customer. You pay insurance premiums, and you are free to take your business elsewhere.
However, the insurance company is also compelled to generate a profit, which it does by paying out as little as possible on each car insurance claim.
Here are some common reasons for denied insurance claims:
You were partially or fully responsible for the accident

You did not obtain a medical assessment

You do not have a diagnosed injury

The car insurance claim exceeds your coverage maximum

A liability dispute exists

You didn't tell your insurance company early enough
What To Do If Your Claim Is Denied
The reasons above for claim denial are all acceptable reasons why an insurer would deny your claim, and they would likely hold up in court if your case went that far. Here's what you can do when your vehicle damage claims or property damage claims are denied:
Analyze closely all notifications related to the claim

Be persistent

Submit and resubmit claims in a timely manner

Be familiar with the appeals process

Keep records on disputed claims

Remember that help is available
Car insurance companies are rarely on the injured party's side during the frequently difficult process of filing an accident claim.
Your claim may be denied, and you may be treated like another claim number as they postpone contacting you as you wait for the phone to ring.
Don't risk losing your voice and having your argument ignored. You require an attorney who will argue on behalf of victims and pay particular attention to your specific situation.
Reeves Law Group can help you gain peace of mind knowing that someone is on your side. Contact us now for a complimentary case evaluation.
---
10 reference sources or statistics: