California Elevator Injury Lawyers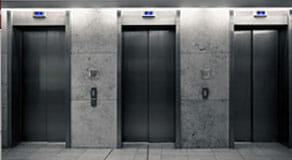 Each day, millions of people depend on elevators as a central part of our work, home, and leisure activities.  Elevators in office buildings, malls, apartment complexes, airports, hospitals, department stores, and hotels move an average of 300 million Americans each day.  Riding in elevators is so commonplace that few of us give much thought to our safety when stepping in or out of an elevator car.  Unfortunately, mechanical malfunctions and mishaps cause serious elevator accidents to thousands of people each year.
The consequences of an accident can be emotionally and financially taxing, for those injured and their families.  However, the law helps ensure that innocent passengers don't have to pay for these incidents and places the costs on those responsible.  An injury that occurs to a passenger on an elevator may entitle that person or the person's family to compensation.  A knowledgeable and passionate elevator accident lawyer can tell whether you have a good claim for compensation and how to get the most compensation for you.
Steps to Take After an Elevator Accident
Get Medical Attention – Obtain medical attention right away for yourself or any loved ones who have been harmed.  If you need emergency care, call an ambulance for transport to a hospital.  Otherwise, visit an urgent care center or schedule a visit with your regular doctor as soon as you leave the scene.  Some injuries, often serious ones, may not be apparent right away, especially when your body has been traumatized, so be sure you are examined by a medical care provider as soon as possible.
Gather Evidence – If you are able to, write down the number of the elevator, the name of the manufacturer, the name of the servicing company and any inspection information, such as dates of services.  Take down the names, addresses and phone numbers of any witnesses to your accident.
Take Pictures – If you have a camera on your cell phone, take a picture of the posted notice in the elevator and the inside and outside of the elevator, including the doors, numbers and anything that identifies the scene.
Obtain an Accident Report – If possible, get a copy of the accident report from the building management before leaving.
Contact An Elevator Accident Attorney – As soon as you are able, contact a well-established personal injury law firm with the experience and skill to succeed.  An effective lawyer will be able to help you get the medical attention you need, conduct a prompt investigation, handle all communications with insurance companies, assist in dealing with insurance companies, identify potential sources of compensation for your losses and protect your legal rights against filing deadlines.
Who is Responsible for an Elevator Accident?
Elevators are complex machines that require exact construction, installation and maintenance.  Each accident is unique and can result in different injuries and damages.  At the outset of your case, your lawyer will identify everyone involved in building, installing, and maintaining the elevator.  It is very important that you have an attorney who knows how to complete a thorough investigation, determine how the accident happened, and pinpoint who was at fault.
Responsible parties may include:
Elevator Manufacturer – The manufacturer may be held responsible if a part of the machinery failed.  For instance, if a specific part of the elevator has a history of failure in similar machines, it will be assumed that the manufacturer knew the equipment posed a risk.
Elevator Installer – The installer may be responsible for installing the elevator improperly if building codes or laws were not followed correctly.
Property Owner and Property Manager – The owner of the building or the property manager may be responsible for an accident.  For example, the property owner may not have scheduled regular maintenance for the elevator system, or for not making adequate repairs.
Elevator Maintenance Company – When equipment fails, the maintenance company that performs routine inspections and repairs of the elevator system may be held responsible.  On a regular basis, the company must send an inspector to examine the elevator, note any worn parts, and recommend repairs that might avert a malfunction.  If an accident happens because of a maintenance oversight or because a repair wasn't done correctly, the service company may be responsible for the injuries.
After an accident, the elevator should be taken out of service while the cause of the accident is determined.  A proper investigation by the building owner's insurance company, and local or state officials may help to establish who is legally responsible.
Oftentimes, building owners, property managers, and tenants who use the elevator will be anxious to put the elevator back in service.  They may fail to thoroughly investigate or make an adequate report of the incident in a timely manner.  Quickly finding a lawyer with experience to assess the case is critical to winning a settlement or award for a person involved in an accident.
Types of Compensation for Your Accident
If you have suffered an injury caused by a faulty elevator, you can receive money damages for your losses.  Damages include:
Medical bills
Lost wages
Pain and suffering
Related: Grain Elevator Accidents
In addition to the elevators used in our everyday lives, grain elevators serve a vital role in the production of grain crops, which have long been a mainstay of California's economy.  Crops like wheat, barley, oat and rye are harvested and transported to large holding centers by these elevators.
Grain elevators, which are a key piece of technology for this industry, can cause some of the most serious workplace accidents.  A Purdue University study found 51 incidents of workers trapped in grain elevators in the United States during 2010 alone.  Many other types of grain elevator accidents are just as common.  An accomplished lawyer can determine if an accident was caused by a manufacturing defect, lack of proper maintenance, or poor safety practices.
Hiring a Lawyer for an Elevator Injury Case
For over 30 years, The Reeves Law Group has zealously advocated on behalf of thousands of hurt people.  If you or your loved ones have suffered an accident on an elevator, contact us today.  We always have a qualified, experienced lawyer ready to help.
Call (213) 271-9318 or contact us via our Quick Response page for a free and immediate case evaluation. For your convenience, we make home and hospital visits.
[Written by Derek Pakiz. Article updated on 2022-11-28]