California Work Injury Lawyers
Millions of employees are injured at work each year and thousands of these accidents result in serious injuries and death. Employees who are injured while on the job are entitled to compensation for their injuries. In death cases, families may be entitled to compensation. Depending upon the circumstances of the injury, the hurt person may be entitled to compensation through the workers' compensation system, a personal injury lawsuit, or both. Employees who have suffered a work injury should seek the advice of a law firm that is well-recognized for its experience and expertise in injury cases. It is important that the firm has the resources and knowledge required to identify and litigate all of the available claims. This will help ensure that the worker receives the optimum compensation and benefits to which he or she is entitled.
Workers' Compensation
Generally, employees may not sue their employers for injuries sustained on the job. The employee's sole remedy is to pursue a workers' compensation claim. This is known as the "exclusive remedy rule." There are a few notable exceptions to this rule.
An employee may, for example, sue an employer for intentional misconduct, as in asbestos cases, in which employers knew of the harmful effects of asbestos in the workplace, but failed to remove the hazard or warn the employees. Another exception to the exclusive remedy rule is the "punch-press exception." This was put into law to allow damages against employers who, in order to increase manufacturing production, removed punch press guards designed for the safety of employees. The danger that the removal of these safety mechanisms caused resulted in numerous limb amputations and other catastrophic injuries to workers. Other than these limited exceptions, an employee injured while working is restricted to a workers' compensation claim against the employer.
The workers' compensation system is designed to ensure that injured workers receive fixed monetary awards for their work-related injuries or illnesses without having to litigate their claims in court. Employers generally carry workers' compensation insurance to compensate their employees for any injury and illness claims. Employees are not required to prove fault on anyone's part to receive benefits.
Notifying Your Employer
If you are injured at work, you should notify your employer of the injury as soon as possible. You should report the injury in writing and keep a copy of the report for your records. You should also file a claim for workers' compensation as soon as possible. Immediately reporting the injury and quickly filing a claim help ensure that your benefits will start promptly. As with all injury claims, there are time limitations and filing requirements that need to be met if a worker is to pursue his or her rights.
Third-Party Work Accident Cases
Unfortunately, workers' compensation insurance coverage often does not provide enough benefits for employees injured on the job. Recent changes in the laws governing the California workers' compensation system have restricted the types and extent of benefits available to victims. In many situations, however, injured employees can pursue both a workers' compensation claim and a lawsuit against a responsible party so long as the responsible party is not the employer. These cases are known as "third-party" cases (you are the first party, your employer is the second party, and the other entity or person you can sue is the third party). Pursuing a third-party claim can result in added compensation to the injured worker and, where available, third-party cases should be pursued by your work accident attorney alongside the workers' compensation claim.
An example of a third-party case is where the employee is injured on the job due to a defective product, such as a machine or a tool. In that situation, the employee may be entitled to pursue a products liability lawsuit against the manufacturer or supplier of the defective product. While pursuing the third-party claim, the employee may still receive benefits through his employer's workers' compensation insurance. There are usually complicated lien and right of reimbursement issues involving multiple parties when pursuing these types of claims. In the skilled hands of an experienced and capable work injury lawyer, these lien and reimbursement issues can be resolved in advantageous ways to the injured workers. Selecting your attorney carefully to handle your third-party claim is therefore important.
Third-Party Work Accident Damages
In serious injury cases, third-party monetary recoveries are often greater than the benefits an injured worker receives under the workers' compensation system. In a third-party lawsuit, an injured employee may be entitled to recover:
Past and future medical expenses;
Loss of earnings;
Loss of future earning capacity;
Property damage; and
Compensation for pain and suffering.
These damages are not completely covered by workers' compensation claims. In workers' compensation claims, a worker's benefits are generally limited to medical expenses, disability compensation, and a cash award in cases where the injured worker has sustained permanent disabilities. Disability benefits and cash awards are generally capped pursuant to certain schedules. The limitations placed on periodic disability payments, for example, usually result in modest compensation when compared with the salaries workers were earning immediately prior to their injuries.
Work Injury Statistics
According to the Bureau of Labor Statistics, there were over 4.2 million occupational injuries and illnesses and over 5,700 work-related fatalities reported in 2004. The most common causes of work-related fatalities include traffic accidents, falls, falling or moving objects, and homicides. Common causes of non-fatal work-related injuries include falls, overexertion in lifting, and moving objects.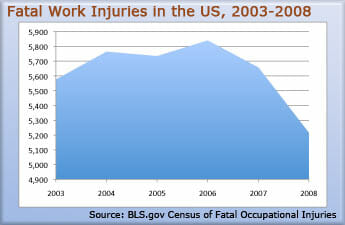 Contact a Work Accident Attorney for Help
Injured workers or their families should contact a skilled and dedicated work accident lawyer who will investigate all possible sources of compensation for the worker's injuries. It requires superior expertise and experience to thoroughly analyze the facts and circumstances surrounding the injury and identify all possible third-party claims. Determining fault among multiple potential third-party defendants can be complex and costly. The Reeves Law Group has successfully handled thousands of injury claims and many third-party work-related claims. While our law firm handles only the third-party claims in work injury cases, we work closely with well-established law firms that specialize in workers' compensation cases so that our clients are well represented in both their workers' compensation and third-party claims.
If you or a loved one has suffered a work-related injury, please contact us for a free consultation by calling (800) 644-8000 or contact us via our Quick Response page. We make home and hospital visits!
[Written by Derek Pakiz. Article updated on 2022-11-28]