Los Angeles Pedestrian Accident Attorney
Featured in Newsweek's 10 Best Personal Injury Attorneys, The Reeves Law Group has successfully handled a large number of pedestrian accident cases in Los Angeles and throughout Southern California for over 35 years. We have recovered over $250,000,000 in verdicts and settlements for our clients.
If you or a family member are victims of a pedestrian accident that resulted in serious injuries, hiring a professional Los Angeles pedestrian accident attorney is your best option to recover the compensation owed to you.
Call (213) 271-9318
For a Free Consultation
If you are a pedestrian that's been hit by a car, contact us today or Call (213) 271-9318 to speak with one of our pedestrian accident attorneys.
WHY HIRE THE REEVES LAW GROUP FOR YOUR PEDESTRIAN ACCIDENT CLAIM?
$250,000,000+ Recovered for Our Clients in California
Newsweek's 10 Best Personal Injury Attorneys
No Fee Guarantee – No Fees Unless We Win
Helping Accident Victims for 35+ Years
Every year, 75,000 Americans are killed or injured in traffic crashes while navigating sidewalks, marked crosswalks, and roadways by foot. Most pedestrian accidents occur on the road caused by distracted driving.
Drivers can typically be distracted by one of the following reasons:
Talking or texting on the phone
Eating and Drinking
Playing with the Stereo or Navigation System
Drunk Driving or Driving Under the Influence of Drugs
For over three decades, The Reeves Law Group has been helping many pedestrian accident victims in Los Angeles and throughout Southern California recover financial compensation for their injuries. Our law firm has a team of experienced lawyers who can help you pursue a personal injury lawsuit for your pedestrian accident case. Call (213) 271-9318 or contact us for a free consultation.
A Review of The Reeves Law Group, Pedestrian Injury Lawyers

My parents were hit by a car when we were crossing the street. They hired the Reeves Law Group in part because their office is very close to their house in Santa Ana — more importantly, they wanted to hire the best personal injury lawyer in Orange County. He got the insurance company to pay their full insurance policy limit. This is because he works extremely hard and does not back down to insurance companies.
Norma L. via Avvo
Review Rating: 5 / 5



Date Published: 08-31-2021
How Can a Los Angeles Pedestrian Accident Lawyer Help Me?
A common uncertainty of injured pedestrians in a car accident is how to determine whether you're getting the most out of your claim against the responsible party's insurance company.
From damages due to a common pedestrian accident to wrongful death damages, dealing with insurance companies to make sure you're getting maximum compensation may not always be a simple process for many injured pedestrians. They'll find that an at-fault driver's insurance company will find ways to either deny liability or minimize your payout.
Making sure you as the pedestrian involved in an accident get the best possible outcome will require the expertise of a personal injury attorney to evaluate your case and guide you through the process of filing a successful claim for financial compensation. The damages of pedestrian accidents resulting in serious injury can be costly as expenses such as lost wages, medical treatments, and physical therapy sessions can quickly add up. Call (213) 271-9318 or contact us for a free consultation with one of our attorneys.
Information About Pedestrian Accidents: An Overview
Crossing the street is a routine part of our daily lives. Our children do it on the way to school. We do it on the way to work or when heading out for a meal. Rarely do we give a second thought to the danger.
Yet the simple act of walking along or crossing a street tragically ends in thousands of accident victims being killed or severely injured by distracted drivers every year.
According to data analysis from the State Highway Safety Offices (SHSOs), there were projected to be 6,721 pedestrians killed on U.S. roads in 2020, which was up nearly 5% from 6,412 fatalities in 2019.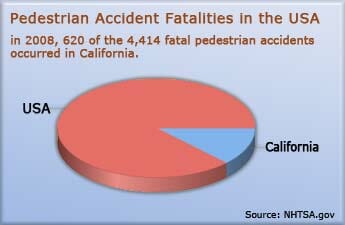 The National Highway Transportation Safety Administration estimates that a walker is killed every 113 minutes and injured every eight minutes. Driver negligence is often to blame when a pedestrian accident occurs, but sometimes people put themselves in jeopardy through carelessness or inattention.
Common Injuries of Pedestrian Accidents
Car accidents are responsible for many pedestrian accidents on the road where the vehicle strikes a pedestrian on the road, especially in cities.
A pedestrian collision is most often the result of driver error and common disabilities and injuries that are sustained in these accidents include:
Broken or fractured bones
Skull fractures
Brain damage and spinal cord injuries
Internal injuries to organs such as muscle strains and internal bleeding
Lacerations and concussions
Amputation and loss of limbs
Neck and back injuries
Paralysis
How Often Do Pedestrian Deaths Occur in Los Angeles?
According to recent articles by the Los Angeles Times, California leads the nation in pedestrian accident deaths and accidents. In Los Angeles, pedestrian deaths have increased by more than 80% between the years 2015 and 2017. Drivers killed approximately 74 people on foot in 2015, and that number increased to 134 in 2017, the highest number recorded in more than 15 years.
Speed is typically the determining factor in whether a pedestrian survives being struck by a car. When a moving vehicle hits a pedestrian at 20 mph, they have a 90% chance of survival, but when hit by a vehicle moving at 40 mph, the chance of survival drops to 20%, according to a federal study of crash data.
If you have been injured in a pedestrian accident due to the negligence of a speeding driver, a Los Angeles pedestrian accident lawyer can help. Call The Reeves Law Group today for a free consultation.
Pedestrian Accident Compensation in California
After an accident, when common injuries are sustained by the accident victim, that person may be able to seek compensation to recover damages from the driver who caused the accident. For a seriously injured pedestrian to prove negligence against the responsible party, it is advisable to seek a professional law firm with a qualified pedestrian accident attorney to help you file a personal injury claim and obtain maximum compensation.
Damages are money paid to the victim as compensation for the pedestrian's injuries and losses including lost wages, future earnings, punitive, pain, suffering, and hedonic damages. In the event of a fatality, the family may also be able to recover money damages in a wrongful death case. It's possible that some cases involving negligence will end up in court, which is why having legal representation by experienced personal injury attorneys puts you in the best position possible to win pedestrian accident lawsuits.
Damages also provide compensation for accidents that result in physical injuries sustained, such as broken bones, spinal cord injuries, and head injuries, as well as for those that result in death.
Recurring pain and suffering caused by physical injuries may entitle a victim to recover compensation. An injured pedestrian may also seek reimbursement for lost income and medical bills related directly to the accident, in addition to reasonable future medical bills. If you or a loved one have been hit by a distracted driver, contact one of our pedestrian accident lawyers for a free initial consultation.
Who Is at Fault in A Pedestrian Accident?
If you are a pedestrian involved in an accident, you must cooperate with police and other authorities and accurately report your account of the events. Even if you do not believe you were at fault for the accident, it is in your best interest to promptly consult with experienced attorneys.
An experienced lawyer will advise you of the steps you should take to obtain and preserve evidence that can prove who is at fault and who is entitled to damages. A pedestrian accident lawyer can advise you on your legal options and on how to seek compensation for your injuries. Contact us today for a free initial consultation.
What You Can Do to Avoid a Pedestrian Accident
To reduce the number of accidents, everyone, whether on foot or in a vehicle, must take every possible precaution. With children and elders at particular risk of being in an accident, it is important to exercise care when on or near the roads. When pedestrians cross the street, they must pay extra attention to traffic from all sides especially when they have children with them.
What Should You Do If You Are a Pedestrian That Has Been Hit by a Car?
Call the Police and file a report
If you are well enough, take photos of the crime scene for evidence
Call for emergency help
Immediately go to the hospital
At-Risk Groups: Children and Seniors
Children and the elderly are at the greatest risk of suffering an injury or fatality while walking. Last year, 4,000 elderly Americans were injured in pedestrian accidents, resulting in more than 700 fatalities. Children under age 15 made up 39 percent of all pedestrian accidents, with nearly 10 percent of these cases resulting in fatalities.
Contact A Los Angeles Pedestrian Accident Attorney
If you or a loved one are in need of professional legal advice regarding pedestrian accident claims, contact our law firm for a free consultation with our Los Angeles pedestrian accident attorneys. Your peace of mind is important, our team of lawyers is here to help you on your road to recovery.