California Boating Accident Lawyers
Each year thousands of people are injured and hundreds of people are killed in boating accidents. These accidents can happen on a privately-owned boat, a cruise ship, a jet ski, a ferry, or other types of watercraft. The problem is particularly serious in California. California has nearly 900,000 registered water vessels. In 2004, there were 744 reported accidents, resulting in 439 injuries and 44 fatalities, and causing over $4 million in property damage. Preserving evidence in watercraft accidents, as with other accidents, is important, and sometimes critical. Therefore, if you or someone close to you has been injured in an accident you should consult an experienced and capable personal injury law firm with boat accident lawyers who can handle your claim and secure the necessary evidence without delay.
Causes of Accidents
Most boating accidents are preventable. The majority are caused by operator inexperience or inattention. Many people simply underestimate the dangers of operating a watercraft. In 2004, the State of California reported that the most frequent cause of fatal boating accidents was capsizing, followed by collisions with other vessels, and individuals falling overboard. Alcohol consumption is a factor in many incidents. The United States Coast Guard estimates that boat operators with a blood alcohol concentration above .10 are more than 10 times as likely to be killed in an accident than an operator who has not been drinking. In California, alcohol was involved in 38% of fatal boating accidents in 2004. Two-thirds of these fatality victims were passengers.
Accident Reports
The law requires vessel operators to report accidents. In California, vessel operators must provide their names, addresses, and vessel registration numbers to other involved parties and provide assistance to any injured persons. The operator or owner must also make a written report to the California Department of Boating and Waterways if the accident resulted in:
The death or disappearance of a person;
Injury requiring medical treatment beyond first aid; or
Property damage exceeding $500 to all vessels, docks, and other property involved in the accident, or the complete loss of a vessel.
In the case of death, injury, or disappearance, this report must be filed within 48 hours of the accident, or within 10 days in the case of property damage alone.
Boating Laws
Owners and operators are required to follow both state and federal law in the maintenance and operation of their vessels. California law prohibits the operation of any vessel in a reckless or negligent manner so as to endanger the life, limb, or property of any person. This includes, among other things, operating near or through areas used by swimmers or divers, operating in such a manner that a vessel must abruptly swerve or cut speed in order to avoid a collision, or operating erratically. California law also prohibits operating a vessel at an improper speed. An improper speed is one which is not reasonable and prudent based upon traffic, weather conditions, visibility, or other potential hazards. California law further prohibits passengers from riding on the bow, gunwales, or any other place where there is a danger of falling overboard. It is also illegal to operate a vessel in an unsafe condition so as to endanger the occupants of the vessel or others on the waterway. Unsafe conditions include having an inadequate number of life jackets or fire extinguishers, failing to display navigation lights, fuel leaks, inadequate ventilation, and an excessive accumulation of water in the bilge.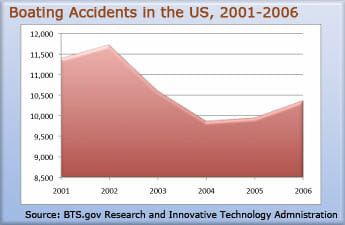 Federal laws may also apply. Congress passed the Federal Boat Safety Act in 1971. This act gave the United States Coast Guard the mission of establishing safety equipment standards for boats. Federal law requires that vessels be equipped with certain United States Coast Guard approved safety devices. These devices include gas ventilation devices, flame arresters, fire extinguishers, visual distress signals, and sound producing devices. Additionally, federal regulations require personal floatation devices (PFDs) or life jackets of specific types for each person on board.
Boating Accident Attorneys
If you or a loved one has been injured in a watercraft accident, it is important that you retain a capable and experienced law firm. This should be done as soon as possible after an accident so that the incident can be investigated and evidence can be secured before it disappears or is altered. It is important to hire a lawyer with the resources to retain investigators and accident reconstruction experts to help determine the causes of the accident.
If you would like to schedule a free consultation, please call us at (213) 271-9318 or email us at Contact@RobertReevesLaw.com.