California Catastrophic Injury Lawyers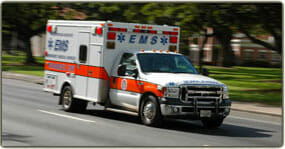 Catastrophic injuries arise in different forms. They include brain injuries, severe burns, amputations, spinal cord injuries, blindness, injuries to nerves in the torso, arms, and shoulders (brachial plexus), and multiple fractures. Whether it is the result of an auto accident, a defective product, a work-related accident, or other intentional or negligent cause, the financial and emotional effects to a victim can be enormous. Often, such injuries result in a lifetime of medical treatment and continuous life-care support. Victims may also face years or decades of lost income because of disability. Such injuries, in short, can lead to drastic changes in the lives of individuals.
Because of the great damages involved in catastrophic injuries, it is particularly important that the injured claimant retain a law firm with exceptional expertise, an established record of proven successes, and significant financial resources. These cases are often complex and expensive to prosecute. In inexperienced hands, the recoveries in these cases can be significantly reduced. The cases can also be lost outright, which is why it is important to choose an experienced catastrophic injury lawyer.
If you or a loved one are in need of legal assistance following a catastrophic injury, please call us at (800) 644-8000 to speak with an attorney.
A Review of The Reeves Law Group

After our son was injured in a devastating accident , we were referred to The Reeves Law Group, they took care of our family with respect and professionalism from beginning to end. They were thorough and everything went smoothly. Our family continues to recommend them to our friends and other family members as well.
Date published: 2015-08-04
Review Rating:
5 / 5
---
Pursuing All Recovery Sources

Pursuing all sources of recovery is also a necessity to an injury victim who faces potentially staggering health and life-care costs and lost income. There may be multiple parties who bear responsibility for a victim's injuries. Simply pursuing a single source of insurance or recovery can be a mistake. In a catastrophic injury case, the amount of liability insurance available to the victim from the primary defendant frequently is not sufficient to cover all of the victim's medical treatments, lost and impaired income capacity, and pain and suffering. Most insurance policies are not large enough to adequately compensate for the high value of such damages. Yet, it is not easy to identify certain defendants. A defective part in a machine, for example, may be partly responsible for an accident. Unless the handling attorney has the requisite technical knowledge or invests in hiring the right expert to inspect the machine and its components, the defective part's manufacturer may be overlooked as a defendant. A law firm with proven expertise and an exceptional track record is more likely to fully explore all possible defendants and every possible source of recovery.
Catastrophic injury cases usually demand large sums of money to prosecute. These cases typically require the employment of numerous expensive experts to provide testimony during litigation and at trial. Brain injury cases, as an example, often require experts in the areas of neurology, neurosurgery, neuropsychiatry, vocational rehabilitation, life-care planning, human factors, biomechanics, and other medical and technical areas. It is common for these cases to require in excess of $100,000.00 to prosecute through trial. Few lawyers have the financial resources to employ all needed experts and to pay for all necessary costs of litigation and trial in catastrophic injury cases. Retaining a catastrophic injury attorney with ample financial resources is a critical component of success in these cases.
Skill and Expertise
It takes a high degree of skill to handle effectively these complex cases and to recover the proper compensation owed to victims facing a lifetime of medical and financial challenges. Having successfully handled a large number of catastrophic injury cases, The Reeves Law Group has developed a high level of expertise in these cases and understands the necessity of investing the necessary amount of labor and resources to maximize the prospects of success. We are also aware of the difficulties facing the victims of catastrophic injuries and their families. The Reeves Law Group recognizes that besides skilled representation, effective representation requires providing caring support and maintaining close personal contact with our seriously injured clients throughout the pendency of their cases.
If you or a loved one has been the victim of a catastrophic injury, please call us at (213) 271-9318 for a free immediate consultation.
[Written by Derek Pakiz. Article updated on 2022-11-28]