Future Lawyer Scholarship
Note: Our scholarship will be running again for the 2023/2024 academic year, please bookmark this page and check back soon!

For 2022, the Reeves Law Group is awarding a $2,500 scholarship to a deserving law student who authors a winning essay in our Seventh Annual Scholarship Essay Contest.
As a Los Angeles Personal Injury Law firm, The Reeves Law Group specializes in representing victims of accidents and other tragic circumstances. We feel fortunate to be advocates for those who have no voice in our complex justice system. Helping people in need by providing them with our resources is one of our greatest rewards.
America has a superb justice system, but it could use more exceptional individuals with a passion for improving the conditions of the less fortunate through the legal system. For our Seventh Annual Scholarship Contest, we are again pleased to support a future lawyer who demonstrates through past, current, and expected future deeds a genuine commitment to serve the less fortunate.
If you want to be a participant in our contest, tell us about such deeds. We would like to know about contributions you may have made or are currently making to help, for example, a non-profit institution, a specific group, your local community, or the public at large. Tell us also how you intend to use your legal training to advance those goals.
Apply Today!
Requirements
We would like you to tell your story in a brief narrative, starting with an introduction about who you are, your interests, and anything else you feel we should know about you. Then, please provide your entry in 750-1000 words in the form of an essay, or Prezi/Powerpoint presentation. Graphic and creative presentations are welcome.
Judging Criteria
The scholarship will be awarded to the applicant who best demonstrates a genuine desire and goal of using the legal system to fix problems or improve conditions in our society. Please note worthy deeds that you have already performed. They will be considered.
Scholarship Dates and Submission
When: We are accepting submissions NOW.
Where: Please submit your essay and contact information on the application form below. Remember to upload both your essay and a copy of your unofficial transcripts.
Deadline: The deadline for submissions is December 1, 2022.
Eligibility
To be eligible for our scholarship contest you must be: a legal US resident, and either a current (1) law student at an accredited U.S. law school, or (2) undergraduate student who has applied or will apply to law school. Students with full academic scholarships are not eligible to enter this contest.
Proof of enrollment must be provided. We will accept digital scans of any of the following as valid proof of enrollment (which you will need to attach to your email application):
Unofficial transcript (Applicant must submit by mail an un-opened copy of official transcripts if selected as a finalist)
Letter from Admissions confirming deposit on school letterhead
Official enrollment verification form
Acceptance letter on school letterhead
Additionally, you must:
Verify you have read and understand the Reeves Law Group Law School Scholarship requirements
Submit a readable copy of your entry (only one entry per student is permitted)
Submit a clear headshot no smaller than 300 pixels (width) of yourself. The image file must be in the following format .PNG or .JPG
Your application must be emailed no later than the December 1, 2021 deadline. Applications received after the deadline will not be considered.
Winner Notification
The winner will be notified by phone, email and/or U.S. mail after the judging has been completed.
Award Distribution
The winner will be selected by December 15, 2022. The winner must provide proof of enrollment prior to disbursement of the award. The award will be disbursed by January 15, 2023.
Use of Award Monies
The award winner understands and accepts that the scholarship monies will be sent directly to the winner's school and shall be used only for tuition and education-related purposes.
Fine Print
Submissions: All content and creative work become the property of The Reeves Law Group upon submission and may be reposted or displayed online or through any media channels, in whole or part, without notification. When you send email communications to The Reeves Law Group, its agents and/or representatives may retain those communications.
By submitting an application, the applicant grants The Reeves Law Group, its agents and/or representatives permission to post the applicant's name, school or university, applicant's photo, and the winning entry on the firm's website (The Reeves Law Group), and on other marketing platforms, including but not limited to blogs, social media accounts, and related sites. The winning applicant also agrees to assist The Reeves Law Group and its agents with any tasks that the law firm deems reasonable or necessary to help with the above and other promotional activities.
2022: Adaeze Anita Onyimah
The Reeves Law Group is proud to award its 2022 scholarship to Adaeze Anita Onyimah.
Adaeze, who has labored to overcome a lifelong speech impediment, immigrated as a child from Nigeria to the United States with her family.  Meeting the challenges of her new country head-on, Adaeze proceeded to flourish academically, and overcame her speech difficulties to the point where she was able to perform the leading role in her high school's musical. Her successes led her on to Columbia University where, in addition to her studies, she served as an advisor, assisting low-income high school students with the college application process and founded an organization that aids under-represented minorities in securing work opportunities.
Now at Harvard Law, in keeping with her objective of one day serving a civil rights lawyer, Adaeze is a part of the University's Prison Legal Assistance Program, which provides pro bono legal research and representation to incarcerated individuals, and advocates for veterans who suffered Military Sexual Trauma during the time of their service.
We commend Adaeze on her accomplishments, drive, and determination, and eagerly await her future contributions to the betterment of society.
Full details on this year's winner are available in the official press release and on our blog.
---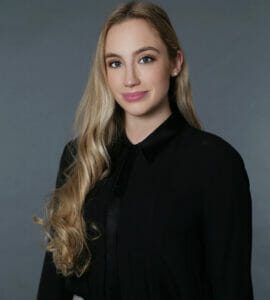 2021: Dominique Roberts
We are honored to announce the 2021 winner of The Reeves Law Group Scholarship: Dominique Roberts! Dominique is currently a student at Harvard Law School.
Dominique's captivating essay demonstrated her interest in addressing the gender imbalance in computer science and STEM fields, which ultimately lead her and her sister to start the nonprofit organization, Code Your Chances. Code Your Chances introduces young girls to the creative uses of computer science and how they can apply their unique creativity to tech.
We applaud Dominique for her achievements and look forward to seeing what she will contribute to the world after her 2022 graduation.
2019: Stacy N. Livingston
Congratulations, Stacy! You began your studies with an eye toward marketing, pursuing double majors in psychology and English at Dartmouth Summa cum Laude.
But through a personal experience, you realized that navigating the legal system was challenging for someone without the necessary training or the ability to pay a lawyer to assist them. So, you decided that was something you could help change – to make the legal system more accessible to everyone. A Harvard law degree is your next step to accomplish that.
You've shown your willingness to put forth the effort through volunteer work and you've already signed up to work with two Harvard professors to expand those efforts. We're very proud of what you've done and will do, and we're certain you'll be making a name for herself. We're very pleased that we can help you achieve your goals!
Full details on Stacy's deserving selection are available in the official press release.
2018: Djenab Conde
We are honored to announce the 2018 winner of the Reeves Law Group scholarship: Djenab Conde! Djenab is a student of UC Berkeley, School of Law and is a 2019 J.D. Candidate. Djenab's very unique background and compelling essay demonstrating her interest in advocating for women and giving them the power to express themselves made a remarkable impact on the judges.
We applaud Djenab on her accomplishments and look forward to seeing what she is capable of after her 2019 graduation.
Full details on this year's winner are available in the official press release.
2017: Jennifer Barrow
The Reeves Law Group is honored to name former U.S. Army Intelligence Officer and Bronze Star recipient Jennifer Barrow as the 2017 winner of our scholarship competition. Jennifer is in her final year at Harvard Law School and will use the $3,000 award towards tuition and education-related expenses.
Jennifer's application, essay, and supporting documentation set her apart as the clear favorite from dozens of other competitors. The end result was of an applicant clearly illustrating how she plans to use the legal system to help others and improve societal condition.
Full details on Jennifer's selection can be found in the official press release and on our blog.
2016: Ron Ruangtragool
Congratulations to our 2016 scholarship winner, Ron Ruangtragool! Ron is currently a second year law student at Notre Dame School of Law and will use the $3000 award to complete his education. His application which detailed his experience as a Thai American monk in Bangkok and his non-profit public service experience in Los Angeles made him the clear winner.
Full details on Ron's selection can be found in the official press release.
2015: Alamea Deedee Bitran
Congratulations to our 2015 scholarship winner, Alamea Deedee Bitran! Alamea's application on how she plans to assist the disabled in the field of Public Interest Law was the clear winner. The new bride plans to use the award to complete her final year of law school at Florida International University in Miami, FL.
Full details on Alamea's selection can be found in the official press release.
2014: Heather Marzenski
We'd like to congratulate our 2014 scholarship winner, Heather Marzenski. Heather beat out a strong field and will use the award to continue her education at Baldwin-Wallace University located in Berea, OH.
Full details on Heather's very deserving selection can be found in the official press release.