Los Angeles Brain Injury Attorney
If you or a loved one have suffered a traumatic brain injury that was caused by someone else's negligence, contact our experienced brain injury attorney. Call (800) 644-8000 to speak with a Los Angeles brain injury lawyer for a free consultation and start your path towards healing.
Call (800) 644-8000
For a Free Consultation
The Reeves Law Group is a professional personal injury law firm with the resources needed to help you file a successful brain injury claim and help recover damages owed to you. Our law firm operates on a contingent fee basis where you won't pay unless we win your case.
WHY HIRE THE REEVES LAW GROUP?
$250,000,000+ Recovered
Newsweek's 10 Best Personal Injury Attorneys
No Fee Guarantee – No Fees Unless We Win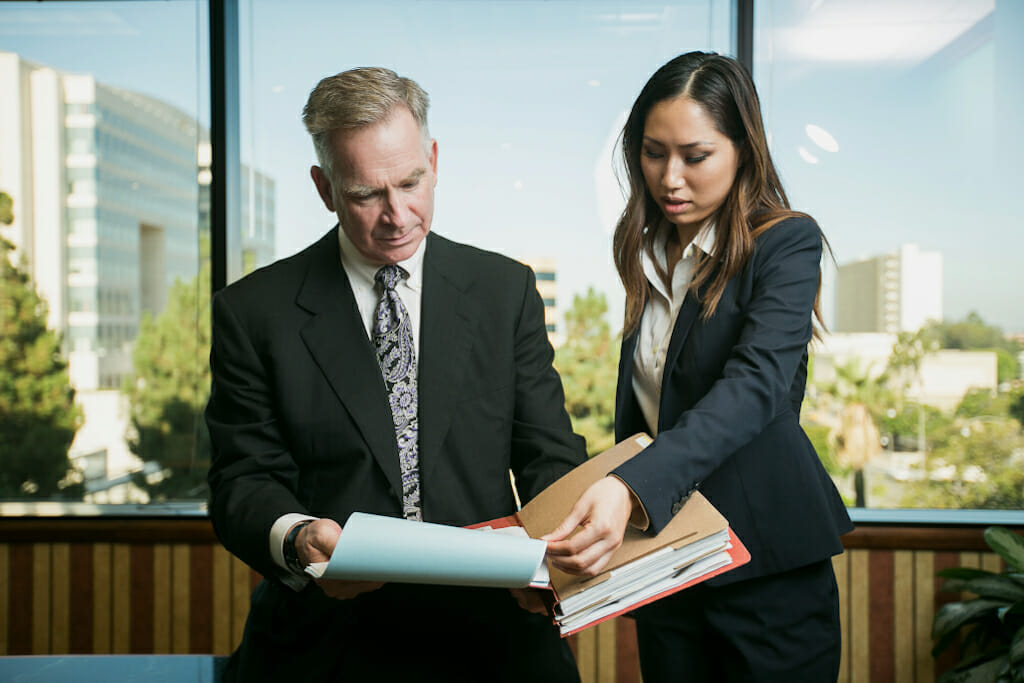 The Reeves Law Group, featured in Newsweek's 10 Best Personal Injury Attorneys, specializes in traumatic brain injury claims and has recovered over $250,000,000 in verdicts and settlements. The firm has successfully represented thousands of injured clients throughout the Los Angeles area for over 30 years.
The complex legal and medical issues surrounding traumatic brain injuries demand that you speak with an experienced attorney, who can evaluate your case and advocate on your behalf. A knowledgeable personal injury lawyer's guidance will help to maximize the compensation you receive, allowing you to deal with the financial, physical, and emotional challenges that can accompany a severe traumatic brain injury.
Call us today for a free consultation.
A Testimonial of The Reeves Law Group, Brain Injury Lawyer in Los Angeles


The Reeves Law Group came to my defense after my accident in Los Angeles. Everyone was really compassionate and relatable. This was a serious injury and this is the team you need on your side. I highly recommend The Reeves Law Group.
Cherilyn C. via Google
Review Rating: 5 / 5
Date Published: 03-10-2022
Who May Be Liable for Causing Your Brain Injury in Los Angeles?
Because serious or catastrophic injuries can occur from a multitude of incidents, identifying responsible parties involving someone's negligence depends on the circumstances surrounding the brain injury.
You'll want the right law firm in Los Angeles to take on challenging personal injury cases such as brain and spinal cord injuries with success.
What are situations in which brain damage may occur from head trauma and who is responsible?
An anesthesiologist who administered an anesthesia overdose;
An employer who did not provide protective gear or proper training in the safe handling of dangerous industrial chemicals;
A negligent driver, vehicle owner, or employer in a motor vehicle accident
A frustrated nanny who shook a baby, causing shaken baby syndrome;
A manufacturer of a pharmaceutical product that causes a stroke;
An apartment landlord who allowed lead paint chips to accumulate around the building;
A municipality that runs a public swimming pool where a lifeguard fails to rescue a submerged child;
A school board that failed to do anything about a class bully before he threw a schoolmate to the classroom floor
Proving Brain Injuries and Damages Can Be Challenging and Expensive
By their very nature, head trauma poses problems of proof for attorneys. Although the cause may sometimes be evident from physical harm to the brain's tissues, many brain injuries are not readily identifiable, even with an X-ray or CAT scan.
To show that an injury has caused trauma to the brain, witnesses who knew the victim before the brain injury occurred are often called on by attorneys. Some of these witnesses are usually spouses, close relatives, and friends who are more likely to notice the brain injury symptoms exhibited by the victim such as personality changes due to cognitive impairments.
In addition, your lawyer will arrange for the testimony of experts, some of whom may already be treating the traumatic brain injury through rehabilitation such as physical therapy.
The professionals your attorney might consult with regarding your brain injury
A neurologist – a medical doctor or osteopath expert in evaluating injuries and treating diseases and disorders of the brain, spine, muscles, and nervous system;
A neurophysiologist – an expert in the workings of the nervous system;
A neuropsychologist – whose skills combine psychology and neuroscience, studying how brain function affects psychological processes and controls behavior;
A respiratory therapist – who evaluates how injury to the brain affects breathing capabilities;
An occupational therapist – who helps injured or disabled victims return to work;
A physical therapist – who helps injured victims recover physical function;
A physiatrist – a medical doctor who helps a person identify and treat pain with the purpose of recovering their mobility;
A cognitive therapist – who re-teaches lost skills such as problem-solving;
A life-care planner – who assists attorneys in determining the forms of assistance victims will need to achieve maximum functioning.
Treating TBIs that include future medical expenses can be expensive. It's not unusual to find yourself with medical bills in the millions, which is why your best bet is to find an attorney with a successful record of helping brain injury victims and their families recover damages from their incident.
What Types of Compensation is a Brain Injury Victim Entitled to Receive?
There are untold ways in which the resulting brain damage could affect that person's life. Immediately after an accident, some people may have no current symptoms but may be in real danger of developing them later.
Others may have been left comatose by a brain injury and will need a lifetime of constant medical care, with ongoing assistance with everyday living needs.
In fact, the Centers for Disease Control estimates that at least 5.3 million Americans with TBIs are currently in need of life-long help with their daily needs and activities. Los Angeles brain injury lawyers can help determine the types of damages TBI victims may be entitled to receive, especially when insurance companies make attempts to avoid paying fair compensation.
Here are a few brain injury damages that may be obtained
Medical Bills – for anything from initial emergency care to continuing life-support services;
Medical Monitoring – to detect future effects of the damage sustained that may become apparent only over time;
Pain and Suffering – for the short or long-term impairments that affect your enjoyment of life, such as chronic headaches, incontinence, or paralysis;
Lost Wages – for the time that you had to take off of work to recover;
Impairment of Earning Capacity – for the diminishment in what you can earn in the limited work you can do after the accident;
Lifestyle Changes – for the activities you have had to give up, impairing your ability to play with your children, take a hike in the woods, or perform other normal activities that added to your quality of life before your injury;
Future Damages – for the likely additional problems that will come up in the future. For example, people who suffered head trauma are more likely to develop clinical depression and Alzheimer's disease;
Life-Care – for the home care and other non-medical needs you will be unable to meet because of brain injuries, such as cooking, cleaning, and driving;
Punitive Damages – if the person who caused your injury acted with recklessness, malice, or intent to do harm.
What is a Traumatic Brain Injury (TBI)?
TBI is brain damage caused by an injury through a blow to the head or penetration of the brain by a foreign object, such as a bullet or knife.
In the United States, slip and fall accidents are the most common causes (35%), with motor-vehicle accidents following close behind (17%). TBIs are also caused by falling objects, fall accidents, or by physical assaults.
Males are about 1½ times more likely than females to suffer trauma to the head, and children under four years old, along with teenagers between the ages of 15 and 19, are the age groups with the highest incidences.
Although some injuries may cause only temporary harmful effects, of the 1.4 million people the Center for Disease Control and Prevention say will suffer an injury to the head each year, 1.1 million will require emergency department visits, 235,000 will require hospitalization, and 50,000 are deaths.
In most cases, the harmful effects of traumatic brain injuries are most apparent soon after the injury occurs, when the brain may swell or have fluids build up around it or be damaged by oxygen deprivation.
Once these problems are alleviated, many people will recover functions that were temporarily impaired. Even when damage is permanent, other uninjured areas of the brain may be able to "take over" the functions of the impaired area, allowing the injured person to recover some normal functions.
For some, however, certain abilities will never return or will only recover with intensive rehabilitation and therapy. In those cases, an attorney's help may be the only way to secure the funds needed to pay for life care and future medical costs.
What Are the Symptoms of Traumatic Brain Injuries?
Traumatic brain injuries can result from numerous causes, including botched operations, bad birthing experiences, car accidents, toxic industrial product accidents, skull fractures from a blow to the head, or fall accidents.
A person who suffers a severe injury to the head may lose some, or even all, of their mental functions resulting in the inability to concentrate, reason, or perform daily tasks. Losing even a portion of one of these capabilities can be significant, if not devastating, for the sufferer and for their friends and family members.
In severe cases, individuals are unconscious and may even require a lifetime of medical care and assisted living. However, not all brain injuries are readily apparent.
Doctors can miss the telltale signs of a closed head injury (no penetrating injuries to the brain) because head injury symptoms may not be felt immediately. Others may be exposed to a toxic substance over a period of time, with resulting symptoms taking days, weeks, or longer to show up.
Often, brain injury victims attribute their symptoms to other injuries and fail to seek medical attention or legal help.
What should you look for if a person has recently suffered an accident with an open or closed injury to the head, undergone surgery, or been exposed to toxic chemicals?
Certain symptoms should prompt immediate emergency care and subsequent consultation with an attorney.
Symptoms include:
Dizziness or loss of balance
Diminished senses of hearing, taste or sight, or ringing in the ears
Gross motor function impairment
Inability to find words to convey thoughts
Slurred speech
Emotional trauma
Paralysis of any body part
Inability to plan body movements to perform simple tasks
Inability to focus thoughts, or too much focus on one or a few ideas
Lack of hand/eye coordination
Inability to understand written or spoken words
Persistent sleepiness or wakefulness
Unexplained weakness
Physical or mental suffering
Chronic head or neck pain
Mood changes, like uncalled-for anger or sadness
Increased sensitivity to sensory stimuli
Nausea
Are You Showing Signs of a Brain Injury?
Above all, seek prompt medical attention and a brain injury diagnosis if you suffered a severe injury to the head. Doing so may lessen the likelihood of permanent damage and may provide an opportunity to accelerate treatment and cognitive brain injury rehabilitation.
In addition to seeking immediate medical help after an accident, make sure that the injured person:
Does not engage in activities that might cause further injury, such as playing contact sports, because the cumulative effect of successive brain injuries can severely aggravate the condition;
Avoids driving, operating heavy equipment, and other potentially dangerous activities until the doctor has given approval;
Contacts an experienced Los Angeles TBI attorney who will hire investigators, preserve evidence, consult experts, and communicate with witnesses, to help protect the individual's rights if a case for compensation is found to exist.
What Are the Long-Term Effects of Traumatic Brain Injuries?
The prognosis for a TBI cannot be determined solely by the techniques for measuring the severity of an open or closed head injury. However, these measurements can give some indication of the chances of a person suffering permanent physical or cognitive disabilities. The more severe the injury, the more likely it is that long or short-term damage will result.
An accident causing closed head injuries are considered to be mild traumatic brain injuries, which could result in short-term confusion to longer-term memory loss, depression, anxiety, and diminishment of the senses of taste, touch, or smell, among other more significant effects on behavior including personality disorders. In more serious cases, a person could end up in a persistent vegetative state, with virtually no hope of recovering consciousness.
Both TBI victims may need the help of a traumatic brain injury lawyer to get the compensation necessary to continue living a functional life.
According to one study, researchers concluded approximately 40% of patients hospitalized for head injuries are still in need of services they are not receiving after one year from the date of the injury. With the assistance of an attorney experienced in brain injury cases, a victim who needs ongoing help to regain some normal functioning stands a much better chance of receiving the care that they need.
Brain Injuries from Toxic Substances
The hazardous health effects on the brain due to exposure to industrial or other environmental toxins, such as lead paint, noxious gases, and pesticides, are very difficult to diagnose and prove.
Such injuries are technically referred to as "acquired brain injuries." An acquired brain injury means that the brain developed and functioned normally until it was harmed by some outside factor. Because these types of damages often happen over a period of time, the person who suffers speech or motor impairments may not realize that his problems are brain-injury related.
Even worse, the sufferer's doctor may take note only of physical results – such as an inability to control the bladder or difficulty walking – and not suspect neurotoxins as their source.
Measuring the Severity of a Traumatic Brain Injury
After an accident causing severe injury to the head, and long before anyone thinks about calling a lawyer, the first question will be, "Will the victim survive?" This will be followed closely by, "How bad is the injury," and "Will there be permanent damage to the brain?"
About 50% of brain injury victims with severe head trauma will need to undergo surgery to remove bruised brain tissue (contusions) or to repair ruptured blood vessels. Beyond that, the extent of temporary or permanent damage will depend on a number of factors, including the force that caused the injury, the location of the blow or penetration, the age and sex of the victim, and their overall health prior to the accident.
Approximately 75% of the closed head injuries that occur each year are concussions or other forms of mild head injury. Each victim's injury to the head may be categorized, according to its acuteness, as either severe, moderate, or mild injuries.
These classifications are determined in several ways:
Concussion Severity
The medical community calculates the severity of a head injury by measuring the amount of time that accident victims are unconscious. Concussion victims may experience anything from transient confusion to prolonged unconsciousness. The greater the depths of insensibility and the greater the length of time that an injured person is unconscious after an accident, the greater the gravity of the injury to the head.
Post-Traumatic Brain Injury Amnesia
The severity of a TBI can be measured by looking at the amount of time it takes for the injured person to recover continuous memory. Thus, someone who is slightly confused for less than five minutes following an injury to the head will be considered to have a "Very Mild" injury, while someone who has amnesia for more than four weeks has an "Extremely Severe" injury.
Why Do I Need a Los Angeles Brain Injury Attorney?
Selecting a Los Angeles brain injury lawyer should be done with care. Traumatic brain injury cases are challenging and expensive. To increase the chances of a successful result, selecting an attorney with exceptional resources is essential.
Acting quickly to secure the services of a law firm is necessary to help protect your rights. If you or a loved one's brain injury was caused by the negligence of someone else, call (800) 644-8000 or contact us for a free consultation with an attorney.
With our contingency fee basis for all clients we take on, you won't pay unless we win your case.