California Limousine Accident law Firm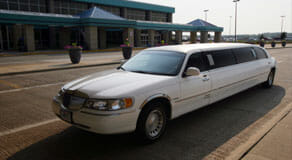 Limousines can be a fun way to celebrate life's special occasions like birthday parties, weddings, quinceañeras and high school proms. However, passengers enjoying a limousine ride rarely consider the dangers of traveling in a limo.
The weight of a limousine requires longer stopping time, especially when filled with people. Many limo companies will overcrowd the limo and not provide seat belts for each passenger. Often, limousine drivers will stay behind the wheel for long hours at a time. Fatigued and less aware, they may not be able to handle the limo in demanding driving conditions. These factors can put the passengers, other vehicles, and pedestrians at risk of an accident.
When a limo accident happens, the emotional and financial toll on victims and their families can be overwhelming. Fortunately, the law helps ensure that the parties at fault, rather than innocent passengers, bear the costs of their actions. If you or a loved one has suffered injuries from a limo accident, a California limousine accident attorney can increase your chances of receiving the highest possible recovery for any losses you suffer.
Read what clients have to say

about Limo Accident Injury Law Firm

A very honest firm – I was out with some friends in LA when a distracted driver crashed into our car. I injured my right leg and back because the car hit the passenger side right where I was sitting. A friend referred us to his old personal injury lawyer, the Reeves Law Group, because they did a great job for him. My car accident attorney helped me get my case settled fast and for a very fair amount of money. Now I tell everyone I know that the Reeves Law Group is the best Los Angeles car accident lawyer.

Reviewer: Robert

5 out of 5 stars
What Kinds of Compensation Are Available?
Medical Expenses: You may be entitled to compensation for days away from the job and work opportunities that were missed because of your injury. This compensation is available regardless of whether you used sick days or vacation time to cover your absence.
Lost Wages: If you are unable to work as a result of the injuries caused by the accident, you are entitled to recover the wages you would have earned during the time you were away. You are entitled to this money even if you used sick leave or vacation time to cover your absence. Sometimes, determining lost wages can be challenging. Perhaps you are self-employed or your income is commission-based. In such instances, the services of an expert accident lawyer will prove invaluable.
Pain and Suffering: The type of injury that you experience and the treatment that you need to fully recover are the main indicators of your pain and suffering after an accident. Documenting your symptoms and discomfort on a regular basis will allow your attorney to accurately calculate your pain and suffering.
Reduced Earning Capacity: If you suffer long-term or permanent injuries you may not be able to return to your choice of work or even return to the workforce. A resourceful limousine accident attorney will assemble a team of economic experts who can build these anticipated losses into your claim for compensation.
Who Is Responsible for Your Limousine Accident?
Many factors determine responsibility in a limousine accident. At the outset of the case, it is important for your limousine accident lawyer to identify all parties who may be responsible for the accident. Those parties may include:
Limousine Driver: These accidents are often caused by the negligent actions of the driver. Limousine drivers may violate traffic laws, fall asleep at the wheel or take unnecessary risks. Limousine drivers involved in a crash can be held personally responsible for the injuries sustained by the passengers. As a practical matter, however, the company employing the driver, and their insurance company, will typically be held financially responsible for accidents and injuries.
Limousine Company: A limousine accident may occur because the limousine company uses a defective limo, hires unqualified drivers or mechanics, or improperly trains or supervises staff. A limousine company may be at fault for a limo crash caused by its failure to implement proper safety procedures.
Limousine Maintenance Company: If the limousine company contracts with an independent company to maintain the limousines in a safe mechanical condition, that maintenance company may be accountable for negligent maintenance that causes an accident
Owners and Drivers of Other Vehicles: Owners and drivers of other vehicles may be held responsible for their negligent or reckless driving that causes a limousine accident. Even a driver's employer may be held liable if the driver was operating the vehicle while performing work duties.
Manufacturers and Retailers of the Limousine: A limousine manufacturer and a limousine retailer could be held responsible for an accident caused by their putting a defective limousine on the road.
What Should You Do When a Limo Accident Happens?
Being involved in an accident is traumatic. Immediately afterwards, you may be in shock, worried about your wellbeing or the wellbeing of your loved ones, and wondering what you should do. These steps will help put you in the best possible position to deal with a difficult situation.
Get Medical Attention: After a crash, it is imperative that a medical professional evaluates you and your loved ones . If necessary, call 911 and have an ambulance transport you to a hospital. Insist on a complete evaluation that covers head, back and spinal injuries as well as internal damage. When a hospital visit is not necessary, see a doctor as soon after the accident as possible. Many injuries may not show up immediately and require a doctor to detect them.
Call the Police: While you are still at the accident site, call the police to the scene and request that they document the crash before it is cleared. Ask for a copy of the police report and keep this report for future reference. This document will have information about the various parties involved in the accident and can help your attorney determine who was at fault.
Collect Evidence: If possible, take photographs of the crash site, the vehicles involved, and any details that you think may be important. If you don't have a camera with you, remember that most cell phones can now take photographs. Email or print out these photos for safekeeping. Make sure to write down the name and contact information of everyone involved, including the limo driver, the limousine passengers, and the people in other vehicles. Attempt to figure out the circumstances surrounding the accident. Where did impact occur? What was the weather like? Was traffic heavy? These clues may help your limousine accident attorney reconstruct critical evidence that can explain exactly what happened.
Do Not Discuss the Case with Insurance Companies: Speaking with insurance companies or their investigators before meeting with an attorney can damage your case and limit the amount that you are able to recover.
Speak with a Qualified Attorney: The other parties to the crash, including the limo company, may retain lawyers who specialize in defending limousine accident cases. Talking with a lawyer who has the knowledge and resources to manage your case from start to finish will give you the best opportunity to maximize the compensation that you are owed from the responsible parties.
Choosing Your Limousine Accident Lawyer
For over 30 years, The Reeves Law Group has successfully represented accident victims. If you or a loved one has been injured in a limo crash, contact our limousine accident law firm today for a free consultation.
Call (213) 271-9318 or contact us via our Quick Response page. We make home and hospital visits!
[Written by Derek Pakiz. Article updated on 2022-11-28]