Los Angeles Car Accident Attorney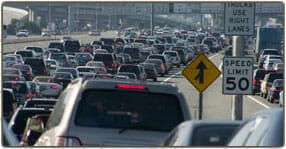 The Reeves Law Group is a law firm that specializes in car accidents and serious injuries throughout Los Angeles and Southern California.
If you have been injured in a car accident, you should speak with a local car accident lawyer as soon as you can.
There are many ways that car crashes happen. Most car accidents occur when one driver makes a poor decision. A bad choice combined with a vehicle's size and speed can be a recipe for disaster. The legal definition of a poor choice is "negligence." This means that one person did not act with reasonable care, which resulted in someone else getting hurt.
Drinking and driving, distracted driving like texting while behind the wheel, and being too tired to concentrate are common factors in car accidents. A car crash can also be caused by a vehicle breaking down while traveling due to a product defect, poor weather, or bad road conditions. When an accident does happen, a Los Angeles car accident attorney can help the car crash victims recover.
The Reeves Law Group is well known and respected through a long record of success, fighting large insurance companies, well-financed corporate and individual defendants, and have recovered over $200 Million dollars for our clients.
These abilities are due to our large size, legal expertise, and financial resources. Lead trial attorney, Derek Pakiz, has been featured as Newsweek's Top 10 Trial Lawyers in the Country.
If you have been injured in a serious auto accident, contact us today!
Our Office is located in Los Angeles, and also have meeting locations throughout Southern California for your convenience.
The Reeves Law Group Los Angeles office is located at 1055 West 7th Street, Suite 3333, Los Angeles, CA 90017.
A Review of The Reeves Law Group,
Los Angeles Car Accident Lawyers
I was stopped for a red light in West LA when I was rear ended by a Cadillac Escalade. I felt dizzy, and my neck and back hurt. The driver who hit me tried to pay me not to call the police or file a claim with his auto insurance. I immediately knew I needed to hire the best car accident lawyer in Los Angeles to help me with this. I hired the Reeves Law Group because I read reviews about what a great job they did on other people's personal injury cases. I was extremely happy with my attorney and the whole process went so much smoother once he was taking care of my case for me. He did an amazing job and I'm very happy with the settlement he reached for me.
Date published: 2015-03-03

5
/
5
---
Are You in Need of an Experienced Los Angeles Car Accident Lawyer?
Southern Californians depend on their vehicles to shuttle them through busy days. Each day, the area's major freeways are swamped with vehicle traffic. Freeway I-5 recorded 21.4 billion miles driven in 2013. I-10 and I-110 are the 2nd and 3rd busiest freeways in the nations. I-405 has 379,000 cars travel on it each day. With this many people on our roads at all hours of the day, accidents happen frequently.
According to the California Office of Traffic Safety, there were a total 39,708 victims injured and killed in traffic accidents in Los Angeles County in 2015. Car crashes are unexpected. One minute you are doing your regular daily activities. Then, suddenly, your world is turned upside down by an unforeseen wreck. The consequences of a car accident can be severe, possibly altering your life and the lives of your loved ones. An auto accident attorney can help you pick up the pieces of your life and get you back on track.
When one party causes an accident, our legal system allows those who have been hurt to be compensated for their injuries and property damage. This holds the responsible person accountable and discourages similar accidents in the future. But earning compensation from the right party is not always easy. That's when a Los Angeles car accident lawyer can really help.
Regardless of how serious of an accident, you should speak with a car accident attorney. And you should do this as soon after the accident as possible. Often, your case will depend on you taking quick actions.
What to Consider When Choosing a Car Accident Attorney in the Los Angeles Area
When choosing an attorney, consider these qualifications:
It is important to find an experienced lawyer who knows the law and how it affects your case. Additionally, the right attorney will understand your medical needs and the impact of the accident on your personal and work life.
Your car accident attorney should have experience with cases similar to yours. This helps to ensure that the lawyer knows the right strategy for your case.
The best attorneys are dedicated to their clients' causes and will not rest until the injury victims receive all the compensation they are owed.
A well-qualified Los Angeles car accident attorney will have experience with settlement discussions as well as taking cases to trial. Your attorney should have the resources to investigate and prepare your case for a jury, should cover all costs of your trial, and should not ask you to pay a dime until winning money for you.
When an accident happens, many people look to their insurance companies to help them put their lives back together. The problem is that insurance companies don't always want to pay the full amount needed for the accident victim to totally recover. When an auto accident attorney represents the crash victim, the lawyer will know how to deal with insurance companies so that they fulfill their obligations. A skilled Los Angeles car accident lawyer will be able to evaluate your case during the initial consultation and map out a plan that details the medical bills, vehicle repairs, and other monetary damages you are owed as a result of the crash.
10 Most Common Mistakes After A Car Accident
Here are the 10 Most Common Mistakes that people make after being injured in an accident.
Not Keeping Your Lawyer Informed
Not Going To The Doctor Right Away
Not Following Doctor's Orders
Trying To Do Too Much Too Soon
Downplaying Your Injuries
Hiring an Inexperienced Lawyer
Not Telling Your Lawyer about Past Injuries and Lawsuits
Discussing Case With Others
Posting Details of Your Case or Injuries Online
Talking To Wrongdoers Insurance Company
All too often, people learn about their mistakes only after they've been made, sometimes with devastating consequences. So, let us share with you some of the most common mistakes, so you'll know to avoid them. First, regarding injuries and medical care. Not going to the doctor or the hospital right away and not following your doctor's instructions. Also, trying to do too much, too soon after an injury or even downplaying your injury.
Mistakes made on the legal side of your case include: hiring a lawyer who's not a true specialist in personal injury. Once you've hired a lawyer, failing to keep them informed of important changes in your health or in your life and not telling your lawyer about past injuries or lawsuits you've had. Also, talking about the case with people other then your lawyer or posting details of your case or injuries on Facebook, Twitter or other social media.
And the number one most commonly made mistake, talking to the wrongdoer's insurance company. Avoiding these mistakes will maximize your chances for recovery, both from your injuries as well as from the wrongdoer and their insurance company.
5 Things You Need to Do if You Have Been in a Car Accident
Since a car crash is completely unexpected, the impact can take us by surprise. In a moment, our lives can be turned upside down and can take a huge toll financially, physically, and emotionally. In the aftermath of an accident, there are specific actions that you can take that will help protect your legal rights will simultaneously positioning you to recover. The following tips will get you on the track to a speedy recovery.
Get Medical Help
You should always assess the physical state of those involved in the crash and call emergency help if necessary. Make sure that you give emergency responders detailed information on the crash and any symptoms that you are experiencing. Be aware that many people underestimate the severity of their injuries because they have an adrenaline rush caused by the incident. Always request a complete examination and follow all doctors' orders for treatment. This will help you heal quickly and prevent other parties from claiming that you are partially responsible for your ailments because you did not listen to your doctor's advice.
Call the Police
Immediately call the police to the scene and ask them to write up a report detailing the car crash. Ask an officer for a copy of the report and keep this write-up for your records. Your car accident lawyer will use this report in preparing your claim.
Collect Evidence
The best time to figure out how an accident happened is right after it occurred. Make sure that you write down thorough contact information for everyone involved. This includes names, addresses, driver's license numbers, and insurance information. Also, make sure that you snap photos of the accident scene. You can photograph the areas of the crash scene that you think contributed to the wreck and the parts of your car that were damaged. Make sure that you take wide shots of the entire scene as well as close-up shots that show detailed information. It's also a good idea to keep vehicle parts that broke off in the crash. Your California car accident attorney will examine these parts and may gather critical information on how the accident happened.
Don't Admit Liability
It is important to watch what you say to the other parties involved in the crash, to bystanders, and to insurance agents. Admissions that you make can limit your ability to bring a claim in the future. Instead, allow your attorney to handle these communications.
Call an Experienced Los Angeles Car Accident Attorney
Our established auto accident attorneys have handled hundreds, if not thousands, of car crash cases throughout the greater Los Angeles area, and have the expertise to quickly assess your case while simultaneously sending our investigators to the crash site to collect and analyze information. Retaining an experienced car accident attorney is the best move you can make to win compensation from those liable.
When Should I hire a Los Angeles Car Accident Attorney?
Many auto accidents are only minor fender benders that people think they can handle on their own. But even minor accidents may require legal expertise to ensure that the accident victim is properly compensated. Insurance companies can be difficult to work with and may offer an amount that is much lower than what the person needs to fully recover. Pursuing an insurance claim requires energy, time, and knowledge that a skilled auto accident attorney can provide.
There are certain steps you can take when filing a claim that will help it to be processed quickly and correctly.
Speak immediately with an auto accident lawyer. Make sure to show your insurance policy documents to your attorney.
Let your insurance company know that you have been in an accident and ask for a list of documents that the company will need. Many times, insurance companies will want to see documentation of all the losses you have suffered, like costs of medical treatment, mechanic's bills, and police accident reports.
Ask your insurance agent for a timeline of when you need to submit any necessary paperwork.
Always make sure to document every conversation you have with the insurance company's representatives. Write down the name of the agent, their position, phone number, and office. Also, note what was discussed during the conversation.
Types of Car Accidents in California
There are many types of car accidents. Rear-end collisions, T-bone wrecks, vehicle rollovers, pedestrian accidents, and single-vehicle crashes occur regularly. Numerous factors can be responsible for each crash. The following are a few of the most common causes of car accidents.
Driver Negligence: In the majority of accidents, one driver is at fault. Usually fault takes the form of one driver making a decision that is considered unreasonable or careless given the circumstances. Our legal system requires people to act reasonably in protecting others from harm. Driving under the influence of alcohol or drugs, speeding, running red lights, and taking unnecessary risks are examples of how drivers' actions would be considered careless.
Defective Parts: Sometimes, the parties who designed, built, or sold a car or truck are liable for an accident. Under product liabilities law, companies can be held responsible for putting a product into the market that doesn't work the way that it should. Faulty brakes, an airbag that doesn't deploy, SUVs that roll over, or tires that blow out are all examples of vehicle parts that could cause the manufacturers to be held liable for an accident.
Poor Road Conditions: Government entities can be held responsible for an accident when roadways are not engineered, built, or maintained properly. Claims against a government agency can be complicated and require the expertise of a skilled car accident lawyer.
What to Do After a Car Accident
As mentioned earlier, the steps we take after an accident greatly affect our ability to successfully bring a claim for compensation from liable parties. The issue usually comes down to one of information. Does your car accident lawyer have enough information to demonstrate in settlement discussions or to a jury that another party caused the crash and your losses?
Note taking can be one of the best ways to gather critical bits of information that your attorney can use down the road. Answering the following questions can help you collect the right information at the time of the accident and help jog your memory throughout the claim process
Where were you going when the accident happened? Who were you with and what were you talking about?
What was the weather like? What were the road conditions like? For example, was the asphalt wet? Was there heavy traffic?
What did you experience and feel when the accident happened and right afterwards? Did anyone say anything about the crash that stood out to you?
In addition to these questions, it is important to keep a daily journal chronicling your injuries. Each day, evaluate your physical wounds, the pain they cause, and your mental state. Are you in lots of pain, having trouble sleeping, feeling nervous or depressed about the future, and worried about your inability to fully recover?
It's a good idea to carry a journal with you at all times and write down any recollections you have about the accident. This can relate to the crash itself, your injuries, losses you suffered because of the accident, and conversations you had with others about the crash. Sometimes, returning to the scene of the crash will bring back memories that you didn't remember right after the accident happened.
What Can I Do About My Car Accident Injuries?
Even low impact and low speed crashes can cause car accident victims to be seriously hurt. If you don't require emergency transportation to the hospital, you should still see your regular physician and be examined for possible injuries. Many times, people suffer serious wounds to the spine or brain from a car crash.
Rear-end crashes can cause whiplash, which is the rapid movement of your neck backward and forward. Whiplash can cause headaches and chronic pain often requiring lengthy rehabilitation and long-term medication.
Side-impact crashes can cause traumatic brain injuries when those inside of a vehicle hit their heads on the car's frame or window. Traumatic brain injuries can cause permanent brain damage and greatly impact an individual's future. Side-impact crashes can also cause lesser injuries like ligament and muscle strains and soft tissue damage.
It is important to always see a doctor soon after the crash because the more time that goes by without you being treated, the more likely an insurance company will think that you didn't' suffer any injuries. Even if you go see a doctor a few days after the crash, the insurance company can argue that you had time to be hurt doing something else. Going to a doctor immediately will create a paper trail of your injuries and your medical professional's treatment of specific problems.
Who Is at Fault in a Car Accident?
When someone is in their first car accident, they may be unsure of how to pursue compensation from the people who caused the crash. Most car accidents happen because a driver made a bad decision. Usually, the person who was hurt must show that the driver who caused the crash acted negligently. This requires proving four elements – Duty, Breach, Causation, and Damages.
Duty: First, the injured person must show that the other driver owed a duty of care to them. We require drivers to operate their vehicles with a certain amount of care and consideration for those around them.
Breach: Drivers must behave like reasonably prudent people. The test for reasonableness is what an average person would do if they knew what the driver knew under the circumstances. If the average person had known that someone could have been hurt by acting like the driver did, then the driver would be considered to have acted negligently.
Causation: The accident victim must show that the injuries and property damage were a direct result of the negligent driver's actions.
Damages: Finally, the victim must demonstrate how monetary compensation can cover the losses. For instance, what medical bills and losses of income has the victim suffered because of the accident.
Car Accident Settlements in California
Many times, people involved in accidents try to settle their own cases by dealing with the insurance companies on their own. This can be difficult to do if you do not have the knowledge and expertise to properly communicate with all of the different parties. Usually, it's in your best interests to discuss the matter with a car accident attorney who can properly manage your claim. Here are a few issues that people regularly encounter when handling their cases without legal counsel.
Siding with the insurance company: Many of us want to believe that our insurance companies have our best interests in mind. But insurance agents often work to minimize the amount of money that the company has to pay.
Settling for too little: Many accident victims take the first offer that an insurance company makes. The prospect of getting any compensation seems appealing. But an experienced lawyer knows the importance of understanding the accident's overall impact on your life. For example, do doctors know all of the ways that a victim's injuries will impact his or her life? It is imperative to have all of the medical documentation and a doctor's written opinion of the victim's short- and long-term medical needs. An established attorney will have medical experts who can examine this information and determine the dollar amount of these medical needs.
Assuming the claim won't go to trial: Many accident victims believe insurance agents when they are told that the claim will be settled out of court. This can lead a victim to not collect important evidence before it is lost. A skilled car accident lawyer will use a team of investigators and evidence experts to preserve and inspect all evidence in the event that the claim does go before a jury.
If You've Been Hurt in an Accident Its Time to Call a Los Angeles Car Accident Lawyer
Because most of us assume that a car crash will never happen to us, we are unsure of what to do after a car accident. When misfortune strikes, you should contact the Los Angeles car accident attorneys at The Reeves Law Group. For three decades, our firm has protected crash victims throughout Los Angeles and Southern California by winning compensation for their losses. The expertise that our attorneys possess and our record of successfully representing clients have allowed our firm to become a leading Southern California personal injury law firm.
If you or a loved one has been involved in a vehicle accident, contact our offices today for a free case review. Our team is available at all hours of the day and will act quickly to protect your rights. For an immediate consultation, call – (213) 271-9318 or email us at Contact@RobertReevesLaw.com.