California Rollover and Crushed Roof Injury Lawyers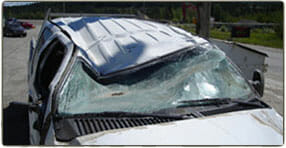 A roof crush occurs in rollover accidents when the roof supports of a car or SUV are not strong enough to withstand the combined force and weight of the vehicle, allowing the roof to collapse into the passenger compartment. Serious head, neck and spinal cord injuries are frequently the result of a roof crush. In fact, 89% of all injured drivers receive their most serious injury from the roof crush.
It is often said that if a vehicle's roof does not give way, rollover accidents are relatively non-violent accidents for seat-belted passengers. This is true because the automobile is slowing as it rolls. Whether or not the roof caved-in occurs can therefore significantly affect the outcome of victims' injuries in a rollover accident.
What Exactly is Personal Injury?
Manufacturer Liability in Accident Cases
Automobile manufacturers have a legal duty to design and manufacture vehicles in a way that provides for the safety of vehicle occupants. This means that manufacturers must design and build cars and other vehicles in ways that prevent certain foreseeable accident injuries, including roof injuries.
Evidence from court cases has shown that automobile manufacturers at times have known that a roof design for vehicles destined for the marketplace has been deficient. Despite knowing that the design would expose vehicle occupants to the risk of death or serious injury, the same manufacturers have failed to take action. Such failure has resulted in needless deaths and injuries. It is clear from some of these cases that an underlying motive for such abhorrent inaction has been to save money and avoid delaying production of the vehicles.
In other court cases, there has been evidence that design defects that would lead to roof crush were revealed to automobile manufacturers in their own testing. The manufacturers in some of these cases suppressed these results and green-lighted the vehicles for production, despite the manufacturers' knowledge of the unreasonable potential for a deadly accident.
Less common, but equally dangerous, are cases involving manufacturing defects. In one California case, defective welds led to a caved-in roof that resulted in a spinal cord injury to the driver, leaving him with quadriplegia. In this case, the driver's injury occurred near the end of the accident, when the car was slowing. As the car made its final impact on the driver's side, the roof pillars collapsed, causing a massive neck injury.
Whether the defect that leads to roof crush is in the design or manufacture of the roof, the manufacturer of a car built with a weak roof should be held accountable for resulting injuries.
Other Responsible Parties
It is possible that one or more parties may have caused or contributed to your accident and injuries. Entities or individuals who may bear responsibility include:
A government agency. A government agency may bear responsibility if your accident was caused by a road hazard or other road defect or highway condition.
Another motorist. Another motorist might be fully or partially responsible if that motorist's negligence caused or contributed to your accident.
The automobile manufacturer. The automobile manufacturer might be responsible if the roof was too weak or if another defectively designed or manufactured part caused the accident or worsened the injuries.
A parts manufacturer. A parts manufacturer could be responsible if a part it designed or manufactured caused or contributed to the accident.
A competent and experienced personal injury law firm can sort through the facts to ensure that all the responsible parties are named in a lawsuit, thereby ensuring compensation from all liable sources.
Choose the Right Roof Crush Attorney
Roof crush accidents are complex and expensive to prosecute. You should take care to choose an experienced accident attorney with the monetary resources to hire costly but necessary experts and to finance accident reconstructions. The following are some of the expertise that a California personal injury attorney should have and the types of tasks he should perform:
Federal Standards: An experienced attorney can navigate the complicated federal standards related to roof strength and the testing required by manufacturers.
Roof Strength Testing: Experienced and competent accident lawyers will understand the implications of the different types of testing methods and procedures followed by manufacturers. A common defense in a roof crush accident is that the manufacturer complied with federal standards. However, those standards are minimal and this defense should be attacked skillfully by your lawyer.
Investigation Into Your Injuries: Your attorney should begin a prompt and thorough investigation of your accident. Investigations in these cases should begin soon after the accident. The undisturbed scene of the accident can provide critical details that will help your attorney and retained experts reconstruct the accident and to establish the cause of the accident.
Roof crush cases will be hotly contested by manufacturers. These cases require a well-funded and skilled accident lawyer. Manufacturers and their experts often argue that the injuries you suffered were caused by factors other than the roof's intrusion into the passenger compartment, such as high speed or the severity of the impact. An experienced accident attorney will utilize expert witnesses to demonstrate the mechanics of your accident, including how the roof caused or enhanced your injuries, to defeat such arguments.
It is important to know that even if you were ejected in a rollover accident, the underlying cause of your injuries may have been the roof crush. The collapse of the roof can cause seat belts and air bags to malfunction and windows to shatter. Even a seat-belted occupant can be ejected. An experienced accident attorney may be able to demonstrate in court that your ejection was caused by the roof crush rather than from not being seat-belted.
Experts are Essential
In a roof crush case that has resulted in significant damage and injuries, experts in various areas may be retained. A competent California accident attorney will retain appropriate experts to help the judge and jury understand the dynamics of your roof crush accident and the injuries you have suffered. There are many types of experts your attorney may find helpful, depending on how complicated your case is and how severely you are injured. Some of these include:
Technical experts: These experts include engineers. They will explore and explain the cause and the dynamics of the accident.
Vocational Rehabilitation experts: These experts will ascertain the possible effects of major injuries and disabilities caused by the accident, including physical limitations, cognitive impairments and psychological impairments. They will make recommendations on services that the injured individual may need, such as training and counseling, to allow the victim to earn a living and function as well as possible after the accident.
Medical Experts: These could include orthopedic surgeons, neurologists, neurosurgeons and neuro-psychiatrists. They will be offered for testimony as to medical conditions and the past and future treatments that a claimant may require.
Life care planners: These experts will analyze and account for all realistic medical costs that a catastrophically injured person might face, including hospitalization, rehabilitation center costs, and assisted living.
Economic experts: These experts will quantify the amount of lost earnings a claimant has and will incur associated with the rehabilitation of the claimant, and past and future medical bills, which takes into account life expectancy and the future costs of health care.
What to Do After An Accident
Seek Immediate Medical Help. Roof crush injuries are usually severe and require immediate medical attention. Needless to say, if you or a loved one has been involved in a rollover accident and are injured, your highest priority is to be seen by a doctor in a trauma center.Chances are that if serious injuries were sustained, you or your loved one has already been treated with emergency care. It is sometimes the case however that an injury might not seem severe at the time of the accident. The true extent of certain injuries may only manifest themselves at a later time. Seeking emergency care after an accident is therefore always suggested.
Ensure That Evidence of the Accident is Preserved. Usually, roof crush accidents are investigated by law enforcement authorities. You must ensure that the police or an investigator has taken pictures of the accident scene, the vehicles involved, the roadway, any road hazards that may have caused or contributed to your accident, and the path along which the vehicle traveled as it rolled. Ensure that the following has been obtained: the names, addresses and phone numbers of all witnesses, responding police officers, paramedics and other emergency personnel, and tow truck drivers.
Preserve the Vehicle. If your vehicle must be towed, make sure that it will be kept safe in a secure location. Be sure that neither the vehicle nor its parts are altered. The vehicle and its parts need to be inspected for defects in order for your attorney to determine if defectively designed or manufactured parts are a cause of your or your loved one's injuries.
Contact an Experienced Attorney Immediately. You should act quickly following an accident if you or someone close to you has been seriously injured. The simplest way for you to ensure that all of the information mentioned above is obtained promptly, and that the evidence is preserved, is to hire a skilled and experienced personal injury lawyer who has the resources to prosecute these expensive cases.
Statistics: Roof Crushes Intensify Injuries
According to the National Highway Transportation Safety Authority ("NHTSA"):
Roof crush intrusion potentially contributes to serious or fatal injury in 26% of rollover crashes.
There is roof crush in 80% of all rollover crashes.
15% of all injured drivers in vehicle rollovers are injured by a crushed roof
Seat-belted occupants in rollover crashes usually receive their most severe injury from contact with the roof.
Types of Compensation That can Be Recovered
If you have suffered injuries in an accident, you may be entitled to a monetary recovery to compensate you for losses. Some of the damages to which you may be entitled include:
Past and Current Medical Bills for Roof Crush Injuries: An accident victim may be entitled to compensation for medical bills. These damages can be substantial in roof crush cases, which often involve severe injuries requiring surgeries and hospitalization.
Future Medical Costs: Serious injuries often require substantial future treatments and expenses. In catastrophic injuries the expenses can be incurred on an ongoing basis throughout a lifetime. If your injuries require lifelong medical care or assistance, your attorney should present a life care-plan to the court that accounts for all your future medical expenses from all sources, ranging from in-home care providers to inpatient rehabilitation centers.
Lost Wages: You may be entitled to recover your past, current and future earnings from your inability to work.
Future Loss of Earnings and Earning Capacity: The impairment of your ability to earn future income is also a compensable item of damage in accidental injuries. The calculation of these damages depends on the circumstances of each individual. One roof crush victim might have little education, but has consistently earned a good living in a physically demanding trade. Another might be a highly educated, highly compensated professional. Yet another victim might be a young child, whose future earning capacity is unknown. Some victims will be able to return to their work, but due to the degenerative nature of their injuries, will have a reduced work life. Others will require vocational counseling or retraining to be gainfully employed in areas that their disability will allow. Some people may never return to work. Each type of roof crush victim might recover money that will compensate them for their unique lifetime loss of earning capacity.
Pain and Suffering: Your pain and suffering is usually compensable damage. This allows you to recover for the short and long-term impairments to your health that affect your enjoyment of life, such as chronic headaches, incontinence, paralysis, and other effects brought about by ailments and conditions caused by the accident.
Diminished Quality of Life: Your life may be altered forever due to the severity of your injuries. You may be able to recover money damages to compensate you for your diminished quality of life, the increased likelihood that you may suffer from medical complications or infections, the increased likelihood of medical procedures and surgeries, and for a reduced life expectancy.
Contact a Crushed Roof Injury Lawyer
The Reeves Law Group has obtained exceptional results for thousands of accident victims. If you desire a consultation with a California crushed roof attorney, please contact us by calling (213) 271-9318 or messaging us via our Quick Response page
[Written by Derek Pakiz. Article updated on 2022-11-28]