California Underinsured and Uninsured Motorist Accident Lawyers
All serious car accidents are frightening and distressing. Learning that you were hit by an uninsured motorist or underinsured driver can make a stressful experience even more worrisome.
How will you pay your medical bills if the other driver is uninsured? What if a passenger in your car is seriously injured? And who pays to fix the car? Don't worry. Contact a California uninsured accident attorney at The Reeves Law Group to discuss uninsured motorist coverage.
Your Own Policy
Many accident victims believe they are just out of luck if they are hit by an uninsured or underinsured driver. Our uninsured motorist lawyer will explain how you can turn to your own auto insurance policy for coverage in these cases as well as in hit and run accidents.
Everyone who purchases auto insurance in California must be offered uninsured motorist coverage. Unless you declined this coverage in writing, your policy most likely includes coverage for accidents involving uninsured and hit and run drivers. You may also have purchased underinsured motorist coverage.
Your uninsured motorist coverage insures you and the passengers in your vehicle who suffer bodily harm caused by a driver with no insurance. If another driver is using your car with your permission, he or she is also covered by your UM (uninsured motorist) coverage.
Underinsured motorist (UIM) coverage is similar to uninsured motorist coverage. This type of insurance pays the difference between the other driver's insurance limits and the total damages for bodily injury. For example, if the other driver's insurance policy covers $15,000 — the minimum in California — and medical bills for your injuries are $50,000, your underinsured motorist coverage will pay the remaining $35,000, depending on your policy limits. UM and UIM coverage are often sold as a package.
Dangerous Roads
Uninsured and underinsured drivers present a huge problem in California. While the rate of uninsured drivers has declined in recent years, more than 14 percent of drivers remain uninsured or lack full coverage. Research by the California Department of Insurance reveals that uninsured and underinsured drivers are more likely to be involved in accidents than insured drivers. They tend to be young, male, and less affluent drivers whose cars are older and less safe. Uninsured drivers are on the highways right next to us. They put responsible, insured drivers at risk every day.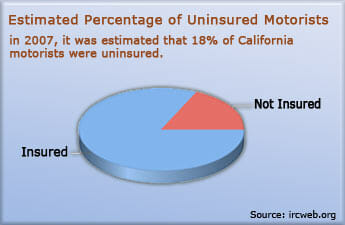 Personal Injury Protection (PIP)
If your claim exceeds the limits of your UM/UIM coverage, we will look to your policy's personal injury protection (PIP). This coverage typically pays for medical expenses, loss of work income, and accidental death and funeral expenses no matter who was at fault in the accident.
For most people insurance policies are difficult to read and nearly impossible to understand. Our personal injury attorney can translate the policy into clear English (or Spanish) and explain exactly what is covered and what is not. Most importantly, we will advocate on your behalf to ensure that you receive the full amount of coverage you deserve.
Please don't hesitate to contact us today at (213) 271-9318 for a free initial consultation and case evaluation. Our uninsured motorist lawyer is here to help. We represent clients throughout California.
[Written by Derek Pakiz. Article updated on 2022-11-28]