Victorville Personal Injury Attorneys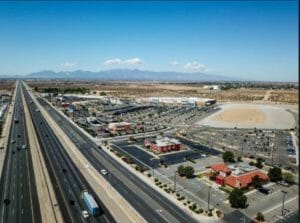 The Reeves Law Group is a premier Victorville Personal Injury Lawyer. They have been featured in Newsweek's 10 Best Personal Injury Attorneys and have been providing legal help to victims of personal injuries throughout Victorville and the high desert for over 30 years.
Minor to serious injuries can be sustained from various personal injury incidents, depending on the circumstances involved. A person might suffer bruises, lacerations, or broken bones from a mishap, and in more severe cases (such as car and truck accidents), incidents can cause spinal cord injuries, traumatic brain injuries, or even lead to death.
If you have been injured and suffered a personal injury, call us and speak with an award-winning and top-rated Victorville personal injury attorney.

Please call us or send us a message to begin the recovery process and get your life back on track.
What is a "Personal Injury?"
Personal injury lawyers can help you recover damages for injuries suffered due to the negligence of another party, including but not limited to:
Causes of injuries are numerous, and this list is small. The bottom line, a personal injury is an act that injures you, costs you money, and takes you away from enjoying your life.
Victorville Accident Statistics
A personal injury is an act that injures you, costs you money, and takes away enjoyment from your life. The following statistics show how frequently certain types of accidents happen.
Car accidents are one of the most common types of personal injury. In 2012, 2.3 million Americans were injured in motor vehicle accidents. Automobile crashes are the leading cause of death and injury for Americans between the ages of one and thirty-three.
According to the California Highway Patrol, 289 injury accidents and 17 fatal accidents occurred in Victorville in 2011. When looking at statistics for the entire county, which includes the cities of Adelanto, Apple Valley, and Hesperia, those figures jump to 650 injury accidents and 34 fatal accidents.
Dogs, like cars, are ubiquitous across the United States. In 2012, nearly a half a billion dollars in insurance claims were made in the United States because of dog bites. A dog bite may not just require stitches, but may require plastic surgery or long-term medical care, carrying significant medical costs.
If you have been injured in an accident, it is important to protect your legal rights and have a reliable and experienced personal injury lawyer represent you.
Negligence: You Are Injured by Another's Mistake
In most cases, the accident that caused your injury was not done on purpose, but was caused by another person's breach of their duty of care. The law of negligence charges everyone with a basic duty of care. Duty of care is a legal term meaning that nearly everyone has a responsibility to protect others from harm. When someone fails to exercise care and hurts someone else, they may be liable for the damage that they caused.
Our team in Victorville understands the nuances of negligence law and appreciate an accident's impact on your life. We use our experience and skill to help you earn the compensation that you deserve and need to recover from your injuries.
Reviews of The Reeves Law Group
I was involved in a car accident roughly a year ago, I was hit from behind while at a stop light by an uninsured motorist. I was very upset the way my insurance company was handling my claim so I contacted The Reeves Law Group, they had an investigator come out to my work, take a down all my information, and that was it. They kept in constant contact with me via email regarding get my case, and before you know it, just when i thought all hopes were gone of receiving any kind of settlement after a couple months since my accident, I received a phone call with an offer to settle, after a couple days of going back and forth, we settled for what I felt was a good and fair amount. The team at  The Reeves Law Group was great and I appreciate what they did for me.

5 / 5
---
Contacting a Victorville Personal Injury Attorney
After an accident, it is critical to first seek medical attention for your injuries. This is both for your health as well as to preserve any evidence that can support your claim. Also remember, it is best not to talk to an insurance company about settling your claim without consulting your attorney first.
Even though you may be entitled to compensation for your injury, acting swiftly by contacting a Victorville personal injury lawyer at The Reeves Law Group will protect your legal right to recovery.
Call (800) 644-8000 or contact us on our Quick Response page for a free and immediate case evaluation. For your convenience, we make home and hospital visits.
[Written by Derek Pakiz. Article updated on 2023-08-29]