San Bernardino Car Accident Attorney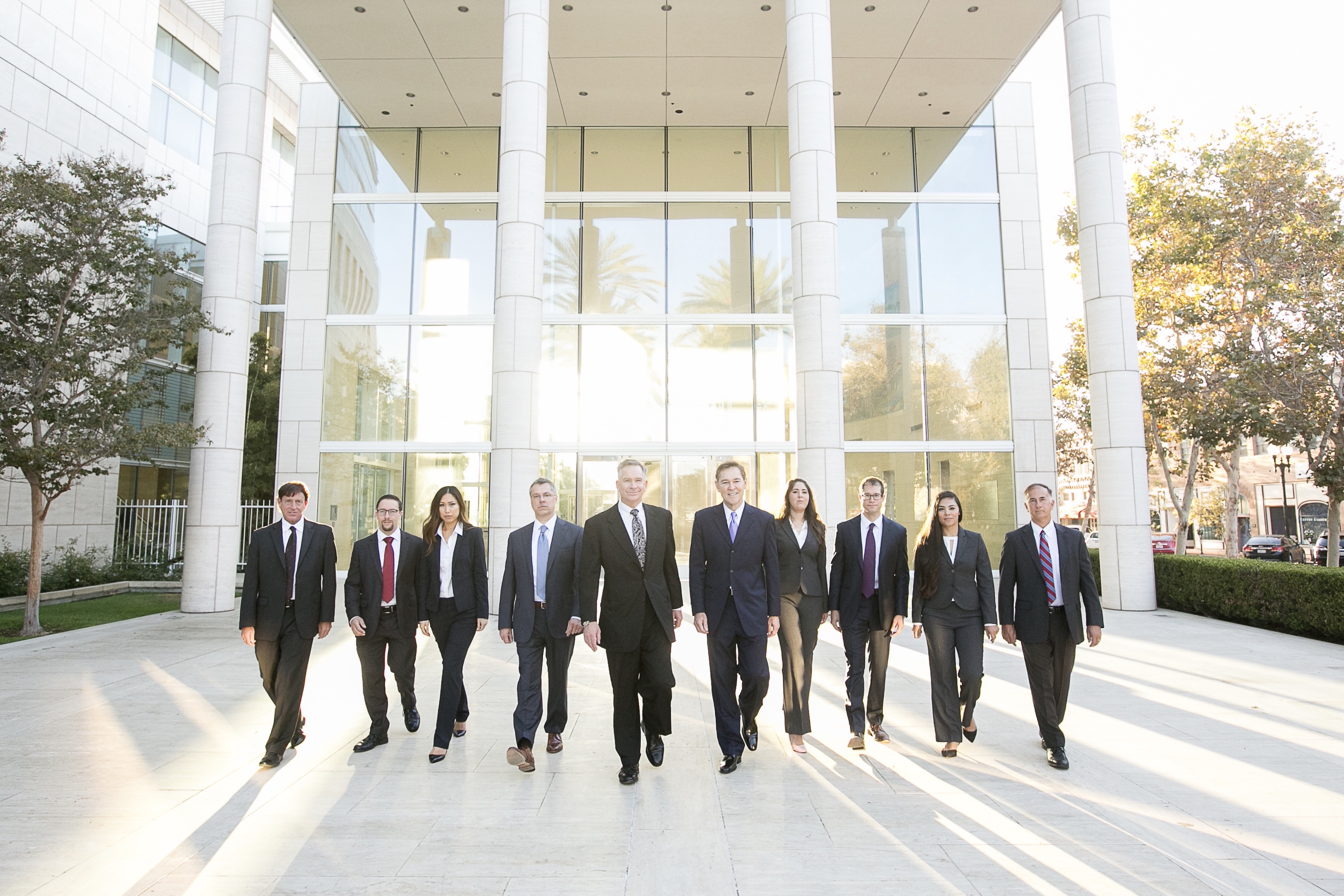 If you or a loved one have been recently injured in a car accident caused by someone else's negligence, call (909) 657-0576 to consult with an experienced San Bernardino car accident lawyer at The Reeves Law Group.
Our personal injury law firm was featured in Newsweek's 10 Best Personal Injury Attorneys and has represented thousands of car accident victims throughout Southern California. We have successfully handled car accident cases for over 35 years and have recovered over $250,000,000 in verdicts and settlements for our clients.
For a Free Consultation Call (909) 657-0576
WHY HIRE THE REEVES LAW GROUP
$250,000,000+ Recovered
Newsweek's 10 Best Personal Injury Attorneys
No Fee Guarantee – No Fees Unless We Win
Catastrophic injuries caused by serious car accidents can be physically, emotionally, and financially devastating. You shouldn't have to continue suffering due to someone else's negligence. In California, car accident victims can bring a civil case against the perpetrator, seeking financial compensation for their serious injury.
For the services of an auto injury law firm with a proven track record for helping clients and their families get the compensation they are rightfully due, contact us today to speak with one of our qualified San Bernardino car accident attorneys for a free consultation and case evaluation.
A Review of The Reeves Law Group, San Bernardino Car Accident Attorneys
I was in a terrifying roll over car accident in San Bernardino / Riverside when a driver fell asleep and hit my car. We rolled over several times and flew off the road. Fortunately, I hired the Reeves Law Group so that a lawyer who specializes in serious car accident injury cases could help me. My attorney was great. He was really friendly, always kept me updated, and really went out of his way to help me in every way he could.
Review Rating:

5 / 5
Date Published: 07-14-2021
How Can a San Bernardino Car Accident Attorney Help Me with My Case?
f you have been involved in a car wreck, you will want to determine what your options are as a car accident victim looking to hold the negligent driver at fault responsible for the losses accrued from the accident and your injuries. That's where an experienced car accident injury attorney comes in, to help accident victims shoulder the burden of dealing with all the legal matters that come with a car accident case.
Hiring qualified car accident attorneys to handle the process of your accident claim is imperative because the insurance company of the at-fault party will have an insurance adjuster attempt to deny claims or reduce as much as they can the amount of the settlement. Insurance companies may have their own strategies in dealing with people trying to file a claim on their own, which is why you need a skilled auto accident lawyer to make sure you're getting the compensation you rightfully deserve.
The more complicated the claim, which typically involves serious injuries or wrongful death, the more you will want the services of a personal injury lawyer from a reputable San Bernardino car accident law firm.
It may be possible that the settlement offered by the insurance company of the at-fault party is not satisfactory to help recover the damages caused, which include accrued and future medical expenses, pain and suffering, property damages, and lost wages due to the time spent recovering from your injuries. In this case, filing a lawsuit against the other driver for negligence is the next step to get the compensation you deserve.
For people in San Bernardino, searching for personal injury law firms, you will want to find a team of specialized attorneys who will give you the best chance to recover all the damages caused by your accident.
As a client, your personal injury lawyer should handle the process of your claim with the insurance company so you won't have to and, if needed, file a lawsuit to settle in court the compensation that you are rightfully due.
At the law office of The Reeves Law Group, when we take on personal injury cases for a client that goes to court, the duty of a plaintiff attorney is to represent their client who has been injured or wronged through no fault of their own while protecting their rights and interests.
Car Accident Statistics in San Bernardino County
The U.S Department of Transportation's Federal Highway Administration estimates that the average driver in America drives roughly 13,500 miles per year, which is an increase in miles driven in past years. Nearly 70% of all motorists in the United States are driving more every year. And according to The National Highway Traffic Safety Administration, in the first 9 months of 2020, an estimated 28,190 people died in serious car collisions.
The California Highway Patrol reported 197,146 fatal and injury traffic accidents in the entire state in 2017 where 3,582 were fatalities and 193,564 were injuries.
In 2016, a reported 16,263 victims of motor vehicle accidents were injured or killed in the San Bernardino County area, which saw an increase from a year before and up a total of 45% since 2009. The chance of a highway incident whether on a freeway or a neighborhood road has climbed steadily. From reckless driving to DUI crashes, the injury accidents that occur often take us by surprise. Even when you're stationary in a parking lot, you can get hit by just about anyone.
Do I Need a San Bernardino Car Accident Attorney?
Auto accidents in San Bernardino County have seen steady annual increases in the past ten years in an area where the population of residents in the county has also seen a rise in numbers every decade since the 1980s. With more people and drivers on the road in the city, the occurrence of a serious or catastrophic injury or even death from a collision becomes more likely.
Case in point, Interstate 15, 10, and 215 are freeways passing through major cities in the Inland Empire such as Fontana and San Bernardino where not only the risk of car accidents occur but truck accidents as well. The distracted driving habits of teenagers have been a cause for concern for parents in San Bernardino as car crash fatalities among teenagers are known to be a serious problem in the area.
A major accident can happen on any road and at any time in San Bernardino, and as the victim, you want to make sure you're getting the most from your compensation whether through a settlement or lawsuit should it come to that. Only the best legal representation can help you recover the damages owed to you.
Personal injury law firms generally offer a free case evaluation where a professional auto accident attorney can help with your car accident claim. The Reeves Law Group has successfully helped injured clients with their personal injury claims to recover compensation from costly medical bills to lost wages.
What Are the Types of Injuries and Damages Caused by Car Crashes?
The statistics reveal more than just the jarring increase in San Bernardino car accidents; these statistics show that, unfortunately, car accidents will continue to occur throughout the city and across the Inland Empire. As the areas surrounding San Bernardino continue to get more populated, the chances of auto accidents occurring along the interstate highways, freeways, and city streets are greater. Take road conditions due to new construction and weather conditions in the area into account and suddenly distracted driving becomes an even more dangerous activity. The fact is, anyone can be involved in common car accidents regardless of where they drive or the type of vehicle they operate.
Common Causes of Car Accidents in San Bernardino County
Car accidents of all types happen everywhere and the most common ones aren't relegated to a county like San Bernardino.
The California Department of Motor Vehicles (DMV) reports that some of the most common causes of motor vehicle accidents that a person may suffer in an auto accident include:
Driving at an unsafe speed
Drinking and driving
Making improper turns
Failing to properly stop
Ignoring traffic signs and regulations
Violating right-of-way traffic rules
Driving on the wrong side of the road
Using a smartphone while driving
Other forms of distracted driving
Common Accident Injuries in San Bernardino, CA
The California Department of Motor Vehicles (DMV) estimates that nearly every driver will be involved in a vehicle crash at some point. Some of the most common auto accident injuries suffered by drivers in an auto collision include:
Head injuries
Traumatic brain injuries
Neck and Spinal injuries
Whiplash
Broken bones
Internal injuries, including internal bleeding
Facial injuries
Deep lacerations
Pelvic injuries
Compressed spinal discs
Concussions
Long-term psychological trauma
In some cases, death
What Should I Do After A Car Accident in San Bernardino, CA?
The aftermath of an auto accident, no matter how severe, can be jarring and impact both mental and physical health.
However, there are some actionable steps you can take, when able to, that will help protect your legal rights, better position you in recovering from damages sustained, and serve to help your auto injury lawyer build a case.
Get Prompt Medical Attention
The first thing to do after being involved in an accident is to determine whether you and your passengers suffered injuries and immediately call for emergency help if needed.
Any of the above-listed injuries could require medical attention and a trip to the hospital. Make sure you see your doctor for any ongoing treatments you may require after the accident.
In fact, many of the injuries someone can sustain in a car crash could lead to extensive medical treatment, including surgery, physical therapy, testing, and long-term medications.
These medical treatments can result in large medical bills, another terrible consequence of a crash.
It is important to document your injuries through medical records if you plan to seek compensation for those injuries later. A specialized motor vehicle accident attorney will be able to use your medical expenses as a basis for determining the compensation you could be owed.
Alert the Authorities
After seeking any necessary medical help, immediately call the police. When a San Bernardino police officer arrives at the scene, make sure you provide them your account of the incident so they can write up a police report detailing the incident that occurred. Police should also be called on a hit-and-run accident. Ask for a copy of the police report so your auto accident lawyer can use it to help you file your claim. Do not in any way admit fault for the accident to anyone. This will have an adverse effect on your claim when you file one. Always let your car accident lawyer handle all communications with the other parties involved.
Find Evidence
On top of dealing with the physical and emotional effects of a car accident, you are likely to sustain property damage as well. This is the time to investigate the scene of the crash and gather as much information as you can from everyone involved. Get the full name, address, contact information, insurance company and policy number, driver's license number, and license plate number of the other drivers including the make and model of all cars involved. Document the location of the accident and the scene of the crash by taking photos from every angle using wide shots and close-ups of the damage in detail. Include areas you think may have contributed to the accident. Snap photos of any visible injuries sustained.
Hire A San Bernardino Car Accident Attorney
Although you'll find that most personal injury attorneys in Southern California offer a free consultation, you will still need to do your due diligence and find a qualified San Bernardino auto injury attorney that specializes in car crashes of a serious or catastrophic nature. One who will handle your case entirely, helping you file your claim, deal with insurance companies, and represent you in a lawsuit should it come to that. The law office of The Reeves Law Group is a successful and award-winning law firm for over three decades and we have experienced San Bernardino car accident lawyers ready to represent clients in their time of need. We offer a free no-obligation consultation and will not charge a fee or seek reimbursement for costs advanced unless your case is won.
Why Should I Call a San Bernardino Car Accident Lawyer?
According to The National Highway Traffic Administration, motor vehicle crashes happen almost every minute of the day. And nearly half of all first-year drivers have been in a car crash. While the numbers may fluctuate year after year, the fact of the matter is there will always be a degree of risk involved in driving a vehicle. When an accident does happen, you'll need to be prepared for the first step of your recovery process.
Call the San Bernardino car accident lawyers of The Reeves Law Group for a free consultation. Why? Our personal injury law firm will have an experienced personal injury attorney ready for you to tell them all about your accident and injury. They will have the skills and knowledge to provide you with the best legal advice to help you achieve satisfactory results for your personal injury claims.
Car accident cases can be complicated, especially ones involving wrongful death cases, and it can be difficult to determine who is liable. Getting the best legal representation for your personal injury claim to help you recover compensation is a sure way to get the most out of your claim.
To get legal help now, start with our free no-obligation consultation by contacting our law firm today. Call (909) 657-0576 or contact us and tell our trial lawyers what happened.