Los Angeles Slip and Fall Lawyer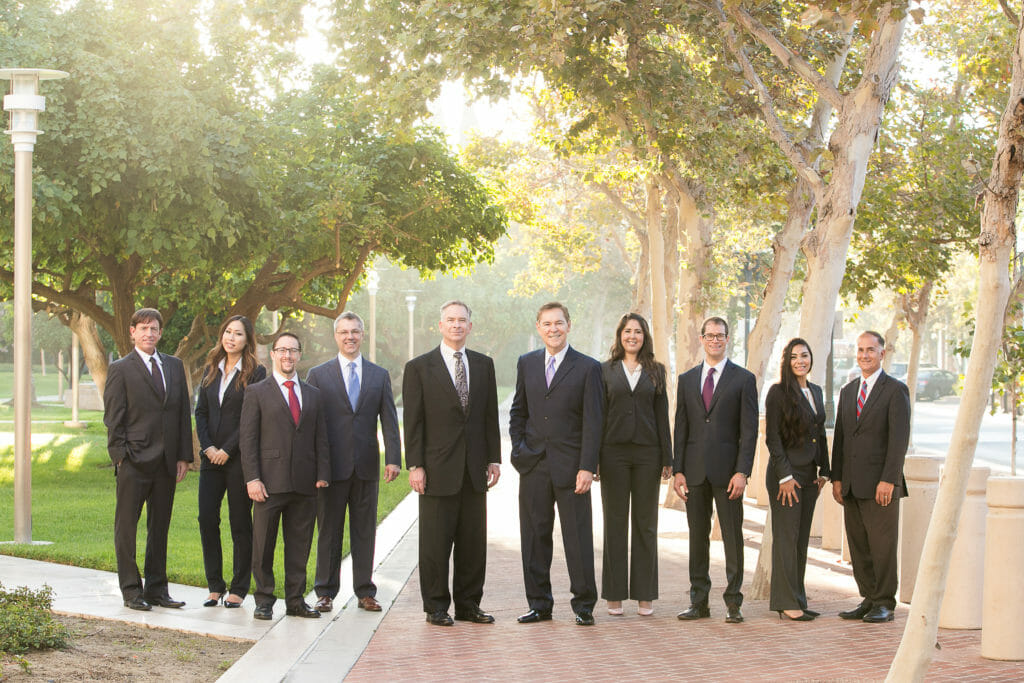 Minor to serious injuries can be sustained from falls accident depending on the severity of the fall. A person might suffer hip fractures and sprained wrists from a fall and, at worst, slip, trip, and fall incidents can cause traumatic brain injuries and sometimes even lead to death. If you have been injured in a slip and fall accident, call us and speak with an award-winning Los Angeles slip and fall lawyer.
Call (213) 271-9318
For a Free Consultation
Featured in Newsweek's 10 Best Personal Injury Attorneys, The Reeves Law Group has been helping victims of slip and fall accidents in Los Angeles and throughout Southern California for over 35 years. Our personal injury law firm has recovered over $250,000,000 in verdicts and settlements for our clients. Contact us today or call (213) 271-9318 for a free consultation.
Why Choose The Reeves Law Group
Free Consultation for Your Slip and Fall Injuries
Newsweek's 10 Best Personal Injury Attorneys
No Fee Guarantee – No Fees Unless We Win

If you need legal advice from an experienced Los Angeles slip and fall accident attorney or need to file an injury claim, contact The Reeves Law Group. For the convenience of our clients, we located in Los Angeles, and have meeting locations throughout Southern California.
A Review of The Reeves Law Group, Los Angeles Slip and Fall Attorney
"The Reeves Law Group came to my defense after my accident in Los Angeles. All of the attorneys were really good. Everyone was really compassionate and relateable. This was a serious injury and this is the team you need on your side. I highly recommend The Reeves Law Group."
Cherilyn Clark via Google


5 / 5
Date published: 08-23-2021
How Can A Los Angeles Slip And Fall Attorney Help Me?

At The Reeves Law Group, we know how devastating slip, trip, and fall accidents can be. Our slip and fall lawyers have specialized in premises liability law for over three decades and understand that a slip and fall injury can lead to lasting pain, expensive medical bills, and financial hardships due to lost wages. Our lawyers are passionate about helping slip and fall victims recover from accidents as quickly as possible.
We know that an accident can happen when we least expect it. That's why we offer a free consultation to you at any time, night or day. If you need to speak to a slip and fall accident attorney in Los Angeles, or you need to find legal representation in another county but aren't able to make it to our offices, we will come to your home, work, or hospital room.
Whether through settlement discussions over your slip and fall claim or litigation, our team of lawyers will dedicate all necessary resources and time to your cause. A slip and fall accident lawyer will help guide you through your claim, handle communications with the insurance companies, and provide expert legal representation if a lawsuit is pursued.
The Reeves Law Group is a well-established law firm specializing in personal injury cases involving serious and catastrophic injuries. We have a team of successful trial lawyers committed to personal attention, fast action, and aggressive representation. Our caring and diligent approach has allowed our firm to recover maximum compensation in million and multi-million dollar verdicts for the plaintiff.
What is Slip and Fall?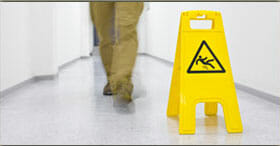 Accidents that cause slip and fall injuries, also known as trip and fall, happen when someone falls to the ground and is hurt because of unsafe conditions on someone else's property. Slip and fall injuries come under the area of law called "personal injury" and they are typically handled by premises liability attorneys.
Personal injury law is a legal process that deals with the harm that people suffer due to the carelessness of another party. These types of accidents can be caused directly or indirectly by a victim's interaction with the dangerous environment.
An example of a direct cause of a slip and fall incident is a liquid that is spilled on a floor that causes someone to lose his or her balance and be hurt. In a store, our attention is drawn to merchandise on the shelves so our attention isn't always focused on the ground we're walking on.
Other direct causes include some substance or material that affects a person's ability to walk safely. This includes poorly maintained floors, cracked or uneven sidewalks, or objects left in a hallway, like a child's toy.
An indirect cause of a slip and fall is the environment that plays a factor in someone slipping and falling. Indirect causes include poorly lit walkways with inadequate lighting, areas that have alternating areas of low light and strong light, and missing or broken handrails.
Types of Slip and Fall Accidents
Slip and fall cases can be difficult to prove because it can be hard to show who was liable for the injury. A premises liability claim is based on determining whether the property owner owed a duty of care to the victim in keeping the premises safe and whether that duty was breached by failing to provide a safe environment. Most slip and fall cases turn on whether someone acted negligently.
To prove negligence on the part of the property owner and hold them legally responsible for the fall, your slip and fall accident attorneys must show that you suffered injuries caused by a hazardous condition on public or private property and that the owner knew or should have known about.
The defendant has a legal obligation to maintain their property free of unsafe conditions, which can be defined as an unreasonable risk to the visitors that they should not have foreseen. An experienced slip and fall attorney will know how to review the evidence for these elements and put together the strongest possible case for compensation.
Slip and fall injuries can happen in many different places. The three most common places are commercial, residential, and government properties.
Commercial Property: A store owner, property manager, building owner, business owner, or employee of a business such as hotels, office buildings, or a big-box store may be responsible for a slip and fall accident when one of these circumstances is met:
They created an unsafe environment that caused the victim to slip, trip, and fall.
They knew about the hazardous condition but the property owner failed to fix the problem.
They should have known about the unsafe environment and had it fixed because a reasonable person would have found out about the dangerous circumstances and repaired it before someone could get hurt.
Residential Property: Whether a fall occurred in an apartment building or at a residential care facility, sometimes property owners or landlords have to compensate tenants, residents, or visitors to the property when someone is hurt in an accident. For this to happen, the following circumstances must be met.
The property owner or landlord knew or should have known about the unsafe condition.
The property owner or landlord could have repaired the condition
It was foreseeable that a serious accident would happen if the condition wasn't repaired.
Because the property owner or landlord didn't fix the condition, the victim slipped and fell.
Government Property: Slip and fall accidents that happen on property owned by the government raise separate issues that a knowledgeable trial lawyer will be able to address. Some of these issues include statutory laws, complicated rules on filing a claim, and what qualifies as a branch of government or affiliated organization.
Where Do Most Common Slip And Fall Injuries Occur?
Slip and fall accidents can happen anywhere and at any time, whether at shopping centers, amusement parks, office buildings, parking lots, grocery store aisles, or even in hospitals. Basically, any factor that causes someone to lose his or her footing and fall down can be a dangerous, sometimes deadly, condition.
The following is a partial list of where falls can happen:
In homes and businesses
Indoors and outside
On mechanical transporters like elevators and escalators
On walkways, sidewalks, and parking lots
On concrete, carpet, tile, and linoleum
During bad weather when rain, sleet or snow make surfaces slippery
When other conditions make it dangerous to walk, for example when walkways don't have proper light, concealing a dangerous condition
When the conditions are ripe for a slip and fall incident and someone gets hurt, a range of serious injuries can occur, like:
Sprained ligaments
Strained muscles or tendons
Broken bones
Paralysis
Head and brain injuries
Other soft tissue injuries
Bulging discs and pinched nerves
Loss of life
Types of Damages
Injuries from falls can occur with and without warning. Whether there are warning signs or not to be careful of your surroundings, accidents can happen when you least expect them. Injuries suffered from a serious accident can leave you with expenses from property damages to future medical expenses.
Here are just a few examples of the types of damages you can expect from your slip and fall case:
Medical Bills
Lost Wages and Earning Capacity
Pain and Suffering
Punitive Damages
Slip and Fall Settlements in LA County and California
Many times, a slip and fall case won't go to trial because the defendant will want to settle the case earlier. This is especially true when you have an experienced trial lawyer on your side. There are steps that you can take right after the incident that will help your accident attorney put together the most compelling case for maximum compensation.
Note whether the accident occurred at someone's residence or at a business.
Write down the details of the accident. What caused the accident? Poor lighting? Wet floors? Bad weather conditions? An object placed on the floor that didn't belong there?
Take photos of where the accident happened and try to capture images of what you think caused the accident to happen. It is important to document the cause of the accident before the property owner has a chance to fix it.
Inform the property owner of the accident. If you were hurt at a business, ask the owner or manager to write up an accident report and ask for a copy of this report. Make sure to share this report with your attorney.
Set aside the clothes you were wearing, including your shoes, so that the other side can't place blame on these items. For instance, they could say that the soles of your shoes lacked proper tread to grip the floor.
Write down the contact information of any witnesses as well as their impressions of the accident.
Get medical attention and keep records of all doctor's visits.
Take photos of your injuries.
Who Is Responsible For My Slip and Fall Accident?
Each year, thousands of people are hurt in slip and fall accidents across LA and throughout California. Slip and fall cases can be difficult for injured accident victims to determine the at-fault party responsible for the accident and injuries sustained. And it can be difficult to prove that the accident was entirely the property owner's fault.
Sometimes, those who are hurt can be totally or partially responsible. However, since California is a pure comparative negligence state, a certain amount of damages can still be recovered even if the victim is partially at fault.
Other times, property owners or their employees are solely responsible. This is because it is their duty to keep the property reasonably clear of dangers that could injure visitors.
Slip and fall accident attorneys will see many different types of cases and can accurately assess responsibility in your slip and fall lawsuit as it pertains to California law. Anyone can be a victim of falls at any place from malls, sports arenas, and swimming pool areas to gas stations and parking garages.
When property owners fail to take proper steps to keep their property safe is a key indicator of fault.
A landowner has to take sensible steps to make their land safe for visitors. This is weighed against the injured victim's behavior. Did the injured person do something that, in whole or in part, caused the accident? If your case goes to trial, your attorney will have to demonstrate that the business or residential property owner knew or should have known about the existence of the dangerous condition and didn't remove the risk, thus causing you to be hurt.
An example of a slip and fall case is when liquid, like milk or juice, is spilled on the floor of grocery stores. A customer, unaware of the spill, slips and gets hurt. Key questions about this type of accident are:
1. Why was the floor wet?
2. Was the slickness of the wet floor reasonable or not?
3. How long had the liquid been left on the floor?
4. Did the shop know about the spill? Did anyone attempt to clean it up or place signs warning customers about the spill?
When your trial lawyer successfully handles your case, you will be awarded "damages." This is a financial award that is intended to measure the accident's impact on your life. Damages in slip and fall claims vary depending on the seriousness of the victim's injuries and include the accident's actual financial impact as well as its non-financial effects.
Why Should I Hire The Reeves Law Group As My Los Angeles Slip And Fall Lawyer?
The professional attorneys of The Reeves Law Group are ready to help victims of slip and fall accidents. We have meeting locations in Los Angeles and throughout the county to accommodate our clients. Our team of plaintiff attorneys will act quickly to collect important evidence before it is lost, handle on your behalf the insurance companies, and create a plan to maximize the compensation you are owed.
Our slip and fall accident lawyers know exactly what it takes to successfully recover damages owed to you in a premises liability claim. If you or a loved one has been hurt in a slip and fall accident, call today to set up a free case review and allow us to represent your best interests.
Our California slip and fall attorneys are prepared to come to you whether you live in Los Angeles or other areas throughout the Southland. Contact us today or call (213) 271-9318 for a free consultation.We make home and hospital visits for our clients!