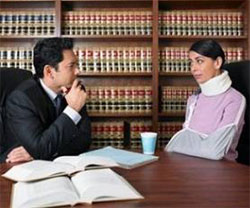 No one ever plans to need a personal injury lawyer. Accidents happen to all of us, everyday, and for some of us, the consequences last for months, years or an entire lifetime. When that accident happens through no fault of your own, or, God forbid, through the careless negligence of a 3rd party, sometimes you must seek out legal assistance.
We here at The Reeves Law Group have been fortunate to assist hundreds of wronged plaintiffs over the last two decades as part of our practice. Our success is something we're proud of and it's something you should expect of your own attorney, even if it isn't us.
There are over 8800+ personal injury attorneys here in California listed just on Avvo.com. Unfortunately, not all of them are great.
To that end, if you are ever in the market for a personal injury attorney, or any attorney for that matter, here are a couple of suggestions to narrow down your list. Take these tips to heart.
1. Check their Winning Record: With the amount of personal injury attorneys in California it makes no sense going with someone "new" who doesn't have a track record of searchable judgments. Make sure to ask what their experience is and most importantly, for past verdicts to peruse.
Although past successful verdicts don't guarantee a successful outcome on your case, they certainly do provide you a more complete picture of the overall competency and experience of the firm or attorney with which you are considering.
2. Check their Resources: The average personal injury case can cost thousands of dollars to research, litigate and win. For example, a brain injury negligence case can cost in excess of $100,000 to persecute. And, personally, we've expended as much as $250,000 here at the firm on specific cases.
Very few lawyers and firms have the resources necessary to fight AND win complicated personal injury cases. Why is this important? If you choose a lawyer with limited resources they may feel pressed to settle a case too early and that costs YOU money!
3. Check their Size: Most personal injury cases are multi-attorney affairs. It's not uncommon here at The Reeves Group to have multiple lawyers, paralegals and over a dozen support staff working on just one case. And that makes a difference with regard to bottom line results.
As yourself: does the prospect of having a firm who can bring more resources to bear in regard to both personnel and support staff increase the likelihood of a successful verdict in your favor? If I go with a single practitioner to wage my case, am I going to be assured they will wage a vigorous claim?
4. Check their Reputation: The best law firms and attorneys have accolades to spare. Do they advertise on their site they have been recognized as part of the 10 Best Personal Injury Attorneys in the USA by Newsweek or made a list of the Top 100 Trial Lawyers put out by the National Trial Lawyers Association?
More importantly, view their testimonials. Do they present detailed videos, Facebook reviews, and on-site testimonials from current and past clients who have been pleased with how the attorney/firm handled their cases? If not, why not?
5. Check their Fee Policy: The BEST personal injury attorneys and firms offer a "No Fee Unless They Win" guarantee as well as a Free Initial Consultation. This is also called a "contingency" arrangement and is common in the personal injury niche. Simply stated, this policy says: if the firm doesn't win your case or force a settlement, they don't get paid.
Further, most victims of personal injury have limited mobility. So make sure your attorney can and will come to you for evaluation. Also, do they have multiple locations or offer multiple meeting places that will make things more convenient for you? All of these are considerations for which you should be aware.
This isn't a complete list and we actually offer a more thorough review of what to look for in a firm in this resource but this should give you a more general idea of what questions you should be asking of ANY potential personal injury practitioner.
Suffering an injury, a disability or even losing a loved one to the negligence of another is a horrible experience we wish didn't happen in today's society. But if it does happen to you, educate yourself on what to look for in a personal injury practitioner by reviewing the above tips.