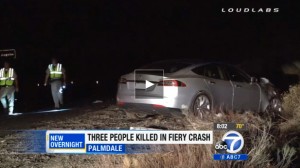 NBC Los Angeles and other news media outlets reported this weekend that the driver of a Tesla-brand electric car left at least three people dead and two injured after colliding with multiple cars. Fifty-eight-year-old Ric Garrison was identified as the driver of a Tesla that collided with a 2004 Toyota Corolla on the 14 Freeway near Avenue S. By the time the California Highway Patrol (CHP) arrived on scene, the Toyota was on fire. Bystanders and witnesses helped remove the occupants of the Toyota. Three of the occupants – the 40-year-old driver as well as two child passengers – were pronounced dead at the scene. Two other occupants of the Corolla (a 31-year-old and a 6-year-old) were safely extracted from the Corolla and taken to the hospital with serious injuries. Garrison suffered minor injuries. Although it is clear that Garrison rear-ended the Corolla, it is unclear whether drugs or alcohol played a role in the crash.
This comes after another individual stole a Tesla car and led police on a high-speed chase before crashing into a building.

Negligence: The Heart of a Personal Injury Case
Most individuals know that if you are injured by another person in a car crash, one party to the crash is "at fault" and should bear the responsibility for the costs of the other. These costs may include medical bills, rehabilitation or therapy expenses, wages lost due to time missed from work, and other similar costs. For instance, the surviving family members of the three individuals killed in Friday's accident can recover a variety of damages in a wrongful death suit. The two individuals who survived can recover their medical costs and other damages.
However, before that other person can be held financially and legally responsible, he or she must be shown to have acted "negligently."
In essence, "negligence" means "carelessness." Every driver using California's congested roads owe all other drivers, bicyclists, pedestrians, and motorcyclists a "duty of care." This duty means drivers must use caution and drive in a reasonable manner. When a driver does not use care, he or she is said to be driving "negligently."
Showing Negligence in a Personal Injury Case
Those injured by the negligent driving of another in Los Angeles County can point to specific behavior of the other driver to show he or she drove in a careless manner. For example, any of the following behaviors or actions can show a driver acted "negligently":
Driving while intoxicated by drugs or alcohol;
Texting while driving or distracted driving;
Speeding or driving too fast for road conditions; or
Disobeying posted traffic signs; and more.
A Personal Injury Attorney Can Help You Win
If you have been injured in a car crash because of another driver's actions, you need the skill and insight an experienced personal injury attorney can provide. One of the dedicated attorneys from the Reeves Law Group can review the facts of your particular accident and advise you of any evidence of negligence. A lawyer from the Reeves Law Group can take steps designed to preserve important evidence by interviewing witnesses, taking photographs of the scene, and (if necessary) consulting experts such as accident reconstructionists. Contact the Reeves Law Group today at (661) 202-3142 or e-mail us for a free consultation.