Car Accidents
Are you looking for a dependable Car Accident Attorney?
The network of highways, city streets, and country roads stretching throughout the United States is four million miles long, and an estimated 250 million vehicles travel trillions of miles on these highways, streets, and roads every year.
This staggering amount of travel leads to an equally staggering number of car accidents – over six million annually. People who are injured or killed in auto accidents similarly number in the millions. Given these statistics, chances are you will be involved in at least one auto accident during your lifetime, an accident that may be a highly traumatic, and even life-altering, experience.
What Should You Do After an Auto Accident?
If an auto accident causes severe injuries to you or to a loved one, you should contact a well-established and reputable law firm immediately. Time is of the essence in these cases for the reasons explained below, particularly for individuals unable to care for themselves. Even if the injuries are not severe, you should consult a capable car crash accident attorney soon after you:
Obtain prompt medical attention for any injured parties, including yourself. If the injuries require emergency care, call an ambulance for transport to a hospital. If not, visit an urgent care center or arrange to be seen by your regular doctor as soon as you leave the accident scene. Some auto accident injuries – often serious ones – may not be apparent to you right away, especially when your body has been traumatized, so be sure you are examined by a medical care provider without delay.
Call the police and file an auto accident report. Filing a police report will document the facts of the accident and help determine who was at fault.
Gather information at the accident scene. Anyone involved in a car accident is required by law to exchange contact and insurance information. If you are able, you should take photos of the damage to the vehicles (perhaps with a cell phone camera) and obtain the names and telephone numbers of any witnesses.
Do not give statements to the insurance companies' representatives about the car accident, without contacting a California car accident lawyer. The information you give the insurance companies can be detrimental to your case.
Fault for Auto Accidents
Usually, auto accidents occur because a driver has been negligent, meaning that he or she has operated a vehicle in a careless and unsafe manner. A driver must exercise "reasonable care" while behind the wheel and may be deemed negligent for violating speed limits, ignoring traffic signals, or being preoccupied by distracting activities like eating or talking on a cell phone while driving.
The burden of proving negligence, however, is on the injured party. It falls on the victim to show that the driver who caused the car accident was negligent and that the accident caused injuries deserving of compensation.
An experienced and reputable accident lawyer will skillfully navigate an injured person's claims through the complexities of the court system, pinpointing the legal bases for the claims and quantifying the damages to which the injured individual is entitled.
Proving Liability in Car Accident Cases
Car accident attorneys who represent auto accident victims use many sources of evidence to prove their cases in court. The testimony of those directly involved and of witnesses who observed the auto accident is crucial. Written reports of police, public-safety, rescue and medical personnel are also important to car accident lawyers. Among the many types of evidence a car accident attorney may use are:
Car accident red light cameras that monitor intersections.
Car accident police reports.
Car accident injury paramedic reports.
Car accident injury ground ambulance reports.
Car accident injury air ambulance transcripts and tapes.
Car accident injury hospital intake forms.
Car accident towing company reports.
Car accident and car accident injury reports prepared by paramedics and emergency medical technicians often are written in technical jargon. The testimony of those who prepared them or of experts in the field can help judges and juries better understand them.
Car Accident Expert Witnesses
Car accidents sometimes call for the services of an expert in car accident reconstruction in order to determine who or what was at fault. The expert will thoroughly investigate the causes of the auto accident to determine whether a vehicle defect, another driver or another entity was at fault.
The car accident reconstruction expert will gather data about road conditions, weather, human actions and vehicle condition. He will then analyze the data to determine the sequence of events that led up to the car accident.
In cases involving defects in design or construction, the auto accident attorney may retain the services of an expert in engineering and design. The engineering expert will study the facts of the case and prepare an expert opinion on the cause of the auto accident. Often, expert testimony is key to helping your lawyer prove that your car accident was caused by another party or entity, and that you are entitled to compensation.
Because every case is unique, the evidence required in each case is also unique. An experience car accident attorney may have to provide evidence from several sources to prove that a driver wrongfully caused your car accident injuries. An attorney who is knowledgeable about car accident cases can review the facts and determine the most appropriate way to prove your car accident injury case.
In preparing to meet with a car accident injury lawyer regarding an auto accident, think carefully about the sources of evidence you know of. If you took notes and collected information at the scene, bring them with you. Speak with others who were involved in or who witnessed the car accident to obtain additional facts that might help support your car accident injury case. The best way to assess the strength of your evidence is to contact a car accident injury attorney and arrange a car accident injury consultation.
Sources of Compensation for Your Car Accident Injuries
It is in your best interests to hire a law firm that will do more than just file a claim with an insurance company on your behalf, especially because the available insurance policy may turn out to have insufficient limits to fully cover your damages. A resourceful accident lawyer will investigate all sources of compensation and pursue all avenues of recovery for injured claimants. You and the passengers in your vehicle may have claims against additional parties who bear responsibility for the car accident. For example:
All owners of a vehicle may be liable for the negligent conduct of the driver. These owners may range from the parents of drivers under the age of 18 to business entities providing their employees with vehicles as a job perk.
Employers may bear responsibility for auto accidents caused by their employees while on the job. In certain corporate contexts, parent companies could be held responsible for the conduct of their wholly-owned subsidiaries.
Government units and agencies may share in the fault for the auto accident. Cities, counties, and even the state may have failed to design, construct, and maintain safe roads (see Dangerous Roads) or implement proper traffic controls (including light signals, stop signs, and speed limit postings). Handling a car accident claim against a government entity, however, is a sophisticated task and requires considerable expertise and legal acumen. In addition, very strict filing deadlines apply to car accident claims against government entities, making it imperative that you consult with a knowledgeable accident attorney without delay.
Auto manufacturers may face separate liability for negligent design or defective manufacture of a vehicle (or a component part) for injuries arising from a car accident. Injuries may be caused, for example, from seatbelt malfunctions, airbag failures, or tire defects. Design and manufacturing problems are myriad and include structural instabilities leading to vehicle rollovers, gas tank explosions and fuel-fed fires, and avoidable roof crush.
Uninsured motorist or under insured motorist coverage may exist under your and/or your passengers' policies, which can provide additional sources of compensation in a car accident under certain circumstances.
Insurance Coverage for Car Accidents
Auto insurance protects you against monetary loss if you have a car accident. You pay premiums to your insurer. In exchange, your insurer agrees to pay you the car accident injury losses set forth in your policy. Auto insurance offers coverage of:
Property, if your car is damaged or stolen.
Liability, if you are liable to others for property damage or car accident injury.
Medical, if you pay for treatment of car accident injuries and car accident injury rehabilitation.
Under most state laws, you must buy some, but not all, of these three forms of coverage in order to legally register a car.
Uninsured Motorist Insurance
What happens if you are injured by a motorist who carries no insurance or by a hit-and-run driver? When the other driver is uninsured or unknown, your own uninsured motorist insurance kicks in. It will protect you from monetary loss from your car accident injuries.
Several states require insurers to offer uninsured motorist coverage. If you purchase uninsured motorist coverage and you have an auto accident, then your insurer will step into the shoes of the driver who caused the auto accident and compensate you for your car accident injuries.
Underinsured Motorist Insurance
When the driver who causes an auto accident has purchased a policy that provides inadequate coverage for your car accident injuries and property damage, he is an "underinsured motorist." If you purchase uninsured motorist coverage and you have an auto accident, then your insurer will compensate you for the portion of your car accident and car accident injury damages that exceed the underinsured driver's insurance coverage.
Stacking Insurance Coverage
In some states, insurers allow a car accident injury victim to "stack" multiple policies to enhance monetary recovery from one or more insurers. Laws governing stacking insurance policies vary from state to state.
What Exactly is Personal Injury?
What is Personal Injury Lawyer
Auto Accident Testimonials



Protect Your Car Accident Claims – Don't Delay!
Act quickly. Anyone who has been injured in an auto accident should get in touch with a reputable accident attorney without delay. Why? Because a skilled and experienced lawyer will:
Conduct an immediate investigation to locate witnesses and preserve evidence relevant to the car accident before it is lost or altered;
Help you get the medical care you need;
Conduct all communication with the insurance companies;
Assist you in dealing with the insurance companies;
Find all potential sources of compensation for your losses; and
Protect your legal rights against filing deadlines.
As the victim of a car accident, you should not rely on any insurance company – even your own – to protect your interests. Every insurance company has adjusters, investigators, and attorneys assigned to auto accident claims. Their primary goal is to limit the amount of compensation the insurance company pays to auto accident victims like you.
Insurance companies are not the friends of injured claimants. Don't make their job easier by providing them with information that they can use or manipulate to deny your claim. Make sure you have the best accident lawyer you can hire on your side to aggressively protect your interests.
Damages in Auto Accident Cases
While an insurance company is interested in paying you the least amount of money to settle your claim, a competent and reputable accident attorney will pursue all types of compensation for an auto injury client.
If you have been injured in an auto accident, you may be entitled to recover compensation for your:
Medical bills for emergency room care, hospitalization, doctor visits, physical therapy, or chiropractic treatment, not to mention diagnostic tests like x-rays and MRIs. Recovery of medical bills is not limited to past care. A skilled lawyer will pursue recovery of expenses associated with future medical care that you may need.
Pain and suffering associated with injuries sustained in the auto accident. The nature, severity, and duration of your injuries are important factors in computing damages for pain and suffering. A thorough assessment of these damages involves fully understanding the car accident's impact on your life and its disruptive effects on your daily activities.
Loss of wages due to missed work. If you are unable to work because of the injuries caused by the car accident, you are entitled to recover the wages you would have earned during the time you missed. You are entitled to this recovery even if you used sick leave or vacation time to cover your absence! Sometimes, calculating your lost wages may be challenging, perhaps because you are self-employed or because your earnings are commission-based. In such instances, the services of an expert accident lawyer will prove invaluable.
Reduced earning capacity because of ongoing disability. If you suffered long-term injuries in the auto accident, your ability to earn income may be impacted indefinitely. If your injuries are permanent, you may be unable to return to your particular job or may never be able to work again. A resourceful attorney will assemble the right team of economic experts to ensure that these anticipated losses are fully integrated in your claim for compensation.
Although punitive damages, which are awarded to punish a wrongdoer are not ordinarily allowed in auto accident cases, an attorney who is well versed in personal injury law will recognize those exceptional situations (as when an accident is caused by a drunk driver) that allow for the recovery of such damages.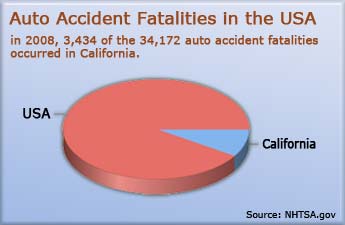 Car Accidents Caused by Drunk Driving
Alcohol and automobiles make a dangerous combination. In 2007, nearly 13,000 people died in alcohol-related traffic crashes. Three in every 10 Americans will be involved in an alcohol-related auto accident during their lifetimes.
Drunk Driving Car Accident Laws
Drunk driving is a crime. Conviction can result in fines, imprisonment and loss of one's driver's license. Each state has its own "driving under the influence" (DUI) law, but all make it illegal to operate a motor vehicle while drunk or under the influence of intoxicating drugs. Repeat offenders are subject to even steeper penalties.
Because a DUI case is a crime, it is investigated by police and prosecuted by attorneys for the state or local government. But when a drunk driver causes a car accident, the victim is entitled to bring his own legal action against the driver to recover damages for his injuries and losses.
Drunk Driving Accident Report
After an auto accident, depending on where it happened, local or state police conduct an investigation and prepare a car accident report. The car accident victim or the car accident attorney can obtain a copy of the car accident report by contacting the investigating officer. The victim and the auto accident lawyer should review the auto accident report for any errors. If any are found, notify the officer named in the car accident injury report.
When an investigating officer suspects drunk driving, he may administer any of several tests at the accident scene to assess the suspect's sobriety. The officer will also ask the driver's permission to test his blood alcohol content (BAC). In the United States, it is illegal to drive with a BAC of 0.08% or greater. If the officer administers field sobriety or BAC tests, their results will be included in the officer's car accident report.
Once the investigation is complete, the law enforcement agency sends the car accident investigation report to the prosecuting attorney, who decides whether to pursue criminal action against the drunk driver. In any legal action your car accident attorney brings against the drunk driver, the investigating officer may be called as a witness and his report admitted into evidence.
Victim Assistance Programs
The law enforcement agency may have a victim assistance program for victims of crimes. These programs help victims of drunk driving car accidents track their car accident injury cases, get car accident injury victim counseling, and apply for car accident injury compensation from state car accident injury victim compensation programs.
Evidence Provided by the Victim
A car accident injury victim may ask a friend or family member to photograph any injuries suffered in the car accident. The photographs should be taken in the presence of a witness. The photographer and witness should sign and date the back of the photographs. The prosecutor and the car accident injury victim's car accident attorney can use the photographs as evidence to show the car accident victim's injuries and recovery process.
A car accident injury victim can also provide his attorney with a recent photograph predating the car accident injury. This would show the victim's physical condition before the accident and provide a basis of comparison for evaluating the post-accident photographs. The victim should keep a log of all expenses and losses caused by the auto accident along with car accident injury bills and receipts.
Victim Impact Report
In many drunk driving criminal cases, the defendant avoids going to trial by agreeing to plead guilty to the charges or to lesser charges. If the defendant pleads not guilty, the case goes to trial and the defendant may or may not be convicted for drunk driving. If the defendant is convicted, before sentencing, the car accident injury victim may provide the court with a car accident injury victim impact statement, a written statement describing the effect that the car accident injury has had on his or her life.
Protect Your Friends from Driving Drunk
The best protection against a drunk-driving accident is never to drive drunk in the first place. If you have been drinking alcohol or taking drugs, do not drive. If you are with someone who has been drinking or taking drugs, do not let them drive either. Stopping a friend from driving drunk can be difficult, but here are some tips that can help:
Don't ride. Never get in a car with a drunk driver for any reason.
Avoid confrontation. If you can, try not to embarrass your friend by confronting him directly about his drunkenness.
Use laughter. Joke with your friend to relax him or her.
Hide the keys. Distract your friend and take the car keys. He may think the keys are lost and ask for a ride or call a cab to get home.
Talk privately. Suggest to your friend privately that he may have had too much to drink and should take a lift home.
Find their friends. If the person is a stranger, ask any friends in his company to help you.
Choosing the Right Car Accident Lawyer
Pursuing a claim for personal injuries caused by a car accident may be both complicated and costly. Some lawyers, due to their lack of skill or resources, may not pursue all claims and compensation available to you. The law firm you select should have ample experience and expertise, and a proven track record of successes. These successes should be not only in the simpler car accident cases, but also in the more challenging ones, such as those involving products liability and government claims for faulty road designs and dangerous conditions.
You should only consider a well-established, well-staffed, and well-financed law firm to handle your auto accident claim – a firm with the resources to fund a proper investigation of the car accident, order the requisite forensic engineering, conduct the necessary safety analyses, and utilize a network of medical and economic experts to ascertain the extent of your damages.
The attorneys at The Reeves Law Group have handled thousands of auto accident cases throughout California. We have consistently achieved exceptional results for our clients, while earning a reputation for professionalism and competence in the community of lawyers, judges, and insurance representatives. For a free consultation, please call us at (800) 644-8000 or e-mail us.
Filing an Insurance Claim
Taking care to properly file a car accident insurance claim can help ensure you receive full and fair compensation for your car accident injuries and losses. It is best to consult an auto accident lawyer before filing your car accident injury insurance claim. To properly file a car accident injury claim:
Call your agent. Notify your insurance agent as soon as possible after you are in an auto accident. Insurers require prompt notification. Your agent can help you evaluate your policy's coverage of the auto accident.
Find out what forms your insurer needs. Insurers require a proof of claim along with supporting documentation. Your insurer may ask for original medical bills (keep copies for yourself), copies of repair estimates, car rental bills, and the car accident police report.
Keep car accident injury records. Take down the name, title, phone number and office location of each insurance agent that you speak with. Also note the date of the conversation. Take notes while you speak with your insurer's agents. Write down what they say they will do.
Know deadlines. Ask about your deadlines for submitting the car accident injury proof of claim and all required supporting documentation. Find out how long the insurer will take to resolve your car accident injury claim.
Explore additional insurance. Consider whether you have additional insurance covering the auto accident through another auto insurance policy, a homeowner's or renter's policy, or an umbrella policy.
Know state insurance laws. Check with your state insurance department, because the laws governing car accident injury insurance claims procedures vary among states.
Before you consult with a car accident injury attorney, avoid accepting the insurer's estimate of loss, making a recorded statement, signing a release, or accepting payment from your insurer.
If you are a car accident injury victim, consult an experienced auto accident injury lawyer to evaluate what car accident injury insurance compensation may be available to you. If possible, consult with an attorney before making an insurance claim. When you meet with the auto accident attorney, bring your insurance documents with you along with information about the auto accident.
For more information on the possibilities for your car accident injury claim and how to manage the car accident injury claims process, contact a personal injury lawyer to arrange a consultation.
Subrogation
If you have suffered a car accident injury, your ability to bring a lawsuit against the driver who caused your car accident injuries may depend on your insurer's right to "subrogation." Subrogation is a common term in insurance policies that allows the accident victim's insurer to take his place in suing those who caused the accident.
Assume you are injured in an auto accident and your insurer pays you $100,000 under your auto insurance policy. It would not be fair if you could then sue the driver who caused the accident and recover a second $100,000. Instead, subrogation allows your insurer to sue the driver and seek to recover the amount it paid you.
Immediate Steps to Take If You Are In a Car Accident
If you are involved in a car accident, do not leave the scene, even if you are uninjured. If you do, you could be charged with a crime for hit and run, whether or not the car accident was your fault. Instead, your first priority should be to attend to yourself and others.
Seek medical treatment promptly for your injuries from the auto accident. If you are in immediate medical distress, call 911 and request an ambulance. Give the exact location of the car accident. Say whether you need a fire truck. Stay on the telephone until the operator tells you to hang up. If you do not have a cell phone, flag down a passing car and ask the driver to help.
Seek medical treatment for the auto accident injuries of others. Your duty to help other car accident injury victims varies by state. In California, you must give reasonable assistance to any injured person on the scene. You should give first aid, if you know how, or take an injured person to a hospital. Do not try to move a car accident injury victim who is badly hurt, as you may cause further injury. Do try to move someone who remains in harm's way.
Warn other drivers. Place flares on the road (if there are no flammable materials nearby), turn on the car's hazard lights and lift the engine hood.
Information to Collect After an Accident
After attending to the immediate needs of yourself and others but while still at the scene, take down notes about the car accident. These will prove useful to your car accident lawyer and your insurance company later on. Begin by exchanging license and vehicle registration information with all other drivers. Write down as much other information as you can, including:
The other driver's name, address, date of birth, telephone number, driver's license number, license expiration date and insurer.
The other car's vehicle identification number, make, year, model, license plate number and expiration date.
If the other driver is not the car's owner, the name, address, telephone number and insurer of the registered owner (such as a rental car agency).
For any passengers in the other car, their names, addresses, dates of birth, drivers' license numbers and telephone numbers.
For any witnesses to the car accident, their names, addresses and telephone numbers. Ask car accident witnesses to stay to talk to the police. If the car accident witnesses must leave, ask them what they saw and write it down.
Identity of car accident witnesses who left the auto accident scene before you could speak with them. If they drive off, take down their license plate numbers.
The name and badge number of the police officer who reports to the car accident scene. Ask the officer where and when you can get a copy of the car accident report.
Without placing yourself in danger, a quick diagram of the auto accident, showing the positions of all cars before, during and after the car accident. Pace off skid marks, noting their distance. Mark crosswalks, stop signs, traffic lights and street lights. If you have a camera, take photos. Note weather and road conditions. Estimate each car's speed. Note whether streetlights were on. Write down the time, date and place of the car accident.
Cooperate with law officers investigating the scene. But do not admit to any liability or blame. Anything you say to the police may be used against you later.
It is important to contact an experienced lawyer as soon as possible after the car accident injury. The attorney can review your car accident injury case with you and explain your rights and options. An experienced auto accident lawyer can help you obtain full compensation for all damages you are entitled to recover.
Recovering Damages for a Car Accident
If you have suffered an injury or loss in a car accident, you may be able to obtain compensation. Contact an accident injury attorney promptly to discuss your legal rights.
Liability for Damages
All drivers are required by law to exercise reasonable care while driving. A driver wrongfully causes a car accident when he carelessly operates his car in an unsafe manner. Speeding, running traffic lights, ignoring road signs, and using a cell phone are examples of wrongful or negligent acts by a driver.
When a driver's negligence causes an auto accident, the driver may be liable to pay compensation to anyone he injures or for any property he damages. In a lawsuit, the person seeking compensation bears the burden of proving to the court that the driver wrongfully or negligently caused the car accident.
No Fault Insurance
Some states have no-fault insurance systems that allow a car accident injury victim to collect compensation from an insurer regardless of who was at fault. Since no-fault insurance systems vary by state, it is important to find out if your state has one and what it requires.
When Other Parties Are at Fault
Not every auto accident is the fault of those directly involved. A car accident may be caused by a defective vehicle or part, poorly maintained roads or faulty repairs. In such cases, the responsible company or person may be liable to pay the car accident victim's damages. Potential third-parties who may be liable in car accident injury cases include:
Automobile manufacturers and designers.
Manufacturers and designers of car parts (for example, tires and airbags).
Bars and restaurants that sell alcohol to a person who was visibly intoxicated.
State and local governments that design and maintain freeways, roads and bridges.
Liability for Defective Motor Vehicles
Products liability laws hold the manufacturers of defective cars and car parts liable for car accident injuries they cause. This is called "strict liability" because the manufacturer is liable even if it exercised all possible care. It does not matter whether the car accident victim owned the car or just used it.
In order to receive compensation from a car or car part manufacturer, a car accident victim must show that the car or car part lacked an element needed to make it safe for use. Since car accident products liability laws vary by state, it is important to speak with a car accident lawyer to learn about your state's car accident products liability laws.
Damages You can Recover for a Car Accident
If you are involved in a car accident, you may be entitled to recover damages for your injuries and losses. Typically, these may include compensation for:
Pain and suffering from car accident injuries.
Emotional distress from car accident injuries.
Medical expenses, both current and future, resulting from the car accident injuries.
Property repairs and losses from the car accident.
Lost wages while you are recovering and unable to work. Lost or impaired earning capacity if you are unable to return to your job.
Disability and/or disfigurement resulting from the auto accident injury.
In cases in which the auto accident injury resulted in death, the victim's estate and relatives may be entitled to recover damages for:
Wrongful death in the car accident.
Loss of consortium.
Loss of companionship.
Loss of services of a family member.
Emotional distress.
The damages that can be recovered vary with each case. Applicable law and the facts of your case will determine the appropriate damages. For specific information on the car accident injury damages that may be available to you for your auto accident injury, contact an experienced car accident injury lawyer in your area.