California Bicycle Accident Lawyers
A cyclist involved in an accident can suffer severe injuries due to a bicycle's lack of protection. If you have been in a bicycle accident, you should contact a lawyer immediately. The experienced attorneys at The Reeves Law Group may be able to help you.
What Causes Bicycle Accidents?
Environmental factors such as impaired visibility and poor road and path conditions, including potholes, road debris, maintenance problems (see Dangerous Roads), and even dog attacks can cause bicycle accidents. Negligent motorists often open a car door into a cyclist's path or do not pay adequate attention while driving. Drunken driving is also a significant cause of collisions. It is the unfortunate truth that some motorists cause bicycle accidents by recklessly refusing to share the road, forcing cyclists off the road or into the path of a vehicle. The University of North Carolina, in conjunction with the US Department of Transportation, analyzed the circumstances of the 750 bicycle accidents involving motor vehicles that occurred in 1999. They found that all of the bike accidents they studied were the result of six common scenarios:
What Exactly is Personal Injury?
Client Testimonials



Failing to yield the right-of-way at an intersection by motorist (21.7%) or bicyclist (16.8%);
Motorists unexpectedly turning or merging into the path of a cyclist, often making left turns in the path of an oncoming cyclist (12.1%);
Bicyclists, typically children, failing to yield the right-of-way at a mid-block location, often a residential driveway (11.7%);
Motorists overtaking bicyclists, often by misjudging the space needed to safely pass (8.6%); and
Bicyclists unexpectedly turning or merging into the path of a motorist, often making left turns into the path of an oncoming motorist (7.3%).
Some bicycle accidents are caused by the defective design, manufacture, or repair of bicycles or their components.
Bicycle Injuries
A 2006 study by The National Highway Transportation Safety Administration ("NHTSA") noted that there 773 people were killed and 44,000 were injured while riding a bicycle. Sadly, in 1999, according to the Insurance Institute for Highway Safety (IIHS), in 98% of bicycle fatalities, the rider was not wearing a helmet. However, a cyclist wearing a helmet and protective clothing is no match for a car or truck. Even when the cyclist survives the crash, these accidents can result in a variety of serious injuries, including:
Head trauma
Fractures
Spinal cord injuries
Severed limbs
Serious abrasions or "road rash" that can lead to infection.
These types of injuries can be costly, depriving a cyclist of his or her good health, the capacity to earn a living, and the ability to care for his or her family. Often, medical costs can be expensive. The need for care in cases involving catastrophic injuries may continue throughout the cyclist's entire life.
Consult a California Bicycle Accident Attorney Immediately
Accident scenes change quickly and memories fade. It is very important to speak with an attorney as soon after an accident as possible. To preserve evidence that may be of great importance to your case, there are several actions that should be considered immediately. An experienced lawyer may arrange for the safe storage of your bicycle for later inspection for potential defects and product liability claims, conduct an initial thorough investigation of the accident scene, and interview eyewitnesses while facts are fresh in their minds.
Quick actions can make a big difference in the outcome of your case. The attorneys at The Reeves Law Group are experienced in litigating many types of accident cases, including bicycle accidents, and have won thousands of cases. We can take care of your case, while you and your doctor take care of your injuries.
Sources of Recovery for Bicycle Accident Injuries
There are several potential sources of recovery for victims of bike accidents. These could include automobile insurance and homeowners insurance. In most states, even when riders are partially at fault for a crash, they can also recover monetary compensation for the fault of other parties, such as negligent motorists, government agencies, or parts manufacturers, if they are found to have contributed to the cause of the accident or the rider's injuries. You should make sure to hire a well-established personal injury law firm with sufficient case-handling sophistication to identify all possible defendants and pursue all possible sources of compensation in your case.
At The Reeves Law Group we take pride in providing accident victims and their families with exceptional service and outstanding results. If you have been the victim of a bicycle accident, we may be able to help you obtain a recovery to compensate you financially. You can email us through the contact form or reach us at (800) 644-8000 for a free case evaluation.
Bicycle Accident Statistics
There are millions of bicyclists in the United States. The NHTSA reported that in the summer of 2002, 57 million people – or 28% of the population – rode bikes. Half of the survey respondents reported riding bicycles purely for pleasure or exercise. Some of these rides, however, resulted in bicycle accidents and injuries ranging in severity from minor to life changing. Bicycle trips account for less than 1% of all trips in the United States, yet bicycle deaths constitute 2% of all traffic fatalities. Bicycle riding by itself is not inherently dangerous, but combined with other factors, such as the inattention of motorists and poorly maintained roads, it can be deadly.
It is very difficult to determine the number of bicycle accidents that occur each year because so many go unreported. According to one research organization compared police records to emergency room records, it is possible that as few as 10% of bicycle injuries are reported to the police. However, there has been a significant decline in the number of serious bicycle accidents over the past two decades. This seems to be due to increased awareness of bicycle safety, both by cyclists and motorists. Safety campaigns aimed at children and parents have been effective. Nonetheless, there continues to be too many bicycle deaths and bicycle injuries.
Although the trend has been toward fewer deaths, there has also been a major shift in who is being killed in bicycling accidents. According to the Insurance Institute for Highway Safety, in 1975, only 32% of those killed in bicycle accidents were over the age of 16. In 1999, 71% of bicycle deaths involved bicyclists 16 years or older. Today, most bicycle accidents involve adults at intersections of major roads at night.
As fuel prices continue to increase, the number of adults adopting cycling for necessity rather than recreation is likely to increase. If bicycle transportation indeed increases, so will the circumstances that bring about most bicycle accidents and injuries.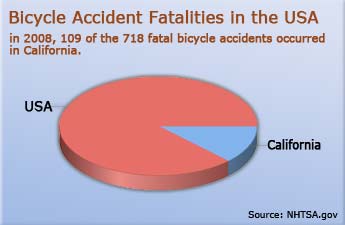 Compensation for Your Injuries
Because injuries sustained in an accident can be substantial, bicyclists and their families may lose the quality of life they previously enjoyed. If you have been injured in a bicycle accident, you may be able to recover your past and future lost wages, expenses for doctors, hospitals, and skilled caregivers, and other expenses related to the incident. You also may be entitled to money that would compensate you for any pain, disability, and disfigurement you have and may continue to suffer. If your injuries are long-lasting, your damages might also include reparation for diminished enjoyment of life. Damages for injuries that result in a decreased life expectancy of the victim may also be recoverable.
Hiring Experts in Bicycle Accidents
Many factors can make a bicycle accident case difficult to litigate. The complexities of a case often make it appropriate to use expert witnesses, whose knowledge and ability to communicate to a judge or jury can make a difference in your outcome. Expert witnesses may be needed to analyze and testify about:
Road conditions.
The chain of events that led to the bicycle accident and accident recreation.
Contributing factors, such as traffic controls, visibility obstruction, and the speed at which the bicycle and vehicle were traveling
Mechanical failures due to defective parts or maintenance.
Expert witnesses can also be helpful in evaluating and explaining your injuries. Neurologists, orthopedic surgeons, economists, life-case planners, as well as experts in vocational rehab and human factors, are often necessary in catastrophic injury cases. In high-damage cases, it is imperative that attorneys with substantial monetary resources are hired if a client hopes to obtain maximum compensation for his or her injuries.
If you or your loved one has sustained injuries from a bicycle accident, the attorneys at The Reeves Law Group are prepared to help you realize the best possible outcome for your case.