California Nursing Home Negligence Attorneys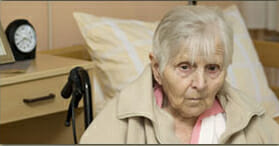 More than 110,000 people live in long-term care facilities in California. Sadly, many of them are at serious risk for abuse and neglect.
According to a 2005 study by the California Healthcare Foundation (CHF), violations of state and federal nursing home standards rose between 2001 and 2004, yet the number of citations (fines) decreased.
The financial damages awarded to victims of this mistreatment not only compensate those hurt, but they can also encourage all facilities to provide better care to their residents.
If you believe that a member of your family may be a victim of elder abuse or neglect, please contact the nursing home negligence attorney at The Reeves Law Group for a free consultation and case evaluation.
Our law firm has over 30 years of experience helping victims of injury, neglect, and abuse to recover compensation for the damages they have suffered. The firm has been featured in Newsweek's Top 10 Trial Lawyers in the US and specializes in serious nursing home negligence and abuse cases in the state of California.
A Review of the Reeves Law Group
Reeves Law Group treated me well. My attorney has spent many hours helping me set up my deposition to where I was properly prepared and confident in what I said and the attorney did his due diligence and digging for the information that made my case come through quick.
Date published: 2020
5 / 5
Signs and Symptoms of Nursing Home Abuse
According to the National Center of Elder Abuse, senior abuse and neglect can take many forms, including:
Physical neglect: disregard for the necessities of daily living
Medical neglect: lack of care for existing medical problems
Failure to prevent dehydration, malnutrition, falls, and bed sores
Failure to assist in personal hygiene
Unsanitary and unclean conditions
Failure to protect from health and safety hazards
Poor access to medical services
Assault and battery
Sexual Assault
Unreasonable physical restraint
Giving too much or not enough medication
Slapping, pushing, shaking, beating
Forcing a person to stay in a room
Vulnerable People Placed at Risk
Inadequate staffing and use of physical restraints are just two indicators of poor quality of care. The CHF study revealed that 95 percent of California nursing homes did not meet federal recommendations for adequate staffing and nearly a quarter of the state's nursing homes did not meet the less rigorous state standards. Physical restraints were used on residents of California facilities at twice the national average.
Elderly residents are among the most vulnerable members of our society. The California nursing home abuse attorney at The Reeves Law Group is dedicated to seeking justice on their behalf.
If you suspect a family member is a victim of elder abuse or neglect, please do not hesitate to contact us today at (213) 271-9318.
[Written by Derek Pakiz. Article updated on 2022-11-28]