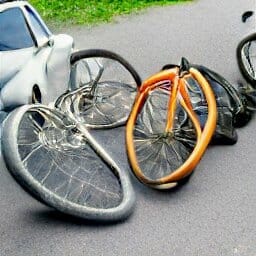 Bicycle accidents can be a stressful and frustrating experience. If you have been in one, there are a few things you can do to make sure you recover maximum compensation for your injuries. The first step is to get medical attention. If possible, you should also contact the police to report the accident. You should also write down the names of any witnesses. This will make it easier for your bicycle accident attorney to contact them.
Rear-end collisions cause serious injuries to bicyclists. Most of these accidents happen during the night when bicyclists are most vulnerable to being hit. Many rear-end collisions are also the result of drug and alcohol impairment. Rear-end collisions account for 1.3 percent of all car-bicycle accidents, and over half of them result in serious injuries.
Bicyclists should always wear a helmet. In addition, drivers should be more attentive during rush hours. They should also watch for bicycles, children, pets, and inclement weather. Many bicyclists who are involved in car accidents sustain serious injuries to their neck and back. Since a bicycle does not have a metal frame, a swerving vehicle can cause severe bodily and spinal injuries, or even paralysis.
If you are in a bicycle accident, a lawyer can help you collect all the necessary documentation and get in touch with specialists to strengthen your case. An attorney can help you decide whether or not you can file a claim for compensation. Choosing a reliable attorney is a smart move, as they can give you individualized advice. It is important to know that a bicycle accident attorney can help you collect the maximum compensation available.
Bicycle accidents can cause devastating injuries, and sometimes death. Despite these statistics, it is important to obey bicycle ordinances and traffic laws in order to avoid an injury. In addition to following traffic laws, bicyclists should also follow the laws and ordinances of their city. For example, the Vehicle Code 21200 VC states that a bicyclist is subject to the same traffic rules as a vehicle.
Statistics show that bicycle accident fatality rates have increased over the years, with an increase from 13% to 17% in 2012. The National Highway Traffic Safety Administration also notes that while bicyclist deaths are not the only cause of bicycle accidents, they have a significant impact on the lives of those involved. Many victims of a bicycle accident manage to escape injury or death, but they often experience physical and emotional damage as a result. If you or a loved one is a victim of a bicycle accident, it's important to seek medical attention as soon as possible.

Bicyclists should always ride on the right side of the road when approaching an intersection. Otherwise, bicyclists may be in the motorist's blind spot when a right turn is made. This could cause the motorist to pass you or make the right turn directly in front of you. According to Illinois law, a motorist should always maintain a safe distance when overtaking a bicycle.
Bicycle accidents are one of the most common types of injuries in traffic accidents (along with rideshare accidents). As a bicyclist, you should be aware of your risk of injury and be prepared to file a personal injury claim. Bicycle accidents can be especially dangerous if they are caused by a motor vehicle. A bicyclist's head is especially susceptible to injuries, and a bicycle helmet will help protect you from injuries in such cases.