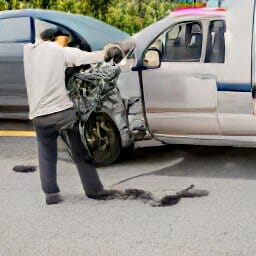 If you are in a car accident without insurance, you may wonder what you should do to receive the compensation you deserve.
After all, most Americans don't have personal savings large enough to pay for major expenses.
As a result, you may be left penniless, or at least, very short on cash. If you're unsure of what to do next, here are a few things to keep in mind.
Getting a car accident settlement without insurance
If you've been involved in a car accident, you may not want to worry about filling out insurance paperwork or hiring an attorney.
However, getting the compensation you deserve is possible, even if you don't have insurance. The key is to act quickly.
The longer you wait, the more difficult it will be to collect compensation. Further, the sooner you begin preparing your case, the better. Evidence is usually available right after the accident, so if you can, get it as soon as possible.
As soon as possible after the accident, collect information about both parties involved. If the other party had no insurance, you'll need their primary insurance information, such as the driver's name and the primary insurance for the car.
You should also keep the insurer in the loop to avoid unnecessary complications. In addition, don't be tempted to make private settlement deals. Often, dishonest people will make outrageous demands to avoid going to the insurer.
Costs involved
The costs involved in car accident settlement without insurance vary, but the most important thing to remember is to never make a handshake deal with the other driver, unless you have personal savings.
The best way to avoid paying a large amount of money is to settle the claim yourself. However, if you are involved in a major accident and the other driver's insurance is at fault, you may need to file a claim.
In some cases, insurers may offer a settlement in a lump sum to you after the accident, but these offers rarely cover the full cost of the crash.
It is better to hire a car accident attorney and get a lawyer's advice before making any decisions. More info on how we can help.

In most cases, a settlement offer is not enough for the costs involved, so it's crucial to consult with a lawyer. However, before you sign anything, it's important to make sure you understand your rights.
Reporting the accident to your insurer
You may be tempted to choose the former option, reporting the car accident to your insurer for car crash settlement without insurance.
While making a report is important, it's not the same as filing a claim. You still have the option of negotiating a private settlement with the other driver. But you should be aware that doing so may put you at risk of having your auto insurance rate raised.
Before reporting the accident to your insurer for car accident settlement without your insurance, exchange contact information with the other driver.
Be sure to exchange your driver's license number and the car's license plate number. If possible, exchange the insurance information of each driver.
Also, ask if there were any airbags or seat belts in the other car. If you're unsure about which insurance company to choose, it's best to contact the insurance company directly. In case you're wondering who pays for a car accident settlement, find out from this guide.
Covering the cost of damage to the other vehicle out of pocket
In the event that you are at fault in a car accident, you can sue the other driver for up to 80 percent of the damages.
In other words, if you were 20% at fault, you could collect $40000. This is a substantial payout considering the medical bills you will have to pay. Thankfully, the other driver's insurance will pay for these costs, but the costs of your injuries could add up quickly.
But what happens if you don't have insurance? It's not a good idea to cover the cost of damage to the other vehicle out of your own pocket.
First of all, the other driver might not be as honest as you are. You need to trust the person you are dealing with. There's no guarantee that they will not make a claim later on. That's why you need to make sure you're trustworthy and have the necessary documentation to prove this.