Agresión y Fuerza Ilegal
Expertos Abogados de Lesiones Personales en California
Casos de Violencia Doméstica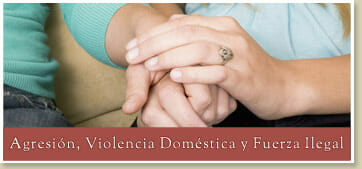 Si ha sido víctima de violencia doméstica o ha sido acusado por violencia doméstica, comuníquese con The Reeves Law Group. Los cargos por violencia doméstica son muy serios y usted necesita la asesoría legal de abogados expertos en casos de defensa de agresión.
Somos un despacho legal reconocido por la experiencia e integridad de nuestros abogados. Nos dedicamos a hacer que nuestros clientes se sientan con la confianza de acudir a nosotros con todas sus dudas y cuestiones, para así asesorarles de la mejor manera con su caso. Conocemos las leyes y le aconsejamos sobre sus derechos y obligaciones. Contáctenos para una consulta inicial y evaluación de su caso. Representamos casos de violencia doméstica y defensa por agresión incluyendo:
Defensa Penal
Crimen Violento
Fuerza Ilegal
Agresión Sexual
Agresión Física, y más
Entendemos que un arresto por violencia doméstica o por agresión física es vergonzoso, sin embargo, hemos ayudado a muchas personas como usted. Solamente llámenos y le ayudaremos a resolver esta situación difícil de la mejor manera posible, para que usted y su familia superen este penoso momento lo más pronto posible.
El tener que elegir a un abogado experto en casos de defensa por agresión física o casos de violencia doméstica, no es tarea fácil. En The Reeves Law Group, somos abogados que sabemos como ayudarle. Tenemos servicios en español disponibles, le asesoramos, le explicamos sus derechos y opciones.
Llame (800) 644-8000 para consulta gratis. Hacemos visitas a su casa u hospital.