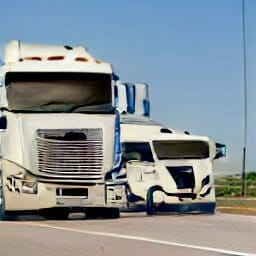 Sharing the road with big rigs, custom haulers, tow trucks, semi-trucks, and other powerful vehicles can feel intimidating.
In 2016, the National Highway Traffic Safety Administration found that 10,000 deaths occurred from truck accidents, 772 of which came from large and heavy-duty trucks.
Everyone on the road, not just drivers, should understand the dangers of large trucks. With adequate knowledge, you can drive defensively and know your risks and how to mitigate them.
Below, our team of experienced truck injury lawyers have dissected the various types of semi-trucks, delivery trucks, and commercial vehicles you might encounter on the road
Types of Semi-trucks
Semi-trucks carry over 72% of United States freight. In 2011, the Federal Highway Administration found that 58% of commercial trucks on the road were semi-trailer trucks.
Some popular semi-truck manufacturers include:
    Western Star
    Freightliner
    Peterbilt
    Kenworth
    Volvo
    International
    Mack
Below, we will first discuss the semi-truck vehicle components and then the types of trailer combinations you might see attached to the vehicle. All trailers hitch to the main automobile with a fifth wheel.
Semi-trucks
The main two types of semi-truck configurations include:
    Conventional: The diesel engine sits in the front.
    Cab-over-engine: The engine sits between the passenger and driver.
Conventional semis with diesel engines are the most common U.S. semi-truck on the market today. The restricted length for a semi-trailer in most states is just under 60 feet, and the maximum weight for both the semi-truck and trailer is 80,000 pounds (gross vehicle weight rating), enforced at weigh stations. The drivetrain configurations include:
    4 x 2: One steering axle, four wheels, dual wheels on the drive axle, and one rear axle
    6 x 2 and 6 x 4: Two or three axles in the rear, available for big truck loads
Semi-trucks include space for truck driver comfort purposes as well. The living quarters and additional amenities on each semi-truck depend on the cab size, engine configuration, and semi-trailer truck size. The different sleeper cab options for conventional tractor-trailer drivers include:
    Flat roof sleeper truck
    Mid-roof sleeper truck
    Raised roof sleeper truck
    Day cabs
The above sleeper trucks typically have a basic sleeping area, refrigerator, shower, toilet, cooker, and, sometimes, a side storage tower. Cab-over-engine semi-trucks usually have a day cab with more limited space. Day cabs are ideal for short trips.
1. Flatbed Trailers
Flatbed semi tractor-trailers offer open, flat spaces without any sidings or roofing. The flatbed trailer has a solid, level, wooden base that commercial truck companies might use for heavy loads not requiring housing or weather protection. Trucking industry professionals often choose flatbed semi-trucks for oversize loads that wouldn't fit in an enclosed tractor unit.
2. Lowboy Trailers
A lowboy trailer is a type of flatbed trailer that's lower to the ground. A trucking business might choose a lowboy trailer for easier loading and transportation of heavy equipment.
The different types of semi-trucks typically have a few axles with the capability to add on more. Lowboy trailers can have up to 10 axles, making them ideal for oversize loads.
3. Dry Van Trailers
When you're driving down the highway and see a large semi-truck, odds are it's a dry van trailer. A dry van includes a fully enclosed container atop the flatbed. Dry vans do not include any insulation, though they provide weather protection.
4. Reefer Trailers
A reefer semi-truck has a refrigerated trailer attached to the vehicle. Reefer trailers transport food so perishables can stay cold during long hauling trips. Usually, the refrigerator storage compartments include a cooling apparatus, insulation, and ventilation.
Semi-truck manufacturers might select one of the following cooling options:
    Ice
    Mechanical systems (powered by the engine)
    Carbon dioxide (dry ice)
5. Curtain-side Trailers
Curtain-side (Conestoga) trailers attach to semi-trucks, offering a flat deck with tarp sides and a hard, flat roof. You may access the cargo from the three opening sides rather than just the back. A curtain-side trailer is the right truck option for large, non-perishable items.
6. Bulk Liquid Tankers
Bulk liquid tankers carry large volumes of fluids, including fuel, chemicals, oils, and more. Tankers have a 3,000 to 9,500-gallon capacity, depending on the exact semi.
In the last 15 years, tanker regulation improvements have reduced oil spills and marine pollution. Nowadays, tanks may or may not include insulation. Most importantly, the fluid can flow freely within the tank, reducing the need for additional waste.
7. Dry Bulk Tankers
Dry bulk tankers are similar to bulk liquid semi-trucks, only they carry solids rather than liquids. A dry bulk semi-truck typically transports animal foods or industrial powders in bulk to reduce unnecessary product packaging waste.
8. Multi-car Semi-truck Trailers
Multi-car semi-trucks transport passenger vehicles. Repair shop tow trucks can only move limited cars at a time, while multi-car semi-trucks can carry multiple at once. Weight is the main limitation for how many vehicles one semi-truck can transport.
When you order a car from an online dealer or ship your vehicle, the company you choose will likely utilize a multi-car semi for the transportation.
9. Logging Trailers
Logging trailers, or log trucks, transport harvested lumber. Logging semi-trucks typically have an open-top trailer that allows for excessive cargo length. Some logging trucks that must travel to a rugged job site have a mechanical suspension system that creates rough driver conditions in the day cab but better durability.
Types of Delivery Trucks
While many types of semi-trucks exist, some only work for delivery purposes. When a company needs to pick the right trailer for transporting goods, they may choose one of the following.
1. Box Truck
Box trucks are smaller and easier to maneuver than dry trailer vans. Most box semi-trucks include a cubical storage area separated from the day cab. The back of the box rolls up like a garage door, making it perfect for residential home moves or smaller transportation needs.
2. Tipper Truck
A tipper truck, commonly called a "dump truck," has an open trailer for carrying construction sand, stone, mining ore, dirt, gravel, etc. Tippers are usually not sleeper trucks, though they might have limited day cabs, depending on the company's custom hauler needs.
3. Light-duty Trucks and Single Units
Light-duty pickup trucks are not semis and utilize a single-frame design, meaning the cab and storage area sit on the same body. People might drive light trucks for day-to-day commutes, minor moves, or off-roading adventures. Usually, a smaller non-semi-truck will not have any sleeping cab space.
Personal custom hauler vehicles sometimes have enhancements to reduce safety measures. Custom haulers with illegal modifications put everyone on the road at risk.
4. Heavy Hauler Truck
Heavy haulers can carry the most cargo out of everything on this list. Heavy hauler semi-trucks usually exceed road limitations and require special permits and escorts. Practice caution if you see one of these large vehicles on the road.
Types of Commercial Trucks
Some semi-trucks serve primarily commercial functions. Many of these vehicles are semi-trucks with additional trailer combinations.
1. Road Trains
A road train carries multiple trailers at once for large loads. Legal requirements state that long combination trucking vehicles must not exceed a turning diameter of 25 meters.
2. Cement Mixers
Cement mixers are similar to tankers, though they include a rotating device that mixes the water and cement particles to prevent hardening during transport.
3. Grapple and Garbage Trucks
Garbage and grapple trucks collect waste and include two key components:
    The waste container
    The automated loading arm for retrieving items
The most common types of garbage loader mechanisms include:
    Front
    Rear
    Side
    Manual side
    Automated side
Grapple trucks typically deal with bulky commercial waste rather than residential garbage.
4. Excavator
Construction sites use excavators to dig. You can recognize them by their shoveling claw arm and operator day cab. Usually, you will not see excavators on main roads for more than a couple of miles.
5. Tow Truck
Tow trucks transport cars that can no longer drive. If your car breaks down or you illegally park, you may send it to a specific location using a tow truck.
Common tow truck mechanisms include:
    Boom
    Wheel lift
    Integrated
    Flatbed
    Lift flatbed
6. Bucket Truck
Bucket trucks have extendible arms with a basket that safely lifts workers to high areas. Companies might use a bucket truck for tree trimming, window repairs, and other elevated utility needs.
How Do Truck-mounted Attenuators Improve Truck Driver Safety?
A truck-mounted attenuator is a crash cushion added to the back of a semi-truck for safety purposes. Crash studies show it can absorb accident shock, allowing for safer driving conditions. Attenuator mounts reduce injuries and fatalities among semi-truck drivers and everyone else who shares the road.
Why Large Trucks Can Be Dangerous to Motorists
A large semi-truck is dangerous to motorists because of its:
    Increased mass
    Decreased visibility
    Reduced stopping speeds
    Poor maneuvering abilities
Semi-truck drivers cannot swerve and avoid accidents as easily as you can in a car. Contact The Reeves Law Group to discuss your personal injury case if a wreck happens. We can help you communicate with trucking companies, insurance adjusters, and more.
Call our personal injury lawyers at The Reeves Law Group today at (800) 644-8000 for a free case evaluation!
---
References