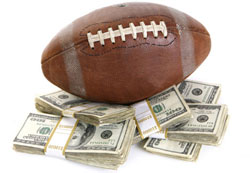 If you have turned on the TV at all during the first few weeks of the current 2015 NFL season, you have no doubt been bombarded with advertisements for fantasy sports betting. These advertisements allow sports fans to pay small fees, create virtual lineups of players, and then potentially win big prizes if the chosen players perform statistically well.
These ad campaigns are predominantly tied to one of two companies: FanDuel or DraftKings. Together, the two companies (valued at over $1 billion each), spent over $27 million for 8000+ TV spots alone during the first week of the NFL season.
Why such a large spending outlay?
Because daily fantasy leagues have exploded in the US over the last year and are now estimated to be played by 57 million Americans. From soccer moms to college students to the Average Joe, daily fantasy leagues have provided an exposure to sports betting that most would never otherwise experience.
FanDuel and DraftKings currently provide the above exposure in 45 states. The only states in which they don't provide their services (due to state-specific regulations against cash prize awards) include Arizona, Iowa, Louisiana, Montana and Washington.
And therein lies the question of this post: if sports betting is illegal in all states except Delaware, Nevada and New Jersey, how are sites like FanDuel and DraftKings able to operate so openly and in so many states?
The answer lies in the 2006 Unlawful Internet Gambling Enforcement Act passed by Congress. The law, which arose as a response to online gambling sites PartyPoker, Poker Stars and others, shut down online wagering in the United States. However, it also left an exemption which covered fantasy sports games, and games of an educational or skill-based nature. That exemption states the following:
"…has an outcome that reflects the relative knowledge of the participants, or their skill at physical reaction or physical manipulation (but not chance), and, in the case of a fantasy or simulation sports game, has an outcome that is determined predominantly by accumulated statistical results of sporting events, including any non-participant's individual performances in such sporting events …"
In other words, daily fantasy sports games (and season fantasy leagues for that matter) are considered a "game of skill" and determined not by chance but by adherence to statistical analysis.
In the case of fantasy football, that kind of analysis may involve research on injuries, off-season training regiments, matchup histories, and past performance metrics. All of these things require "some" level of skill to make sure you choose the RIGHT combination of players for your own virtual team.
Bottom line: as long as your fantasy sports contest involves an outcome that is generated by the statistics of multiple athletes, of which all are not on the same team, and all of which are participating in real-world sporting contests, then that contest is legal.
However, a word of caution before you run out and sign-up yourself: most people DO NOT WIN daily fantasy contests.
Just as in poker, sites like FanDuel and DraftKings must have a lot of fish playing to pay the sharks. And to be a fantasy sports shark, expect to play hundreds of games a week and spend hours a day crunching numbers for predictive models that in turn spit out optimal lineups. And honestly, who has the time for that when you are trying to watch football on Sundays?