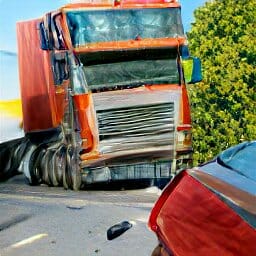 In comparison with car accidents, truck accidents are more likely to lead to expensive lawsuits and major injuries.
Also, negotiating with multiple insurance companies to reach a settlement offer after a trucking accident can be a complex and lengthy procedure.
Understanding trucking federal regulations, safety, and repair costs can give you a better idea of what to expect in the event of a truck accident case.
Are trucks safer than cars? 
According to recent truck statistics from the Insurance Institute for Highway Safety (IIHS), a total of 4,014 people died in large truck crashes in 2020.
15% of these deaths were composed of truck occupants, while 68% were made up of cars and other passenger vehicles.
From these statistics, it is quite clear that truck accidents tend to lead to more severe injuries for those riding in cars as opposed to those riding in a semi-truck. That makes sense, as the bigger vehicle has less change in it's momentum and speed than the small car. 
Did you know that there is a saying along the lines of "the vehicle with the greater number of lug nuts wins in an accident?" This makes sense because small cars tend to have only 3-4 lug nuts, while larger cars have 5.
Trucks and SUVs typically have 6 lug nuts. 1 ton and "heavy duty" pickup trucks have 8 lug nuts. Semi trucks and true heavy-duty trucks and trailers have 10 lug nuts
Another interesting and alarming fact: the number of people who died in large truck crashes was 28% higher in 2020 compared to 2009. More information on your options if you or a loved one has been involved in a truck crash.
How does the size of a vehicle affect collision safety?
The most recent driver death rates calculated by the IIHS indicate that small cars and vehicles make up 15 of the 20 models with the highest death rates. In contrast, very large SUVs tend to have the lowest overall death rate.
According to Joe Nolan, IIHS senior vice president of vehicle research, "Smaller vehicles offer less protection for the driver in crashes, and their lighter mass means that they take the brunt of collisions with larger vehicles."
Since heavier vehicles like trucks have more momentum for the same speed, in a collision between a car vs truck, the smaller car will suffer a higher impact.
This is because the heavier truck will slow down at a more delayed speed compared to the slower car, taking more strain as the vehicles collide.
In addition, the car's crumple zone or the front area of the car that is built to collapse during a front-end collision is much smaller compared to that of a longer trunk.
This means that like an airbag, the distance between the point of collision and the passenger compartment is much shorter in a car than in a trunk which is another disadvantage.
Cars vs semi-trucks crash safety testing
Every car and every truck will need to undergo crash-impact trials for road safety. However, there are several tests specifically designed for semi-trucks.
The most extensive type of crash testing is an impact trial.  (Volvo is quite famous for their videos of truck performance and crash avoidance and testing). 
These tests help those in the trucking industry understand how safe their trucks are in the face of trucking accidents.
Some examples include barrier tests (crashing into the back of a truck) or a head-on collision test. To gauge the potential for personal injury, test dummies are used in the place of humans.
After a crash test, any damage to the truck is evaluated in terms of its frame and electronic systems along with which parts of the test dummies were damaged.
What are the various parts of a semi-trailer truck?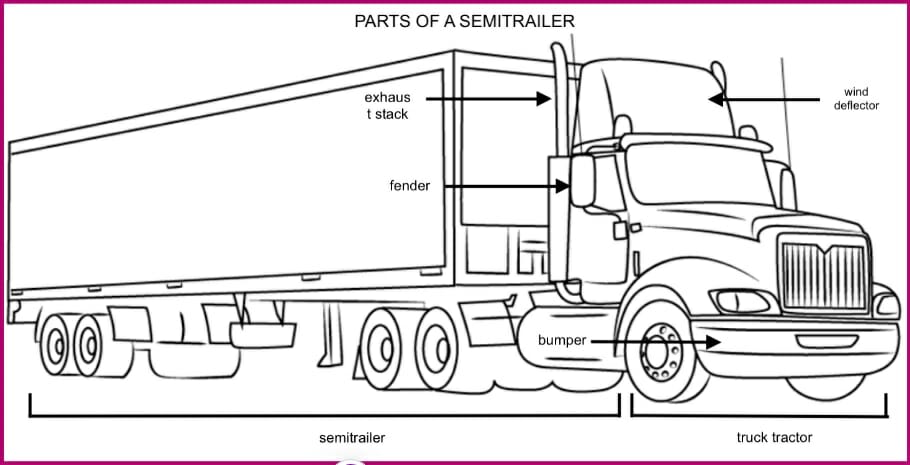 Trucks have many parts depending on their model, type, and size. Most semi-trailer trucks have the following parts:
Exhaust stack: the truck part that is a pipe where smoke exists

Marker light: truck lights that display the form and dimension of a vehicle

Hood: cover opening from the body, positioned at the front of a truck, on top of the motor

Bumper: device at the front of the truck that shields the body from minor impacts

Fender: part at the side of the truck body that covers the wheels

Door mirror: mirror used for looking at the rear

Siren: the truck part that produces a powerful sound

Wind deflector: apparatus that changes the airflow around a truck
Who can drive a car vs truck?
Because of their larger size, the legal process to qualify as a truck driver is more complex than that of getting a basic driver's license in the United States. Typically, those who wish to drive motor vehicles only need to meet the following requirements:
Proof of legal residency in the US

Theoretical test

Vision test

Test of knowledge of American road signs

Practical driving test

Minimum age between 16 to 18 to have a full license or 14 to 16 for a learner's permit
In contrast, those who wish to drive trucks need to obtain a commercial driver's license (CDL) through their home State.
Most drivers should also be at least 21 years of age, provide a 10-year driving record, and pass the CDL exam involving a road test, truck inspection, and a backing test. Some medical qualifications may also need to be met.
Those who wish to drive the following vehicles may also need to meet other requirements"
a truck with double or triple trailers

a truck with a tank

a truck carrying hazardous materials

a passenger vehicle
What is the process of repair for a heavy-duty truck after a collision compared to a car?
In general, big rig crashes will result in higher repair costs than car crashes. This is due to more material and labor required, and also because it is a more specialty type of work demanding a higher price.
After an accident, the truck's trailer and body may need to have their frames straightened and/or welded, creases and dents removed from metal panels, and undergo seam sealer removal and installation, headlight restoration, and corrosion protection. The costs of this can quickly add up.
Other truck repair costs can include re-cleaning, sanding, mixing and applying filler and glaze, as well as final sanding and inspection before primer and paint. 
Costs of truck repair
Costs to repair a truck can range from $100 to tens of thousands of dollars, up to $100,000. 
Statistics show that the most expensive repairs for trucks include unexpected breakdowns, where the towing and labor for repairs being the most expensive (Thousands of dollars at minimum).
The parts themselves are usually not too pricey, such as a clutch system ($1,000 average), -cooling system ($704 average), and an AC charging system ($676 average).
In contrast, the cost of repair after a car accident case can range anywhere between $50 to tens of thousands, depending on the severity. Although most cars will be "totalled" if the cost to repair it is in the tens of thousands Dollar range.
The overall cost depends on the type and age of the vehicle in addition to the overall damage caused by the motor vehicle accident.
What are the differences between private car insurance and commercial truck insurance?
Overall, insurance for truck accidents tends to be much more expensive than insurance for cars. This is because truck accident claims tend to be more and thus have higher coverage limits to pay for medical costs, repair of serious damage, and other fees.
In addition, private car insurance only covers the one driver and the vehicle they drive whereas commercial truck insurance can cover several trucks and employees under a trucking company's fleet.
The damages incurred in an accident with a large truck typically lead to more serious injuries than those in accidents with passenger vehicles and small cars.
This is because commercial trucks are much heavier and are more difficult to drive, resulting in rollover accidents.
There are several factors that can raise or lower the cost of trucking insurance, including:
Employee driving records

Policy limits

Coverage type

Type of cargo

Distance driving

The number of vehicles insured

Insurance claims history
How does commercial truck accident insurance work?
The most common standard truck insurance policies include liability insurance and physical damage coverage.
While liability insurance covers the cost of both property damage and medical bills to a third party, physical damage coverage covers the cost of damage to a truck after an accident.
Physical damage coverage includes collision insurance and comprehensive insurance which also covers trucking companies from fire, theft, and vandalism.
After a truck accident, an insurance company will assess the damages for both parties and offer an initial settlement. Those injured in truck accidents and car accidents may be entitled to compensation for these among others:
Medical bills

Loss of ability to earn income

Physical impairment

Psychological trauma
How long does it take to settle a semi-truck accident?
It can be difficult to predict how long truck accident cases take as a whole, but it is generally a good idea to expect a longer wait compared to that of a car accident claim.
Tractor-trailers, trucks, and semi-trucks can increase the potential for a catastrophic injury in the event that they lose control, so settling claims can be more complex than usual.
Although an insurance company may offer an initial settlement shortly after a truck accident, you may wish to reject the first offer in order to recover greater compensation later on.
Waiting for a full investigation and a detailed medical exam can ensure that the negligent parties are identified and held liable.
These negligent parties can be the truck driver, the trucking company, a manufacture of a truck component, or other parties.
For more information on the causes of truck accidents, see here.
The Benefits of Hiring a Truck Accident Attorney
Since truck accidents can result in serious personal injury or injury to you or a  family member, it is best to speak to contact a law firm as soon as possible so that you can recover compensation.
An experienced truck attorney can guide you on the steps that you should take when navigating truck accident litigation.
The benefit of working with an experienced personal injury attorney is that they will have plenty of insurance in dealing with insurance companies and be able to negotiate and pursue compensation after a truck accident claim.
If you are a victim of a truck accident, contact our truck accident lawyers today at The Reeves Law Group for a free case review.