She's been called the "aunt from hell," "the Auntie Christ," and worse all over social media. Jennifer Connell of New York City sued her nephew for $127,000, alleging the little boy did not behave reasonably when he leapt into her arms at his 8th birthday celebration in 2011, and causing her a broken wrist. Connell said the broken wrist had caused her longstanding problems. "I live in Manhattan in a third-floor walk-up so it has been very difficult," she said. "And we all know how crowded it is in Manhattan." Connell also told the court that she was at a party recently, and it was difficult to hold her hors d'oeuvre plate due to her injury. But recently, Connell and her nephew appeared on television together to reaffirm their family bond and love.
So what's the real story here? Jainchill & Beckert, Connell's law firm, said her nephew's parents' insurance company offered Connell just $1 over the injury, which occurred at the nephew's home in Connecticut. According to her lawyers, the aunt had no choice but to sue in a Connecticut court in order to pay her medical bills, adding that she has had two surgeries and could face a third. "From the start, this was a case … about one thing: Getting medical bills paid by homeowner's insurance," the law firm said. "Our client was never looking for money from her nephew or his family." However, a jury recently rejected her claims, which also lets the insurance company off the hook from covering any award of damages.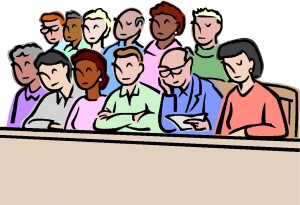 Peter Kochenburger, an insurance law specialist at the University of Connecticut School of Law, said state law typically requires those claiming injury to sue the individual responsible." In Connecticut and most states, if you have a claim against someone for negligence, you sue that individual, not the insurance company," he said. It is also plausible, he said, that Connell's health insurance provider, if she has one, might have mandated her to sue to recoup their own costs – a process known as "subrogation". Brendan Maher, a professor and the director of the insurance law center at the University of Connecticut, said it was "absolutely" possible to file this type of suit without malice, simply to trigger insurance coverage.
Similarly in California, "[b]ecause the insurer's duties flow to its insured alone, a third party claimant may not bring a direct action against an insurance company. As a general rule, a third party may directly sue an insurer only when there has been an assignment of rights by, or a final judgment against, the insured." (Shaolian v. Safeco Insurance Co. (1999) 71 Cal.App.4th 268, 271 [83 Cal.Rptr.2d 702], internal citations omitted.) What this means is that if your cousin's dog bites and seriously injures you at your cousin's house in San Diego, and your cousin's homeowners' insurance company won't pay your claim, you cannot sue your cousin's insurer directly. So will you or won't you sue your cousin in order to obtain a judgment that the insurance company would then be forced to pay?
In some states including California, however, a policyholder/insured can sue an insurance carrier for "bad faith" if it fails in its legal duty to provide coverage, uphold the terms of the policy and pay valid claims as provided in the policy. The following conduct may be considered evidence of an insurance company's bad faith:
Unreasonable denial of policy benefits
Misrepresenting policy terms to claimants
Failing to act promptly with respect to a claim
Not having reasonable standards for the prompt investigation and processing of claims
Failing to either approve or deny claims within a reasonable time period after the insured has submitted adequate proof of loss
Refusing to make a good faith effort to fairly settle claims when liability is reasonably clear
Compelling the insured to litigate the claim because the insurance company has refused to make an adequate settlement offer
Attempting to settle for an amount that appears unreasonable
Failing to provide prompt justification for the denial of a claim
Misleading a claimant as to the legal deadline for filing a claim or initiating a lawsuit
What do you think? Was this lawsuit unacceptable even if the aunt was forced to file in order to recover from her family member's insurance company or was this "Auntie Christ" unfairly demonized? If you had serious medical injuries would you ever file a similar suit against a friend or family member?