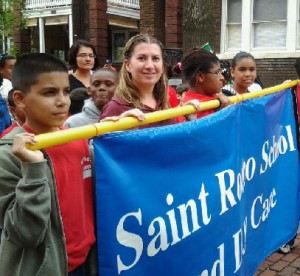 We here at The Reeves Law Group are pleased to announce that Ohio graduate student Heather Marzenski has won our 2014 $1000 academic scholarship. Heather beat out a strong field  and will use the award to continue her education at Baldwin-Wallace University located in Berea, OH.
Heather won the scholarship on the strength of her application which detailed the struggles and successes of working as a teacher to low-income at risk kids in the Cleveland inner city. Her students live at or below the poverty level and many have parents that are not involved in their lives. Because of that, Heather has become much more than just a teacher but as a role model and provider. She teaches the kids sports teams for free, runs year-round fundraisers to help purchase basic necessities and researches grant applications to help cover school budgetary shortfalls.
"Heather's application was sincere, heartfelt and very deserving," said firm founder Robert Reeves. "Not only does she run multiple fundraisers throughout the year to make up for the budget shortfalls that directly impact students in her classroom, but she collects used clothing and shoes outside of school to assist these same families. She also does all of this while working multiple jobs, finishing her Master's degree, and caring for her own family, which includes a two-month newborn."
In Ohio, and nationally, it's estimated that 3 out of 10 inner-city school children live at or below the poverty line. But it Cleveland it is particularly bad with more than half of all children living in poverty. Those are sobering statistics and make it that much more important to recognize the efforts of young teachers like Heather who are working so unselfishly to stem the rising tide.
Full details on Heather's very deserving selection can be found in the official press release. And for information on the scholarship program for 2015 click here for full details.