Mordeduras de Perros
Abogados Expertos en Casos de Mordeduras de Perros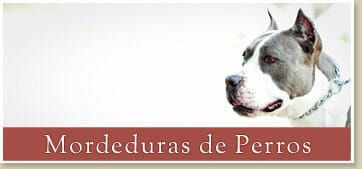 Los ataques de perro son una de las causas mayores de lesiones en niños. Las leyes de los estados requieren que los dueños de perros y otros animales los mantengan bajo control. En algunos casos, incluso si un niño entra a una propiedad o se acerca a un perro sin permiso, el seguro del dueño del animal tiene que cubrir los costos de las lesiones y daños adicionales como cicatrices, infecciones, dolor y el estrés producidos por el ataque o mordedura de un perro.
Por esto, en The Reeves Law Group, le recomendamos que uno de nuestros abogados expertos en casos de mordeduras de perros revise la propuesta que la compañía aseguradora le ofrece después de ser atacado por un animal. Contáctenos, nuestros abogados le ayudarán para que reciba la compensación que se merece.
Si usted o un ser querido necesita de asesoramiento legal de abogados expertos en lesiones por mordeduras de perros, somos la oficina legal a consultar. Nuestros abogados tienen años de experiencia en este tipo de casos. Desde el momento en que entre a nuestras oficinas le pondremos la atención que se merece y siempre se sentirá con la confianza de hacer las preguntas necesarias para saber todo sobre su caso y el proceso a seguir.
Si ha estado involucrado en un caso por lesiones de mordedura de perro o ha sido acusado de cuidados negligentes de su mascota, contacte a un abogado de The Reeves Law Group tan pronto le sea posible, para asegurar que sus derechos sean protejidos.
Llame (800) 644-8000 para consulta gratis. Hacemos visitas a su casa u hospital.