Automovilistas no Asegurados
Abogados Expertos en Lesiones Causadas por Conductores no Asegurados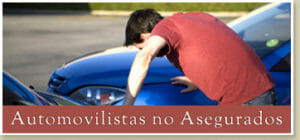 En The Reeves Law Group, asesoramos a las víctimas involucradas en accidentes automovilísticos. Muchos conductores ignoran los requisitos de seguros de vehículos automovilísticos, no pueden pagar los seguros o su póliza de seguro es insuficiente. Existe el seguro para conductores no-asegurados que paga compensación por lesiones resultantes de un accidente donde un conductor es legalmente responsable por las lesiones, pero que no tiene seguro para cubrir este tipo de lesiones. Por esto, es importante que se comunique con un abogado experto de The Reeves Law Group, para asesorarse sobre sus derechos y obligaciones.
Si usted o un ser querido han sufrido de lesiones causadas por un conductor no asegurado, comuníquese con The Reeves Law Group, para una consulta inicial y evaluación de su caso.
Sabemos que cualquier tipo de lesión afecta su vida diaria y la de su familia. En nuestra oficina legal contamos con abogados expertos en casos de lesiones ocasionadas por conductores no asegurados, y sabemos como lo podemos ayudar. Trabajamos para usted y no para las compañías de seguros. Comuníquese con nosotros lo más pronto posible, entre más pronto se comunique, más posibilidades tenemos de ayudarle a recuperar la compensación que usted y su familia se merecen.
Somos un despacho con la experiencia necesaria para su caso de lesiones personales causadas por un accidente donde se involucra un conductor no asegurado.
Llame (800) 644-8000 para consulta gratis. Hacemos visitas a su casa u hospital.