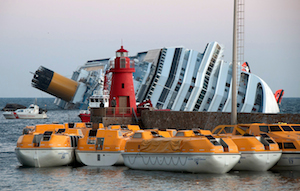 Being stranded without electricity, running water, and working restrooms in the middle of the ocean or vomiting throughout your weeklong dream holiday does not constitute a perfect cruise vacation. Unfortunately, more and more Americans are beginning to worry that when they sign on for a cruise holiday on the seas, they are going to face situations that are far from pleasant.
News reports of food poisoning, drowning's, and other accidents on cruise vessels are becoming increasingly common. A number of cruise vessels have recently been stricken by norovirus and other food poisoning outbreaks on board. In some of the worst of these cases, hundreds of people were. Some of these experiences have left passengers with nightmares even after they safely reached shore.
1. Carnival Triumph "Poop Cruise"
Passengers on the February 2013 voyage of the Carnival Triumph were expecting a dream holiday on the seas. Instead, they received a horrible surprise when a fire broke out on the ship, which left it adrift without in the Gulf of Mexico with more than 4, 200 passengers and crew on board for almost five days. The lack of electricity left the ship without working toilets, creating unsanitary conditions such as spilled sewage and forcing the occupants to use bags instead, earning the infamous trip the nickname "poop cruise."  Carnival's problems didn't end there. Two of the company's other ships, the Carnival Dream and Carnival Legend, encountered mechanical problems a month later, albeit with far less drama.
2. Seabourn Spirit Faces Pirate Attack
As bad as these stories of sound, they pale in comparison to the experience of vacationers on a cruise vessel off the coast of Somalia. In 2005, Somali pirates attacked the Seabourn Spirit 100 miles off the coast of Somalia, firing rocket-propelled grenades and automatic weapons. Fortunately, the small luxury liner was equipped with a sonic weapon known as a Long Range Acoustic Device (LRAD), which the crew used to drive away the pirates. The ship was carrying 302 passengers and crew at the time, with one crewmember suffering minor injuries.
3. Costa Concordia Disaster
The most nightmarish experience of all has to be the suffering of passengers on the Costa Concordia, whose captain simply choose to change his route from the authorized route without bothering to consult anyone. The ship ran aground and quickly began to list after the hull was ruptured, which complicated evacuation efforts. Contrary to tradition, the captain abandoned ship, further complicating the chaotic evacuation, and refused to go back on board the distressed vessel even after being ordered to do so (he is currently on trial in Italy for multiple counts of manslaughter and causing a shipwreck). Ultimately, 32 passengers and crew lost their lives in the accident, which cost at least $500 million because the ship was unsalvageable.