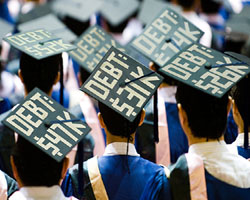 If you've been reading the news you've probably seen multiple headlines about how tough the job market is for law school graduates. In fact, a recent study done by The Ohio State law professor Deborah Jones Merritt examined 2010 law school graduates, and found that over 20% were currently employed in jobs that don't require a law degree.
A more recent study from 2012 by the reform group Law Firm Transparency found that only 56.2 percent of all law school graduates found full-time employment within their chosen field, and nearly 28 percent were unemployed or underemployed.
Even more alarming is the cost of a law degree itself, which has continued to make the legal pursuit an increasingly expensive endeavor.
According to the AdmissionDean.com Law School Cost Calculator the average debt for a private law school graduate now exceeds $100,000. The cost of tuition at a public law school is also outpacing national inflation rates by 2.5 times, rising an average of 5% every year!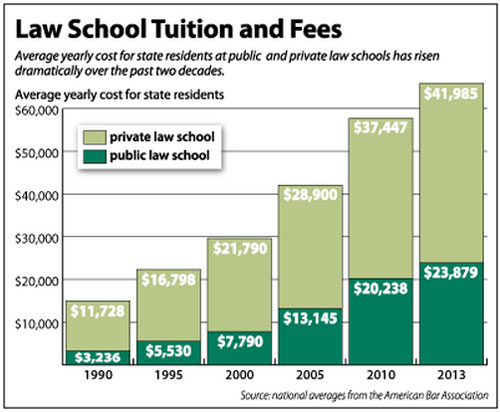 Photo Credit: The Indiana Lawyer
With such profound rising costs and a tougher job market you may be asking yourself if a law degree a sound investment. The answer remains 'yes,' but with a few caveats.
As reported by Bankrate.com, there's a sharp discrepancy in job prospects between first and lower-tier schools. When comparing schools listed in the top 20 of U.S. News and World Report's annual rankings with institutions that landed in the 126-to-146 ranking range, students attending top schools were twice as likely to hold long-term jobs in the legal field. In contrast, students who attended a lesser known, lower-tier school,were 2.5 times more likely to be underemployed.
Oliver Bateman, an assistant professor of law at the University of Texas at Arlington, puts the stark difference between these tiers in blunt terms. "If you're not going to be first at a mid-tier or lower-level school," Mr. Bateman said, "you may as well be last."
This sharp discrepancy in job prospects also explains why many college students are now flocking to engineering and medical schools in record numbers. Even graduates from bottom tier schools are easily securing meaningful employment. Since 2005, engineering as a graduate discipline has shown a 38% increase in enrollments, with medical school a distant second with an 11% increase. In contrast, law school enrollments during the same period have dropped 7%.
So why do wide-eyed students continue to rush off to law school, even the poor ones, in an attempt to become practicing lawyers? One word: money.
Those who do land a job as a practicing attorney find the salary is pretty attractive. The average median salary in 2014 was $76,970 a year. And based on experience, field and location, that average rises quickly and dramatically to the low and mid six figures.
Despite the above challenges, we here at The Reeves Law Group still believe in the deep value of a legal education. We believe so strongly in fact that we offer a competitive $2500 scholarship to qualifying deserving students to help defray the high costs of a law degree!
In 2014 we were honored to have awarded the scholarship to Baldwin-Wallace University student Heather Marzenski. We are confident that this year's winner will be just as deserving. The process is ongoing, with a deadline of December 15, 2015 to submit an application.
With the rising costs of a legal education as defined above, can you really afford NOT to apply? We don't think so.