In the aftermath of the financial crisis, the Dodd-Frank Wall Street Reform and Consumer Protection Act of 2010 (Dodd-Frank Act) established the Consumer Financial Protection Bureau ("CFPB") to protect consumers. Prior to Dodd-Frank, a patchwork strategy of consumer protections existed for mortgages and other consumer financial products, and enforcement was in the hands of multiple regulators.
The CFPB receives a flat amount of money from the Fed and cannot unilaterally increase its operating budget. In addition, a number of regulatory agencies have veto power over the CFPB's actions.
The CFPB is one of the country's newest federal agencies, but it has a broad mandate. Among other things, the CFBP:
Writes rules, supervises companies, and enforces federal consumer financial protection laws
Restricts unfair, deceptive, or abusive acts or practices
Takes consumer complaints
Promotes financial education
Researches consumer behavior
Monitors financial markets for new risks to consumers
Enforces laws that outlaw discrimination and other unfair treatment in consumer finance
Its jurisdiction includes banks, credit unions, securities firms, payday lenders, mortgage-servicing operations, foreclosure relief services, debt collectors, and other financial companies operating in the United States.
THE CFPB AT WORK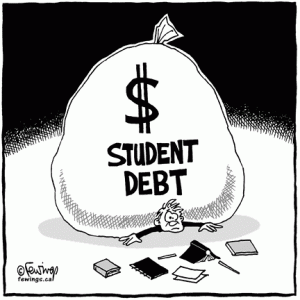 According to Director Richard Cordray, the Bureau's most pressing concerns are mortgages, credit cards and student loans. Here are some examples of the work undertaken by the CFPB since its recent creation:
The Department of Justice and the Consumer Financial Protection Bureau pursued litigation against Hudson City Savings Bank, leading to a $33 million settlement, over allegations that the Paramus, N.J., lender intentionally withheld mortgages from minorities.
The CFPB sued a Delaware-based online payday lender and its CEO for allegedly deceiving consumers about the cost of short-term loans.
The CFPB is proposing a ban on arbitration clauses that are generally hidden in financial service contracts between consumers and financial institutions offering student loans, credit cards and other products.
The CFPB and the Federal Housing Administration helped implement safeguards to protect current and future reverse mortgages borrowers. Prior to the federal laws passed in 2014, a non-borrowing widow or widower could lose their home to foreclosure if their spouse died.
From May 2015 to August 2015, the CFPB found violations in the student loan servicing, mortgage origination and servicing, consumer reporting, and debt collection markets. Its report shows that CFPB supervisory actions resulted in $107 million in relief to more than 238,000 consumers. The supervisory actions targeted:
Debt collectors that used illegal tactics to contact consumers, such as contacting consumers on the phone at work after consumers verbally told them to stop.
Student loan servicers' unfair practices, such as deceiving borrowers by charging late fees on federal student loans owned by the Department of Education.
Mortgage servicers that failed to automatically terminate mortgage insurance and reimburse consumers. For borrowers who are current on their payments, the Act requires servicers to automatically terminate private mortgage insurance when the loan's principal balance is first scheduled to reach 78 percent of the property's original value.
For more on the type of actions taken by the CFPB to protect consumers, visit its Newsroom.
LINKS FOR CONSUMERS
The CFPB website contains a forum where you can ask questions about financial products ranging from bank accounts to mortgages and student loans.
Complaints from consumers are collected in a central database available for viewing on the CFPB website. As you would imagine, the financial companies are not happy about this public database.
You can submit your complaint about a financial company directly to the CFPB.
The CFPB also released "Planning for Retirement," an interactive, online tool designed to help consumers decide when to claim their Social Security retirement benefits.
There are also support and guidance pages designed for military servicemembers or veterans, seniors, and students.
Have you been screwed over by a financial company? Leave your story in the comments section.