Unless you've been living under a rock, you surely have seen the news stories regarding the less-than-flattering courtroom sketch that was done of New England Patriots Quarterback Tom Brady.
The sketch by veteran sketch artist Jane Rosenberg has been blasted online and has led the artist to receive both angry emails as well as public notoriety for her apology for failing to make Brady "pretty enough."
The sketch itself is on the right; on the left is how Tom Brady actually appeared in court that day as part of the ongoing NFL "DeflateGate" controversy.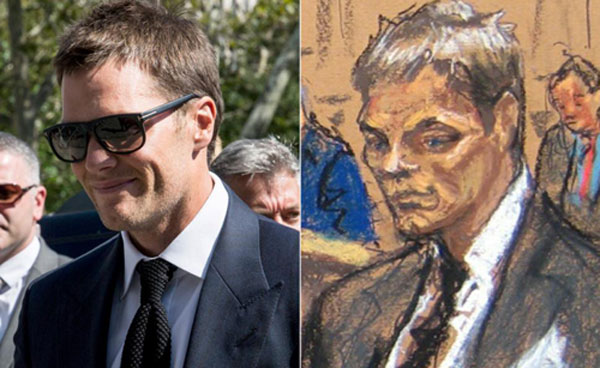 Image Credit: Reuters/Jane Rosenberg
The sketch has generated some incredible internet memes and has become the epitome of the phrase Internet Gold for humorists and satirists. But as bad as the sketch may be (and it's pretty bad), this isn't the first time some of the world's most famous and beautiful celebrities have been depicted in the courtroom in less than flattering ways.
Here then, for your consideration, are 3 Celebrity Courtroom Sketches even WORSE than Tom Brady's. Can you guess the celebrity actually depicted?
Courtroom Sketch #1 – This sketch of a famous home improvement diva was done in June 2003 in New York after being indicted for insider stock trading. She was eventually convicted in 2004 of lying to investigators, which resulted in a five month prison sentence. Who is she?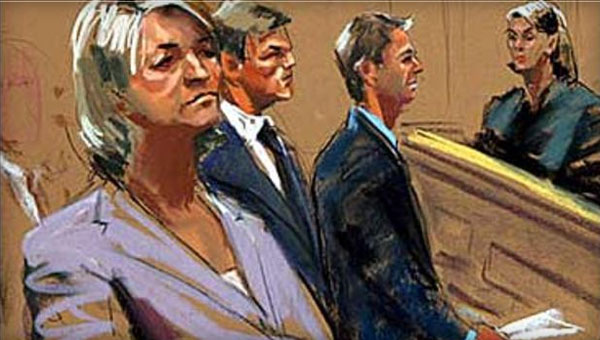 Image Credit: AP
Answer: Martha Stewart. Martha did get a little revenge on the courtroom artist later though when she called her out in front a live taping as she attended one of her shows.
Courtroom Sketch #2 – This famous Hollywood power couple didn't work out but were both voted People Magazine's most beautiful people in the word during the 1990's. This sketch was taken during a 2002 trial in which a photographer climbed a tree and took topless photos of the actress in her backyard.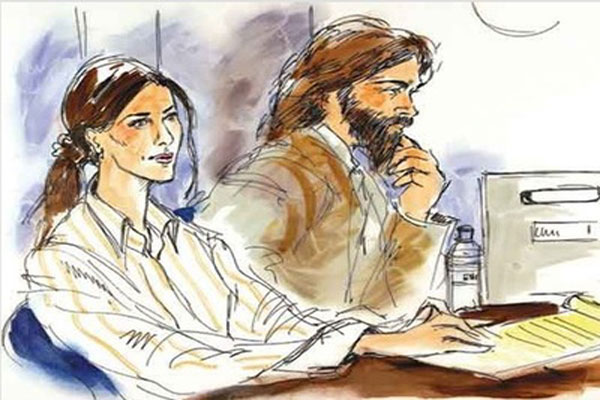 Image Credit:TMZ.com
Answer: Jennifer Aniston and Brad Pitt. Aniston is somewhat more recognizable in the sketch but Pitt is a different story. He may have been gearing up for a movie role as Jesus or maybe Bigfoot, roles that never materialized. The world may never know.
Courtroom Sketch #3 – This famous and wealthy social debutante has been in court many times, but it's this sketch from 2008 that is most memorable (note the five-o-clock shadow).  She was in court to defend herself from an $8 million lawsuit that accused her of failing to promote a 2006 movie in which she appeared. The movie was a bomb, making only $2.9 million at the box office.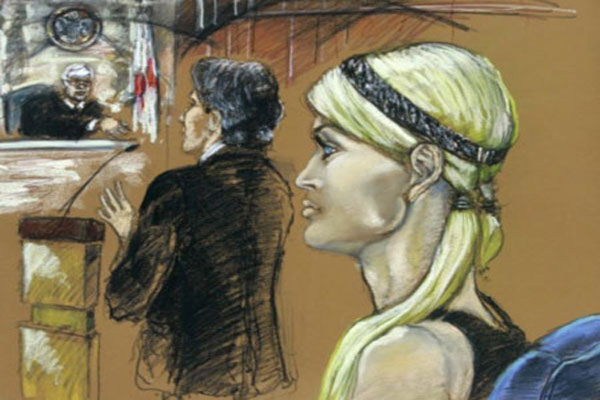 Image Credit: AP.org
Answer: Paris Hilton. The famous heiress was found not responsible for the disastrous performance of the 2006 sorority themed movie National Lampoon's: Pledge This! in which she was paid a hefty salary of $1 million.
Courtroom sketch artists only have minutes to capture the essence of a person as they appear in court.  That easily makes it one of the more stressful jobs one can pursue. Some do it very well but as evidenced by the examples above, mistakes do happen. These mistakes are substantially magnified if the person depicted is one of the most beautiful people in the world, as was the case with Tom Brady.
We here at The Reeves Law Group want to know what YOU think! Should courtroom sketch artists be publicly pilloried because they had what amounts to an off-day with their sketch pad? Let us know in the comments below.