Donald Trump may not make you comfortable as the (possible) future leader of the free world, but one thing you can't take away from the man. He sure knows how to generate headlines.
For better or worse, Trump has been the talk of the country, appearing in the H1 Tags of thousands of websites per day, sometimes multiple times.
Some are crazier than others, and we understand if it's a lot to manage. That's why we've put together our list of the Top 23 Most Bizarre, Funny or Insane Trump News Headlines. Word of warning: lots of bizarre and insane; some funny; all with room for concern.
1. 'Trump Didn't Just Banish a Baby. He Banished a Mother'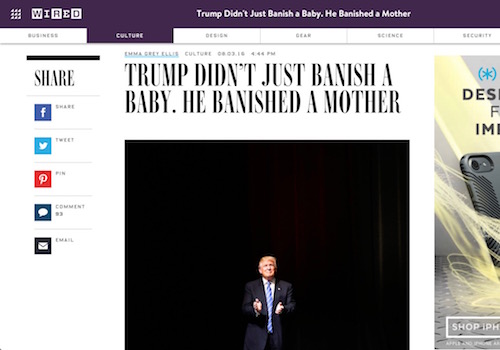 Wired magazine's Emma Grey Ellis wrote a scathing op-ed on Trump's now infamous incident with the crying baby at one of his rallies. Unfortunately for Ellis, who posted on Aug. 3, 2016, she dropped this melodrama before the mother and the Washington Post's fact checkers weighed in.
What really happened: Trump didn't kick the mom and tot out — she stepped out to quiet the baby, came back in when she had done so, and felt Trump's comments were tongue-in-cheek, voicing her approval for his candidacy.
Still, the fact this or the Washington Post's response headline, "Trump Is Right: He Didn't Kick a Baby Out of a Campaign Rally," can be actual major news headlines pertaining to a Presidential campaign demonstrates the crazy netherworld national politics finds itself in during the age of the Internet.
[Image Source: Wired]
2.'Trump Supporter Attacks Muslim Women with Babies, Rips Off Their Hijabs'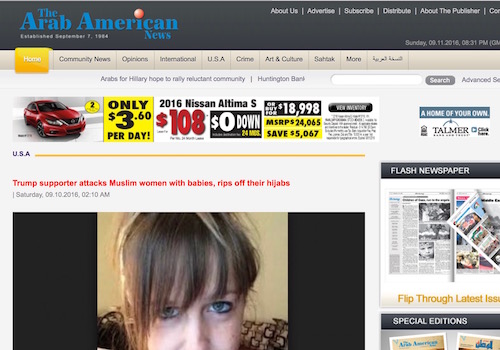 Whether you can blame a candidate for all the actions their candidate takes probably relies on your political leanings. But the Trump campaign has certainly had their share of whack-a-doodles turn up in the press, often linked to alt-right spokesmen Alex Jones, Milo Yiannopoulos and Roger Stone. Thirty-two-year-old Brooklynite Emirjeta Xhelili would find herself in good company there.
The self-professed Trump supporter reportedly attacked two hijab-wearing Muslim women for having the nerve to (wait for it) walk their children in strollers down a public street. Xhelili, who often posts under the name Mary Magdalene, allegedly told the women to "get the f*** out of here," adding, "Get the f*** out of America, b****es!"
She was arrested for punching the women in their faces and ripping off their hijabs. The Arab American News headline from Sept. 10, 2016 is utterly insane — more so when you match it up to the story.
[Image Source: Arab American News]
3. 'Donald Trump Says He's Sorry'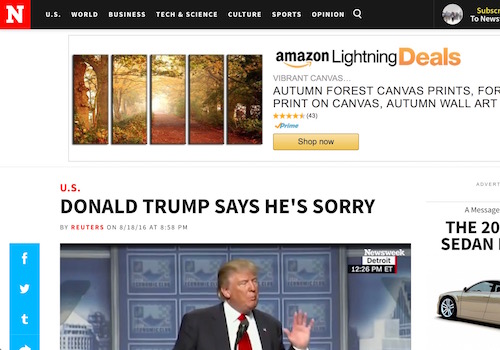 This Newsweek headline from Aug. 18, 2016 makes the cut because it comes over a year into the Presidential campaign cycle, and it's the first time the tough-talking billionaire has actually said the words.
That's in spite of doubling down on disparaging remarks regarding Rosie O'Donnell during a debate, informing the American people his junk is good-sized (also during a debate), and attacking a Gold Star family, who criticized his campaign at the Democratic National Convention.
Some speculate the apology came in response to the Gold Star gaffe, but we'll never know for sure. Trump didn't specifically state what he was apologizing for — just that he was sorry.
[Image Source: Newsweek]
4. 'Trump Pretty Much Admits That He Expects Servicemen to Be Rapists'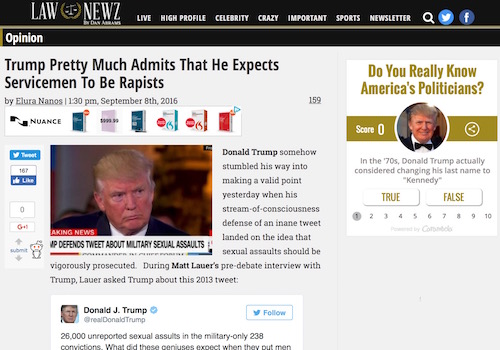 The media have had a field day with Trump's unpolished delivery, and truthfully, what he says can often lend itself to some pretty damning headlines. Take this Sept. 8, 2016 piece from LawNewz.
The op-ed revisits a 2013 tweet Trump made as well as a more recent pre-debate interview with Matt Lauer in which Trump doubles down on his argument that sexual assaults are under-prosecuted in the military.
The 2013 tweet reads, "26,000 unreported sexual assaults in the military-only 238 convictions. What did these geniuses expect when they put men & women together?"
The clear implication from the man who could one day soon become Commander-in-Chief: men simply can't be expected to control their sexual impulses when placed in close quarters with female colleagues.
[Image Source: LawNewz]
5.'Donald Trump's Wrong. Mexicans Aren't Going to Rape You.'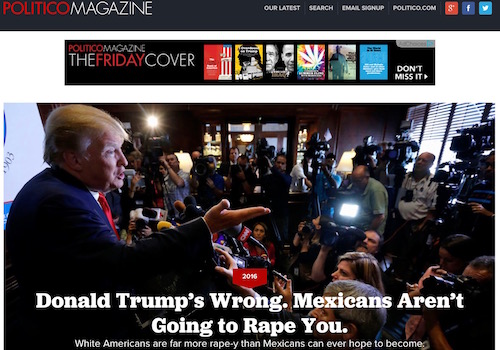 It could be considered insane in of its self that so many stories revolving around Trump are rape-related, but here you go. Politico dropped this July 8, 2015 headline after Trump's big announcement that Mexico "is not sending their best."
In his Presidential announcement, Trump characterized many undocumented immigrants as rapists, setting off a press firestorm that got Politico's research team looking into the likelihood of being raped by so-called "illegal immigrants."
Turns out, the Bureau of Justice Statistics' (BJS) National Crime Victimization Survey showed that for 2013 (the most recent year available), "whites accounted for 71 percent of all sexual assaults documented (above their total percentage of 63 percent of the U.S. population), while Latinos accounted for 9 percent, far below their total percentage of 17 percent."
[Image Source: Politico]
6. 'Exclusive: Trump's 3,500 Lawsuits Unprecedented for a Presidential Nominee'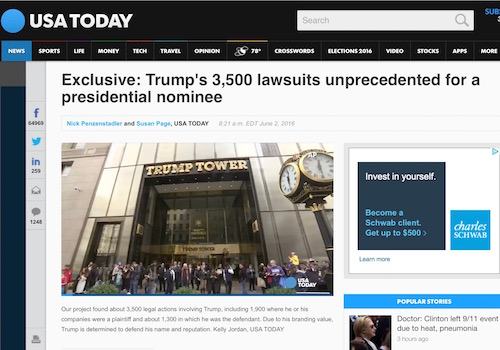 USA Today noticed a staggering trend in Trump's past business dealings. He hasn't just been in court a few times over the years to protect his interests. He's been there several times.
How many times you say? 3,500 times in his 70 years, or 50 lawsuits each year of his life since the day he was born — easily more than any other Presidential candidate. This piece comes from June 2, 2016.
[Image Source: USA Today]
7. Donald Trump Calls Hillary Clinton 'The Devil'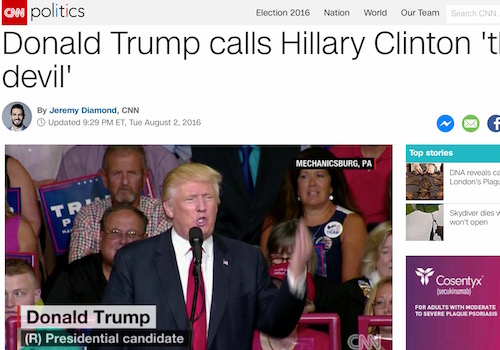 This example personifies the widely held belief that this election cycle is one of the most bizarre, bitterly divided of all time. Seldom do you see candidates accusing the other side — representatives of people they will actually have to work with if elected — the Devil.
But that's just what Trump did on Aug. 2, and this CNN headline succinctly sums it up with no frills or embellishment.
[Image Source: CNN]
8. 'Trump Slams Voting Rights for Felons, Wants GOP to Court Black Voters'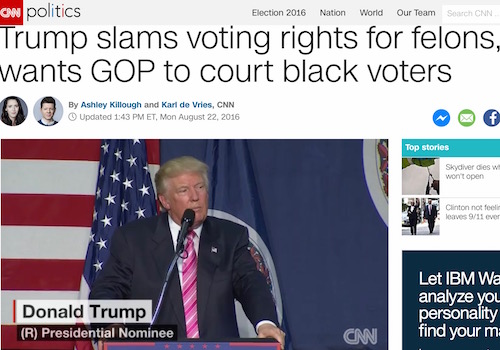 Sometimes the gaffes are not all Trump's. CNN found that out the hard way with their Aug. 22, 2016 headline issued by a pair of their reporters — Ashley Killough and Karl de Vries — who inadvertently implied black voters and felons were synonymous with one another.
Conservative sites as well as The Hill picked up on the misstep. The news site never issued an apology or changed the headline even though it drew an unfortunately intimate comparison between the two blocs.
[Image Source: CNN]
9. 'Donald Trump Campaign Offered Actors $50 to Cheer for Him at Presidential Announcement'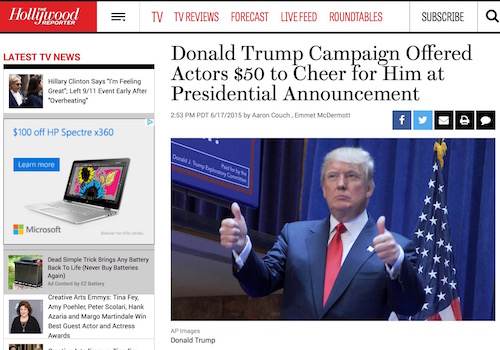 The Hollywood Reporter demonstrated how the most bizarre headlines can be a straight report of the facts. With this piece from June 17, 2015, the site perfectly illustrated how the sideshow nature of the 2016 Presidential campaign season began.
Who knows if other Presidential campaigns have ever pulled something like this before? Certainly none have ever been so blatantly open about it.
[Image Source: The Hollywood Reporter]
10. 'Donald Trump, Who Promised To Kick El Chapo's A**, Calls FBI After Mexican Drug Lord Threatens Him on Twitter'
By now, you're probably thinking, "What kind of a world is this?" A serious Presidential candidate and a Mexican drug lord in a Twitter spat? That's what happened last July as documented by this New York Daily News article from July 13, 2015.
The NY Daily News and Trump have been mortal enemies from day one, so you can't really get a sense from the headline whom the paper would rather see win in a toe-to-toe battle, but just letting the words wash over you is an easy reminder of how far off-script this election season has gone.
[Image Source: New York Daily News]
11. 'Trump Attacks McCain: "I Like People Who Weren't Captured'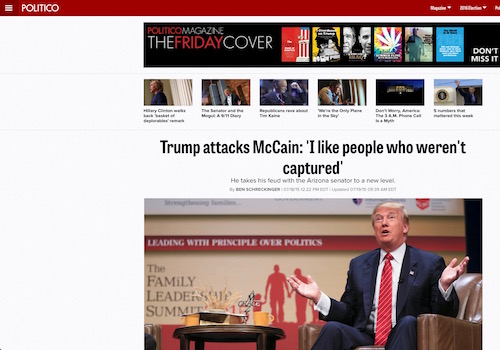 It's rare when a major party's major nominee is so adversarial with the party establishment, but for Trump, it's par for the course.
A great example being on July 18, 2015 when Politico reported this headline that is a 100 percent accurate portrayal of what Trump said about a former Republican Presidential nominee, a current U.S. Senator from Arizona, and a documented war hero.
Somehow the line only propelled Trump's campaign forward instead of torpedoing it as it might have for most other candidates.
[Image Source: Politico]
12. 'Maureen Dowd: Trump's "Blood" Remark Wasn't About Megyn Kelly Menstruating'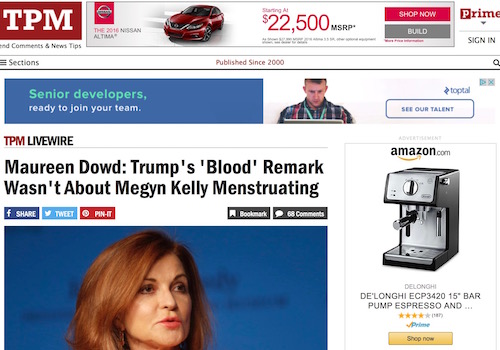 After Trump butted heads with Fox News moderator Megyn Kelly at the first Republican primary debate, he did an interview with CNN in which he made the now infamous remarks that Kelly was so angry, "she had blood coming out of her wherever."
So many headlines exploded from that soundbite that it was hard to pick one representative of how far the national dialogue had stooped as a result. CNN did a straight news sell, stating the comment "draws outrage."
The Washington Post went with a direct quote — "Trump Says Fox's Megyn Kelly Had Blood Coming Out of Her Wherever". But ultimately, we felt we had to go with something exemplary of the WTF quality Trump's campaign often brings to the table.
For that, Talking Points Memo nailed it with their Aug. 17, 2015 article detailing Maureen Dowd's defense, "Trump's 'Blood' Remark Wasn't About Megyn Kelly Menstruating." We chose this interpretation simply because if we were aliens reading earth's news, we would wonder what in the world was wrong with this planet.
[Image Source: Talking Points Memo]
13. 'Trump Squeezes 33 Insults About Bush Family Into 35-Minute Interview'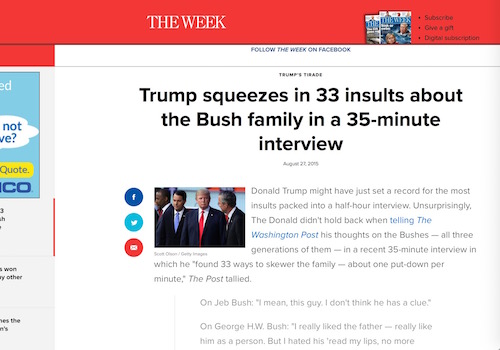 On Aug. 27, 2015, The Week dissected a 35-minute interview Trump did with the Washington Post in which he tore into his then Republican rival Jeb Bush as well as his political family — brother and dad, mostly.
The Week counted almost one insult per minute for the entire Bush clan and laid out several in their piece (linked here). Trump would go on to score an early knockout over Jeb in the primary and, of course, clinch the nomination after vanquishing Ted Cruz, Marco Rubio and John Kasich.
[Image Source: The Week]
14. 'Hillary Surrogate Says Trump's "Schlong" Remark Was Really About Calling Obama a Black Rapist'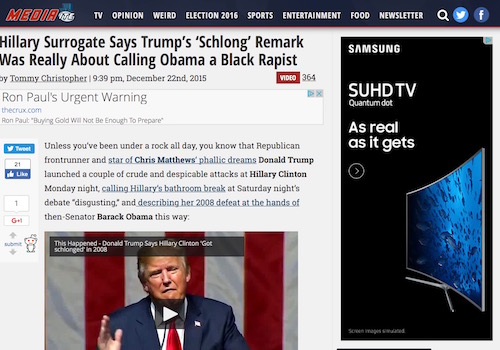 Another rape-related gem, this time courtesy Mediaite, which has one of the most over-the-top interpretations of Trump's comment that Obama "schlonged" Hillary in the 2008 Democratic primary. While there is no argument that what Trump said was off-color, saying what this headline from Dec. 22, 2015 says is a bit much, or as author Tommy Christopher calls it "a reach that would snap Stretch Armstrong."
The comment came from Media Matters founder David Brock, who said that Trump's attack created "The idea of a black rapist using the schlong to defeat Hillary, I mean, I think that's what that really was about."
Again, everyone, these are headlines focusing on Presidential campaigns. Let that sink in.
[Image Source: Mediaite]
15. 'Ben Carson Is Fine with Donald Trump Calling Him a Child Molester, But Not Because Trump Offered Him a Job'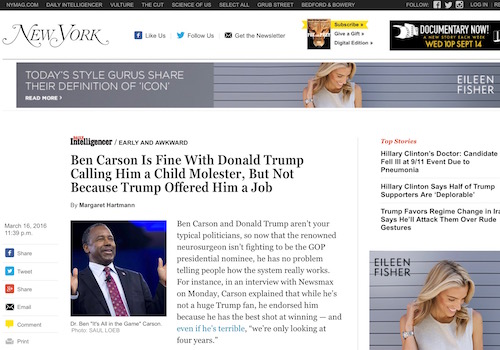 For the "pathology" of Ben Carson being "like that of a child molester" that many news sites pounced on, we prefer this brutally reworded, though not altogether inaccurate, interpretation from New York Magazine on March 16, 2016.
When asked in an interview how he handled the child molester attack now that he was endorsing Trump, Carson said, "If it were about me, yes, I would be outraged, saying, 'No way can I support this,' but it's not about me. [Trump] was concerned about the fact that he couldn't shake me. I understand politics, and particularly the politics of personal destruction, and you have to admit to some degree it did work. A lot of people believed him."
He later states that he would be working with Trump "in an advisory capacity."
[Image Source: New York Magazine]
16. 'Things Said By Donald Trump's Nutjob Doctor, Ranked By How Insane They Are'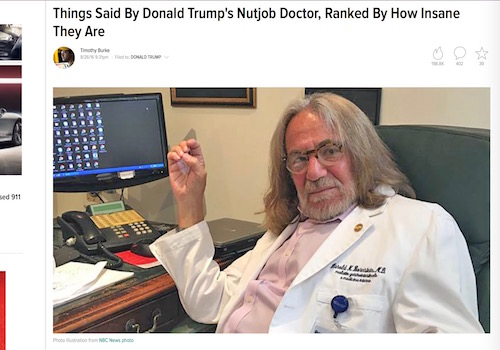 Dr. Harold Bornstein rose to prominence for writing one of the most unintentionally hilarious and hyperbolic doctor's assessments in the history of Presidential politics.
With a Sons of Anarchy hairdo and a gift for gab, Bornstein landed many headlines with this — "If elected, Mr. Trump, I can state unequivocally, will be the healthiest individual ever elected to the presidency" — a comment he would later say that he made because, "I like that sentence to be quite honest with you and all the rest of them are either sick or dead."
Deadspin's piece from Aug. 26, 2016 is a wonderful little primer into the zany world of Trump's doctor.
[Image Source: Deadspin]
17. 'Trump: I Could "Shoot Somebody and I Wouldn't Lose Voters"'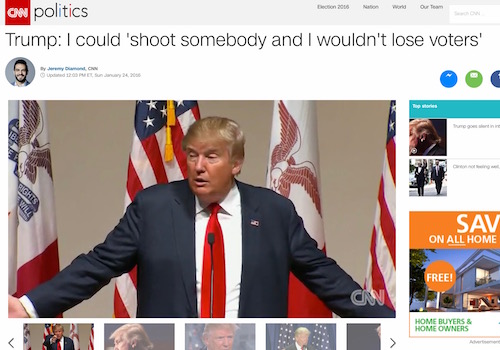 Once again, many of the craziest Trump headlines come from the candidate's own mouth.
Case in point, in a country with high rates of mass shootings and apprehension over gun laws, Trump proudly declared many of his supporters to be so loyal he could shoot someone on Fifth Avenue and still earn their vote.
CNN's reporting on the comment from Jan. 24, 2016 just put it right out there for all to see — no further elaboration necessary.
[Image Source: CNN]
18. Trump Sees Dead People: Promises Crowd He'll Bring Joe Paterno Back from the Grave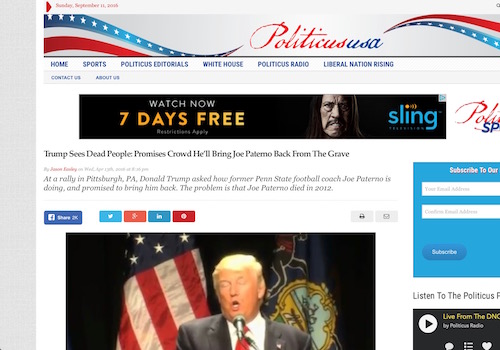 This unfortunate gaffe on Trump's part did little to wreck his Presidential hopes, but it sure made for an awkward few moments at a campaign rally in Pittsburgh.
During the event, Trump said, "We love the place. Just so you understand, I went to school in this state. Right? We know that, right? So I know a lot about Pennsylvania, and it's great. How's Joe Paterno? We are going to bring that back. Right? How about that whole deal."
Paterno died in 2012. PoliticusUSA gets the win for their April 13, 2016 piece along with expert use of The Sixth Sense.
[Image Source: PoliticusUSA]
19. 'Donald Trump Just Literally Made the Republican Race About His Penis'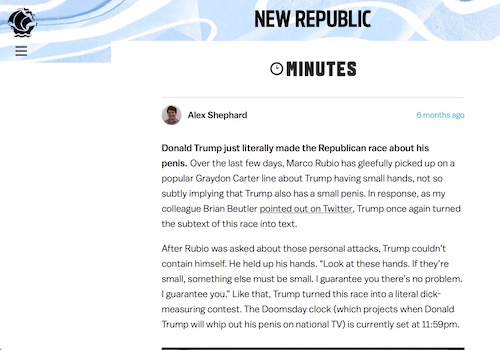 The New Republic deserves credit for this piece from March 2016 after a televised debate in which Trump took issue with an inference GOP primary candidate Marco Rubio made about Trump's hand size being small, and so you-know-what-else must be small, too.
In true Trump-style, he then took the time to assure the entire audience and everyone watching at home there were "no problems" in that area.
[Image Source: The New Republic]
20. 'Trump During Rally: "Look at My African-American Over Here"'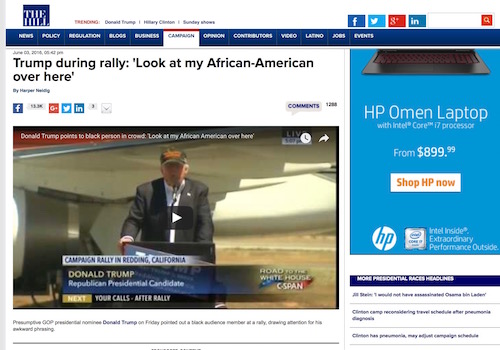 Credit The Hill for their reporting on a June 3 rally for Donald Trump in which the Presidential candidate felt compelled to point out "his" African-American supporter.
The phrasing of the headline — from the racially-charged absurdity of Trump's oblivious comment to the word choice of "rally" instead of "campaign stop" (cough KKK cough cough) — elevated this to a masterpiece of subtle inference, made all the crazier because it really happened.
[Image Source: The Hill]
21. 'Trump Vows to Defend Non-Existent Articles to the Constitution'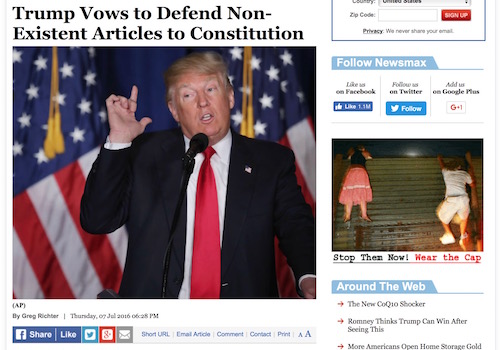 Conservative website Newsmax had to do very little work to get this headline to pop considering the material Trump provided at a July 7 campaign event.
Discussing how committed he was to protecting the Constitution, Trump confirmed that he would be fighting tooth-and-nail to protect the Founding Fathers' original vision, right down to Article XII.
The Constitution stops with Article VII.
[Image Source: Newsmax]
22. 'Marco Rubio Puts His Life in Donald Trump's Tiny Hands'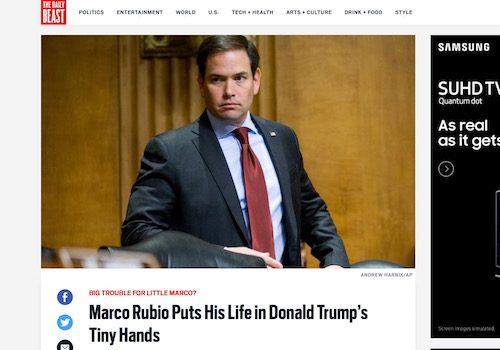 The Daily Beast scored big with this June 22, 2016 piece detailing the predicament that arose for Marco Rubio after deciding to run for Senate after vowing not to and after getting destroyed in his home state by the man he once made a penis joke about.
Rubio is the guy we have to thank for Trump's TMI clarification about hand/penis size during one of the Republican debates. He also said he would not trust Trump with the nuclear codes, as the Daily Beast points out.
Inconvenient, the article adds, since "Little Marco" would now have to get behind Trump and run on the same ticket and same party.
[Image Source: The Daily Beast]
23. 'There Will Be Hell Toupee'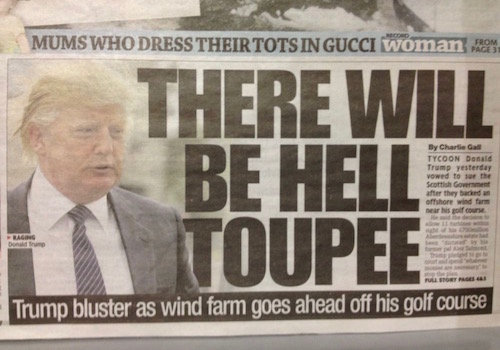 The Guardian used one of the greatest Donald Trump memes in the world to its advantage with this headline featuring the infamous hair and the play on words.
It wasn't really even that much of a stretch considering Trump was threatening to sue the Scottish government for locating a wind farm by his golf course, according to the article itself.
While the date on this particular piece isn't clear, The Guardian continued running updates on the story as recently as July 22, 2016.
[Image Source: FortuneDotCom.Wordpress.com]
Well, crazy enough for you? Do you think these headlines have been a boost or a detriment to the Donald Trump campaign? Sound off in the comments section below, and while you're at it, pitch in a few of your favorites that we may have missed!