Personal Injury Lawyers Serving Bakersfield
For the convenience of our clients we have a location in Bakersfield on California Avenue, to conduct initial sign-signup meetings, and other consultations, as needed. If you have any questions or desire a case review, please email us or call us.
With a population of more than 354,000, Bakersfield is the ninth largest city in California and the state's third largest inland city. Steeped in music history, Bakersfield is the birthplace of the Bakersfield Sound, a country music style emphasizing a crisp mix of pedal steel guitar, fiddle, and drums. Bakersfield is one of the sunniest cities in the United States, just behind Yuma, Arizona and Palm Springs, California. Its mild autumns and early springs give the area a unique climate for growing a wide variety of crops, including citrus, carrots, almonds, and pistachios. The city's economy relies heavily on agriculture, petroleum extraction, refining, and manufacturing.
Time Is of the Essence
California law mandates that accident victims file key documents within a prescribed period of time. If you fail to do so, your personal injury claim may be barred forever. In addition, it is important to investigate your claim, interview witnesses, and collect evidence as quickly as possible after the accident, because memories fade with time and evidence can become lost or destroyed.
Statute of Limitations
An accident victim only has a certain amount of time to file a lawsuit against responsible parties after an injury happens. This deadline is called the statute of limitations. Usually, the injured person has two years after the injury to file a lawsuit. This 2-year deadline applies to auto accidents, slip and falls, product liability cases, and wrongful death actions. There are several situations when the standard 2-year limit does not apply.
When the injured person does not discover the injury at the time of the accident, there is a 1-year limit that begins at the time of discovery of the injury.
When a minor is injured, the 2-year period begins when the minor turns 18.
There is a 3-year statute of limitations for medical malpractice lawsuits.
Victim Assistance Programs
For those struggling with the psychological aftermath of an accident, the network of professionals at the Kern County Mental Health Department can provide an array of services, including evaluation, medication, and other support.
National Health Services provides critical health services to residents of Kern County, including diagnostic testing and special assistance programs.
After an accident that causes loss of life, the professionals at Kara can provide 1-1 counseling, peer support groups, and grief therapy.
Free Consultation
Our personal injury attorneys are available at your convenience for a free consultation, seven days a week, to answer your questions and evaluate your claim. If you are unable to come to our office for any reason, we can meet with you at your home, workplace, or in your hospital room.
No Recovery, No Fee
The Reeves Law Group understands that an accident can forever alter the lives of both the victim and his or her family members. We are dedicated to helping our clients through the complexities of the legal system, while providing personal support and aggressive representation. We accept personal injury cases on a contingency basis, which means that a client does not pay attorney's fees unless we win his or her case.
Our Resources
Personal injury claims can be extremely expensive to litigate. Our firm is well established and has the resources necessary to advance all of the costs and expenses of your case. Attorneys or firms without our successful track record may feel pressed to settle your claim too early, for less than what it is worth.
Choosing the Right Personal Injury Attorney
If you or a family member has been injured in an accident in Bakersfield, or elsewhere in Kern County, the single most important step you can take is to retain a law firm with the experience and passion to advocate for your rights. For over twenty-five years, the Reeves Law Group has established an impressive reputation for obtaining exceptional results by successfully handling settlements and trials for thousands of injured clients. The firm's size, expertise, and financial resources allow us to succeed against large insurance companies and well-financed corporate and individual defendants. A team of highly skilled and dedicated attorneys and support staff will work tirelessly to recover the maximum amount of compensation for you. If you have suffered an injury in an accident, contact the Reeves Law Group and let our lawyers advocate for you.
Contact Us
Our Bakersfield accident lawyers' meeting location is conveniently located at 4900 California Avenue. If you are in need of a personal injury attorney, contact us at (661) 202-3056 to schedule a free consultation.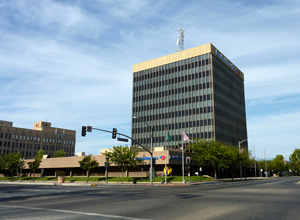 Accident Statistics
Bakersfield is a prime location for outdoor enthusiasts and offers residents and visitors a wide range of recreational opportunities from boating and whitewater rafting to mountain biking and skiing. As a result, Bakersfield experiences a large number of recreational injuries and accidents. Traffic collisions are common in Bakersfield and, in the winter, snow and ice bring additional hazards. For example, on February 27, 2011, a five-year-old boy was hospitalized with broken bones and a head injury after he was struck by a California Highway Patrol car in Frazier Park. Eager to play in the mountain snow, the boy reportedly darted across an icy street to get to a play area. The patrol car was unable to swerve in time to avoid impact. The boy was airlifted to Kern Medical Center for treatment.
Who Is Responsible For Your Accident?
Bakersfield has become a major center for industry and leisure. Unfortunately, as the region continues to grow, the number of accidents has increased as well. Vehicle and industrial accidents are some of the most common.
Off-Highway Vehicle Accidents. As manufacturers build heavier, stronger, and faster off-highway vehicles, OHV accidents happen with greater frequency and cause more significant injuries. Powerful vehicles demand proper manufacturing and driving. The companies who build defective vehicles may be responsible for a faulty design or improper manufacturing. Drivers may be responsible for ignoring a manufacturer's warning or reckless handling.
Oil Refinery Accidents. Oil refineries are extremely dangerous. Experts have noted that at least one fire breaks out every week at a U.S.-based refinery. Companies may be responsible for unsafe work conditions that lead to explosions or long-term exposure to toxic chemicals. Low quality tools, untrained subcontractors, and third party errors can contribute to deadly accidents.
Agricultural Accidents. Nearly 20% of Kern County is harvested land. With the region relying on agriculture as a main staple of the economy, agricultural accidents become a high probability. 41% of farm fatalities involve tractors. Tractor roll-overs, improper operation, or lack of warnings and seat belts create serious dangers for agriculture workers. Additionally, agri-business owners may provide unsafe equipment for workers while pushing them to work long hours at a dangerous pace.
After an Accident
Accidents can disrupt our daily lives in an instant. The shock of the accident may leave you confused and unsure of the steps you should take to protect yourself and your loved ones. The following tips will help you gather important information that a skilled attorney can use to help you receive compensation for the accident.
If you or a loved one has been injured, seek immediate medical attention. Keep a copy of all medical records.
After an auto accident, ask the police to photograph the accident site before it is cleared. Ask for a copy of the police report, including any photos.
After an accident on commercial property, such as an office complex or amusement park, request an accident report from the property owner or manager.
After a work accident, inform your employer, request an accident report, and file a workers' compensation claim.
If you are able, photograph the accident scene with a camera or cell phone camera. Write down the names and contact information of all parties and witnesses. Record any facts or observations that you think could be relevant to the case.
Never speak to insurance company representatives without first speaking to a personal injury lawyer. Any information that you give to an insurance company can be used against you.
Immediately contact an experienced personal injury lawyer with the skill and resources to communicate with all parties, handle the investigation, and manage your case from start to finish.