California Explosion and Fire Accident Lawyers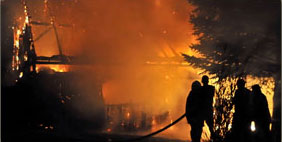 Fires can start from a gas leak, a boiler explosion, a crumbling chimney or any number of other sources. No matter how it occurs, when you or someone you care for has experienced a loss from a fire or an explosion, it is important to seek prompt medical and legal help. Insurance may cover some injuries and property losses, but not all insurance companies are eager to make good on the promises that are made in their policies. You may even find that the incident is not covered by insurance. Finding a competent fire and explosions lawyer is essential to ensure that you can obtain the compensation to which you are entitled from all available sources.
Steps To Take After a Fire or Explosion
When the event is over, you are likely to feel overwhelmed and confused, wondering how the accident happened, how it could have been prevented and how you will go on from here. What should you do first? You or a loved one on behalf of the victim should do the following:
Seek immediate medical attention: If you or anyone else were present on the property during the event, you should start by seeking medical attention, even if you are not sure it is needed. In addition to the more obvious injuries, such as burns, a person in the vicinity of a fire may become a victim of the smoke inhalation, gas and chemicals that are common secondary results of these types of accidents. Only trained medical professionals can properly evaluate whether you have been exposed to a chemical or gas agent that may have silently harmed you. Smoke inhalation can cause lung damage, which may not appear for a day or two following the exposure. Because chest x-rays taken immediately following a fire will not necessarily reveal your true injuries, you should schedule a medical examination if you begin sensing respiratory or other chest or lung problems.

Contact the fire authorities: The fire department in your city or community will likely conduct an objective investigation and determine the suspected cause of the fire or explosion. This step should be taken without delay so that the fire can be investigated while the evidence is still preserved.

Contact your insurance company: If the accident happened on your property, call your insurance carrier before you begin the process of clean up or restoration. Time is of the essence when notifying the insurer because some insurance policies require prompt notification of any potential claim. The insurance company may also provide you with a list of firms that specialize in repair or remediation.

If the fire happened on someone else's property, contact an attorney: Insurance companies responsible for paying your damages are your adversaries. They are not your friends. Anything you tell an insurance company can be held against you. If the incident occurred on someone else's property, you are generally not required to give the property owner's insurance company notification of the incident. You should hire a qualified fire and explosions lawyer promptly and have your attorney communicate with the insurance companies and ascertain the responsible parties.

Take care of the basics: Your insurance may pay for a temporary place for you to stay if you are left homeless. If you need help securing necessary items such as food, clothing or medications, you can also contact your local Red Cross or Salvation Army for free or low-cost assistance.

Do not enter the structure: Unless fire officials have told you it is safe, do not go back into a building where the accident occurred. There may be structural weaknesses, as well as gas leaks, lingering smoke or chemical contamination that may not be immediately apparent and could cause you further injury.

Do not throw out damaged items: If possible, hold onto all damaged property. If you must dispose of such property, do not do so until you have taken photos and made an inventory of the items. In order to be compensated, you will need to prove to the insurance company that the fire caused the damage you are alleging.

Notify the police department: After an accident, request extra squad patrols in the neighborhood, to protect against vandals and trespassers. You may need to board up the structure to guard against such criminal activity on your property that forces you to leave your home or business unattended.

Contact utilities: Let your utility companies know there has been an accident. Often, gas-related accidents are caused by faulty gas lines or leaks. The local utility will need to turn off the utility to prevent further injuries and damage.

Begin saving receipts immediately: Keep track of all of your expenses related to the incident. Your insurance company will need receipts and a detailed log of your expenses. Even if you do not have fire insurance, the receipts and log of expenses will help you to claim deductions on your taxes.

Hire a contractor to rebuild: Hire a contractor that is licensed and has proven expertise in abating fire and/or explosion damage.

Contact a reputable lawyer: It is critical to contact an attorney as soon as possible following the accident. Having a lawyer who understands how to handle these types of cases may prove invaluable to your peace of mind and to your ultimate recovery. Your fire and explosions attorney will hire investigators and experts to examine the premises where the gas fire, boiler explosion or other fire-related event occurred, analyze the circumstances surrounding the incident and determine whether there may be other potential sources of compensation besides the insurance company.
Choosing the Right Lawyer
Choosing the right attorney is critical to your claim. There may be several responsible parties with varying degrees of liability, and there may be other injured parties making claims against them. Complex, multi-party cases require a lawyer with the skills and resources to pursue all aspects of your case. A well-established and respected personal injury law firm will have the resources and funds necessary to hire competent case experts and conduct an effective investigation and analysis to bring about superior results.
Other sources of compensation. A reputable fire and explosions lawyer with a full understanding of the laws applicable to these cases will assess all sources of compensation for your property loss and injury. While insurance may provide the main source of compensation, an experienced attorney can also determine whether there are other sources of recovery available in your case.

Notification requirement. While each case will vary, there is always a timeframe in which the insurance company must be notified of the incident. In fire or explosion cases involving an insurance policy, the policy itself may set that timeframe as 12 months from the date of the accident. Even if you or those injured or damaged have failed to timely notify or otherwise comply with an insurance companies' provisions under the policy, California law may provide some protections. An experienced attorney can help you assess your rights and determine your options.

Resources to fund your case. Make sure your attorney has the resources and funding to hire the necessary experts, such as forensic economists, accident reconstructionists, fire and explosion experts, medical experts, vocational rehabilitators and life care planners. Some or all of these types of experts can help your attorney obtain a favorable result in your case.
Fire and Explosion Statistics
Fires kill more people per year than all natural disasters combined. On average, more than 15,000 people are injured and over 3,000 people lose their lives each year. Residential fires are the leading cause of fire-related injury. They account for 81% of all fire deaths.
When a fire starts in a home or other similar structures, you can have as little as one minute to safely evacuate. 23% of injuries occur while people are attempting to escape. Sticking around to put out a fire or handle the aftermath of an explosion is not advisable. 39% of injuries from residential fires occur while the victims were trying to control the fire.
Who is Responsible for Damage Related to the Fire or Explosion?
It may be that the accident was caused by, for example, your own child playing with matches. In such a case, your insurance carrier may be your only source of compensation. However, sometimes others are responsible, and they may be required to compensate you for any damages.
The parties responsible for your fire and explosion injuries may include:
The Landlord: In the majority of fires, fire detectors are either not present or are not working, and it may be the property owner's fault if fire detectors or fire alarms were not working when your fire broke out. 78% of fire deaths and 60% of injuries are caused by faulty or non-operational fire alarms. The landlord may also have failed to maintain equipment, which may have caused a boiler explosion.

Adjacent landowners: Your neighbor's negligent actions may have caused your property to ignite or explode, by, for example, leaving an unattended barbeque, which started a fire that went out of control.

Manufacturers, distributors and/or retailers of faulty products: Those who manufacture or sell defective products, such as electrical outlets or gas dryers and stoves, which cause a fire or explosion on your property may be responsible for your injuries and property losses.

Contractors: A contractor may have improperly installed electrical wiring or appliances. Contractors working on your property may also misuse a blowtorch or combustible materials, such as paint thinner or gasoline, in a manner that causes an explosion or gas fire.

Other tenants and their guests: Another tenant of your apartment building might have started a fire or caused an explosion, perhaps with a cigarette. Smoking accounts for 6% of all residential fires.

Business owners: If you are at a business establishment, such as a restaurant, and a fire breaks out or an explosion occurs, the ability to exit the structure is crucial. If exits are not clearly marked or occupancy limits are not adhered to, injuries from burns, smoke inhalation and even panic-induced stampeding can occur. Business owners who do not follow the law to prevent such accidents may be liable to you for damages.
How Can I Be Compensated?
If you have suffered an injury due to an explosion or fire, you can receive money damages for your losses. Damages include medical bills, lost wages, and pain and suffering.
For a more comprehensive list of damages, go here.
Contact Us
The attorneys at The Reeves Law Group have extensive experience in handling complex, multi-party accident cases. For an immediate consultation regarding a fire or explosion accident, please contact an experienced personal injury attorney at our law firm.