California Dangerous Drugs Lawyers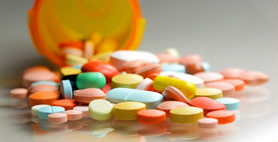 The pharmaceutical industry has produced some amazing products that have helped heal injuries and fight disease. Yet, many of these drugs can also cause severe harm. Side effects can include blindness, organ damage, heart attack, suicidal tendencies, and even wrongful death.
In addition to dangerous drugs, medical devices ranging from hip and knee replacements to drug-coated stents and implantable cardiac pacemakers have been found to be defective.
Your Right to Compensation
If you have been injured by a dangerous prescription or over-the-counter medication, herbal supplement, vitamin, or defective medical device, you have a legal right to receive financial compensation for the damages you have suffered.
At The Reeves Law Group in California, our pharmaceutical liability attorneys can help people injured by dangerous drugs and defective medical devices recover the financial compensation they deserve. Please contact our law firm today for effective representation in all types of pharmaceutical liability claims.
We will take the time to listen to your concerns and ask the questions that will allow us to evaluate your case. Then we will clearly explain — in English or Spanish — the areas of the law involved and your legal options. After your first consultation, you will know whether or not we think you have a valid claim and how we are able to assist you.
Potentially Harmful Prescription Drugs
A large number of popularly prescribed drugs have injured patients, including:
Accutane
ACE Inhibitors
Ambien
Aransep
Aredia
Asthma Inhalers
Bextra
Celebrex
Cialis
Crestor
Dietary Supplements
Celebrex
Epogen
Femara
Fentanyl Patches
Gadolinium
Ketek
Levitra
Meridia
Metabolife
Mifeprex
Paxil
Phenergan
Prempro
Procrit
Prozac
Quinine
Risperdal
Ritalin
Rituxan
Seroquel
Tequin
Trasylol
Tsyabri
Viagra
Vioxx
Zicam
Zelnorm
Zoloft
Zometa
Zyprexa
Whether or not the product that injured you is listed above, please contact The Reeves Law Group at (800) 644-8000 to learn if we can be of assistance. We offer a free consultation and case evaluation.
Rushing Drugs to Market
The pharmaceutical industry is highly motivated to get new products to the market as soon as possible, so they can begin to recover their drug development expenses and generate a profit. In their rush to market, however, corners are sometimes cut. Inadequate testing and improper labeling can expose consumers to significant risks.
Pharmaceutical companies and their insurance companies have skilled attorneys on their side whose objective is to pay injured consumers as little as possible for their injuries caused by dangerous drugs.
Contact Us
At The Reeves Law Group, our attorneys fight to even the odds. We give a strong voice to people injured by dangerous drugs and defective medical devices. We stand up to the powerful drug companies and insurance companies and fight to see that our clients receive justice.