Two Children Killed in Oakland Hit and Run
November 26, 2007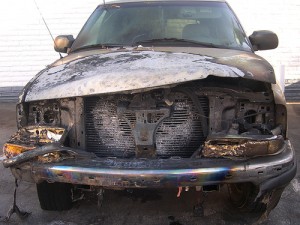 It was going to be a great Thanksgiving, but instead it turned into an Oakland hit and run.  4-year-old Oakland toddler Jacklin Monguia-Herrera, her 3-year-old sister, mother, and cousin Stephanie Cervantes were in a Ford Mustang heading East on D Street in Oakland, California.  It was 7:20 pm and it was Thanksgiving.
A Ford Excursion SUV, whose driver it now seems was driving under the influence, ran a stop sign and slammed into the Mustang.  The impact was so great the Mustang almost tipped over, and immediately caught fire with all four occupants still inside.  People in the neighborhood, many of whom were enjoying their Thanksgiving dinner, rushed out to see the Mustang in flames.  Some people tried to douse the fire, while others tried to extricate the people in the car.  It was almost impossible to get Jacklin out of the car – she was pinned so tightly against the front seat.  She died along with her cousin 14-year-old Stephanie in the front seat, her hand still holding a plate of turkey.  The mother and the three-year-old girl were rushed to hospital.
The Ford Excursion ricocheted off the Mustang and slammed into another SUV parked nearby.  That driver limped away with minor injuries.
Police have managed to trace the Ford Excursion to Oakland resident Carmelo Salas. He has been charged with gross vehicular manslaughter, driving under he influence, driving without a license and felony hit and run.
Meanwhile for residents in the neighborhood where the crash took place is still, trying to come to grips with the senselessness of what happened.  Children who witnessed the crash and saw the bodies trapped inside have nightmares.
A person who drinks can be held liable for any injuries or death that may be caused by his drunken driving.  At the very least, suing a person for damages ensures that they take traffic rules and the lives of others more seriously in future.
If you've been injured in an accident where the other person was clearly driving under the influence, call the California car accident attorneys at The Reeves Law Group for a consultation.