Perris California Man to be Charged in Fatal Motorcycle Accident
August 29, 2007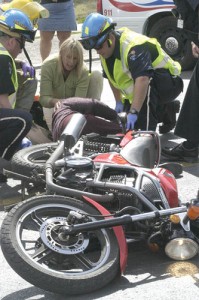 We know driving under the influence can lead to fatal motorcycle accidents, and is a major cause of traffic deaths in this country, but this one is tragic and more than a little gruesome.
Last Saturday, Tony Martinez of Perris, California was pulling his 1993 Saturn out of a parking lot and onto California State Route 74. According to the California Highway Patrol, he was more than a little under the influence, and this was probably what caused him not to notice 20 year old Moreno Valley, California resident Nicholas Justin Campbell on his motorcycle riding towards him. The motorcycle crashed into Martinez's Saturn, sending Nicholas crashing through the rear windshield head first. His torso slammed through the rear window while the rest of his body hung behind. Martinez – and this where it gets particularly horrific – then proceeded, in his alcohol induced haze presumably, to drive on home with Campbell's body still hanging out the back of his car! Later, he drove to a fire station where Campbell was confirmed dead.
The Los Angeles Times says Martinez was taken into custody on suspicion of three felonies – vehicular manslaughter, driving under the influence, and hit and run driving. According to the Riverside County District Attorney's office, he will be formally charged today at the Riverside County Superior Court.
There has been a spate of DUI caused accidents these past couple of weeks. This blog alone has featured quite a few car crashes in California involving horrific injuries and deaths like the two Garden Grove, California sisters who were seriously injured when their car was crashed into by a drunk driver, and the San Diego woman who died when her car was rear ended by yet another driver who was either too stupid or too reckless to ask for a ride home after a drink too many.
Driving under the influence doesn't just cause these atrocious accidents, it also completely obliterates a person's judgment ability, like in the case of Martinez. A man who can be drunk enough to drive home with a body hanging out of his car shouldn't be allowed behind a wheel. Period.
If you've been injured in a motorcycle accident or lost a loved one in a motorcycle crash where DUI was the main suspect, call the personal injury lawyers at The Reeves Law Group for a consultation.