Fatal Bicycle Accidents in Santa Barbara
March 14, 2011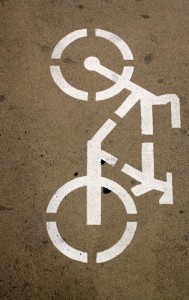 A woman involved in a hit-and-run accident that left a Santa Barbara biker dead earlier this week, has been arrested.  According to the California Highway Patrol, the woman Shannon Richard, has also been arrested on suspicion of driving under the influence and vehicular manslaughter.
The accident occurred on Sunday.  According to California Highway Patrol, Richard was driving a Mitsubishi when she struck biker José Luis Camona.  The bicyclist was not on his bike at the time, and was walking alongside his bicycle.  The impact left Camona with serious blunt force injuries, and he died a while later.  Police were able to trace Richard a little while later to her home.  According to them, she insisted that she was not aware she had hit a bicyclist, and thought that she had hit an animal.  She has now been arrested and charged.
California bicycle accident attorneys know the immense challenges faced when a bicycle accident involves a hit-and-run motorist.  It's not always easy to find the offending motorist in such cases, and many of these accident cases remain unsolved.  Fortunately, in this case, officers were quick at tracing the motorist at her home, arresting and charged her as quickly as possible.
Law enforcement agencies have a big role to play in ensuring the safety of bikers.  In fact, a frequent complaint of cyclists in California has been that law enforcement officers do not take their concerns about safety very seriously.  It's part of the reason why so many fatal bicycle accidents go unreported in California, and especially the city of Los Angeles.  Many bicyclists complain that when they report an accident, they're not taken seriously, and efforts to find the motorist if he has sped away from the scene of the accident, are not strong.
However, that has been changing over the past year or so.  In Los Angeles, the Police Department has become more vocal about protecting bicyclists, and taking their concerns about bicycle safety seriously.  For instance, it has begun training police officers to respond more appropriately to accident reports filed by bicyclists.  Moreover, several cities in California including the city of Los Angeles are investing a substantial amount of bicycle safety, including the installation of more numbers of bike lanes.
It's very important that investment in bicycle safety continue because bicyclists are at risk of injuries and fatalities when bicyclists are involved in collisions.  A bicyclist is very vulnerable to serious injuries, and even a bicycle helmet may not do much to prevent serious injuries, including a traumatic brain injury in an accident.  Besides brain injuries, bicyclists are also at high risk for spinal injuries because of the tremendous impact they suffer during an accident.  They also have little protection from lacerations, fractures, broken bones, facial injuries and other injuries during an accident.
The Reeves Law Group is not representing any party in the matters discussed in this posting.