Dog Bite Statistics Showing More Dog Bite Claims
August 20, 2010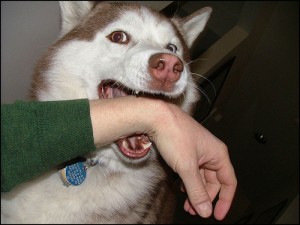 Dog Bite Statistics are showing an increase in dog bite claims. According to the Insurance Information Institute, nationwide, there was an increase in dog bite claims from 2008 to 2009.  The number of claims increased to 16,586 claims in 2009.  There were about 6.4% more dog bite claims filed in 2009, than in 2008.  In fact, 2009 was the third straight year in a row that there was an increase in such claims.
Injuries from dog bites cost insurers approximately $412 million in 2009, compared to just over $387 million in 2008.  That was the fifth year in a row that there was an increase in insurance payouts.  The average dog bite claim in 2009 was valued at about $24,000.  In fact, dog bite claims now account for about one in three of every homeowner insurance liberty claims in America.
The fact that dog bite claims now account for a major chunk of homeowner's liability insurance, is very worrying to insurance companies.  According to the Insurance Information Institute, the reason why dog bite claims have increased over the past seven years is because there have been increased medical costs associated with the treatment of these injuries.  There have also been bigger settlements being paid out to victims of dog bites.  The increase has also had a lot to do with the fact that more and more states now have strict liability statutes for dog bite injuries.  California has strict liability laws that allow victims of any dog bite to hold the dog owner liable for the injury, even if the owner had not been aware of the animal's propensity to bite.
An overwhelming majority of dog bites however do not end in serious injuries.  Every year, there are approximately 4.1 million dog bites in the United States.   Most dog bites involve minor injuries that may not require much more than a dressing on the wound.  However, serious attacks can leave patients physically and emotionally scarred.
Severe physical damage from the dog bite is seen especially frequently in the case of children.  Children may be typically defenseless during a dog bite attack involving, say a pair of pit bulls, unlike an adult who has some chance of defending himself or running away.  Many children are also not educated about what to do when a dog attacks them.  They are also likely to require hospitalization for their injuries.  They may also be left with severe emotional trauma and stress from the attack.
Most dog bites occur when the child or the victim is on someone else's property.  Many California dog bite lawyers find that victims of a dog bite on a friend's property are hesitant to come forward to file a claim, because it is a friend who's involved.  It's important to understand that it is not the friend would be paying out the claim at all.  In fact, it is the insurance company that's responsible for paying the claim.
Will dog bite statistics continue to show more dog bites? Let us know what you think.
The Reeves Law Group is not representing any party in the matters discussed in this posting.