California Airplane Accident Lawyers
Statistically, you are safer flying in a commercial aircraft than driving your own car. However, airplane accidents do happen. When they do, the results can be tragic. Frequently no one survives.
If you have been injured or if a loved one died in any type of aircraft accident, you may be entitled to recover financial compensation for the damages you have suffered.
To discuss the specifics of your case, please contact a plane accident lawyer at The Reeves Law Group today. We offer a free initial consultation. If you decide to retain our law firm, you will pay no attorney fees unless we win financial compensation for you.
Aviation Accident Statistics
In 2009, there were 1,474 civil aviation accidents in the United States resulting in 272 fatalities.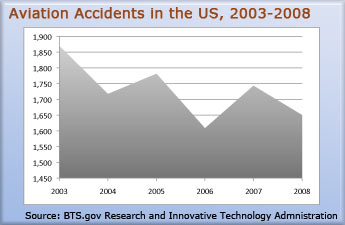 Causes of Airplane Accidents
Whether you were injured in a jumbo jet, a small private plane, a helicopter, or an ultralight, we will thoroughly research your case and aggressively pursue the full amount of financial compensation you deserve.
Aviation accidents can be the result of many causes, including:
Pilot error
Runway defects
Mechanical failure, including engine and other component failure
Improper maintenance
Violation of Federal Aviation Administration (FAA) regulations
Structural or design problems
Federal Air Traffic Controller error
The FAA sets regulations for aircraft, pilots, and aircraft manufacturers. The National Transportation Safety Board (NTSB) investigates every commercial and private aircraft accident. As the NTSB investigation proceeds, we will take action to ensure that evidence is protected from potential tampering.
After an Airplane Accident
After an airplane accident, we will review the government's accident report. We may retain our own experts to analyze the cause of the crash. We will endeavor to identify the sources of liability, including the aircraft owner, aircraft manufacturer, component and part suppliers, airport personnel, maintenance company, and pilot and pursue compensation for your injuries and other damages. In the case of a wrongful death, we will represent the family members of the deceased and pursue compensation for their loss of companionship and financial support.
Contact Us
Aircraft accident claims are extremely complex. The airlines, aircraft manufacturers, and their insurance companies will have skilled attorneys on their side whose job is to minimize the amount of any settlement or verdict that may be rendered in favor of the victims. You should have strong, capable legal representation, too. The attorneys of The Reeves Law Group will fight to protect your rights.
To schedule a free consultation with a plane crash lawyer, please contact us today.